Billingsgate Fish Market Tour and Breakfast: Wednesday 19 October 2016
19 October 2016
This is a report written by Lesley Mackley of the Guild's Billingsgate Fish Market Tour and Breakfast, which took place on Wednesday 19 October 2016 at 6am at Billingsgate Market, Trafalgar Way, London E14 5ST.
It was 6am when, a tad bleary-eyed, we gathered at the UK's largest inland fish market, Billingsgate. On the way to be kitted out with white coats we had a birds-eye view of the vast trading hall where around 100 stalls and 30 shops were displaying an eye-popping range of seafood of all colours, shapes and sizes, from every corner of the world.
We were divided into three groups, each with a guide to show us around. My group was assigned to Barry, an inspector from the Fishmongers' Company, and a mine of information on all things piscatorial. "He tells the best stories" we were told as he led us off to the market hall. We were seeing the market as it was winding down, at a time when the last straggling customers were snapping up bargains and heading off, weighed down under boxes and bulging black bin bags. Most of the business takes place in the early hours. At 10pm the deliveries from all over the UK start arriving and trading begins when a bell rings at 4 am. Despite this, there was still an energy in the air and a background buzz of the stallholders' good-natured banter and the clatter of laden trolleys being wheeled to and fro, accompanied by loud cries of "Mind yer backs".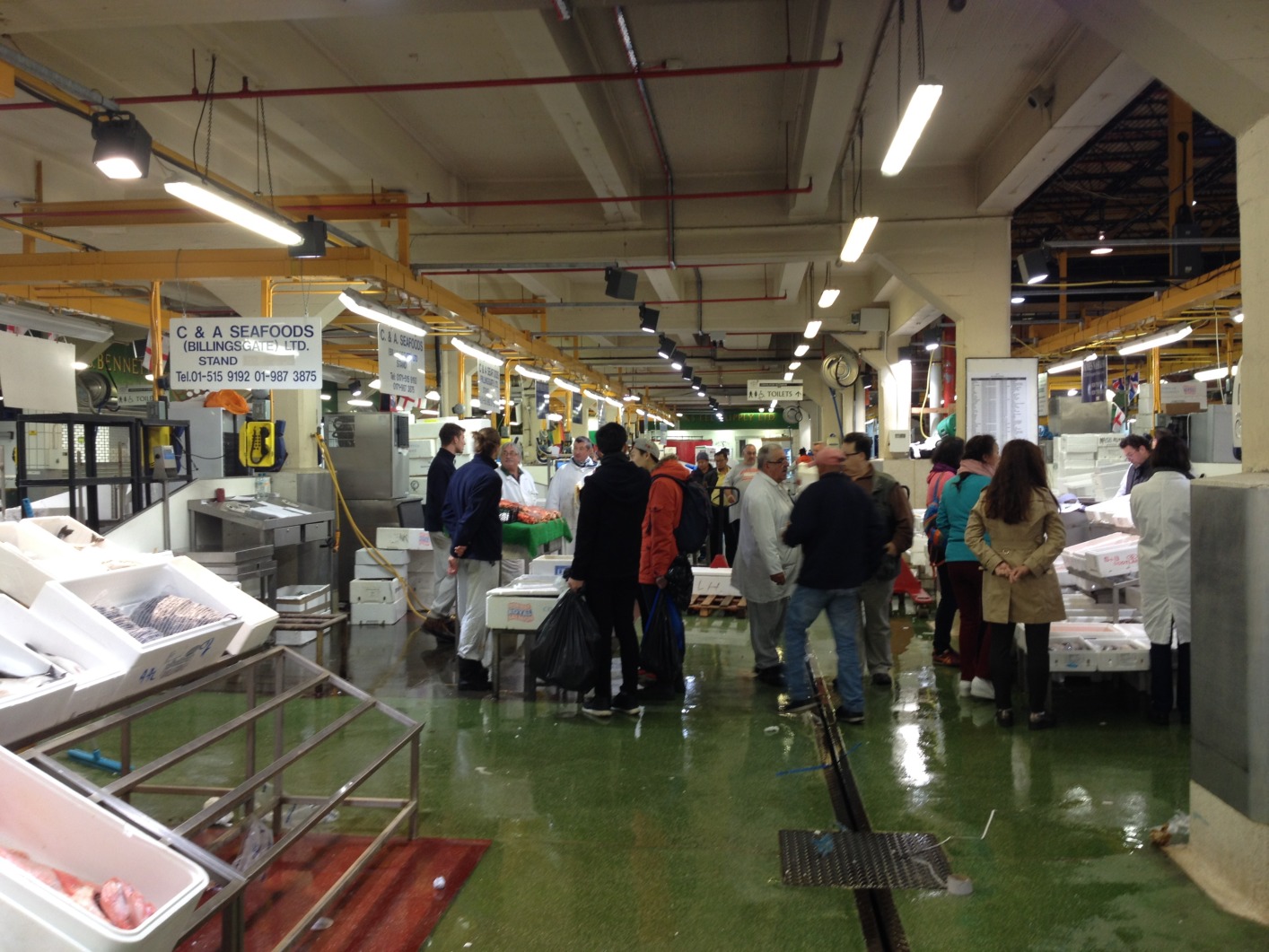 Our tour of the market hall started at the lobster tank, comparing North American lobsters with British ones. Barry assured us that the latter are superior and well worth the 15% higher price tag. He demonstrated how to stroke a lobster on the head and back to calm it down before it is despatched. The same trick doesn't seem to work with crabs. The large, malevolent-looking male crab he picked up was decidedly unrelaxed. We compared it with a slightly more amenable female. Males have a flat shell, larger claws and a narrower tail.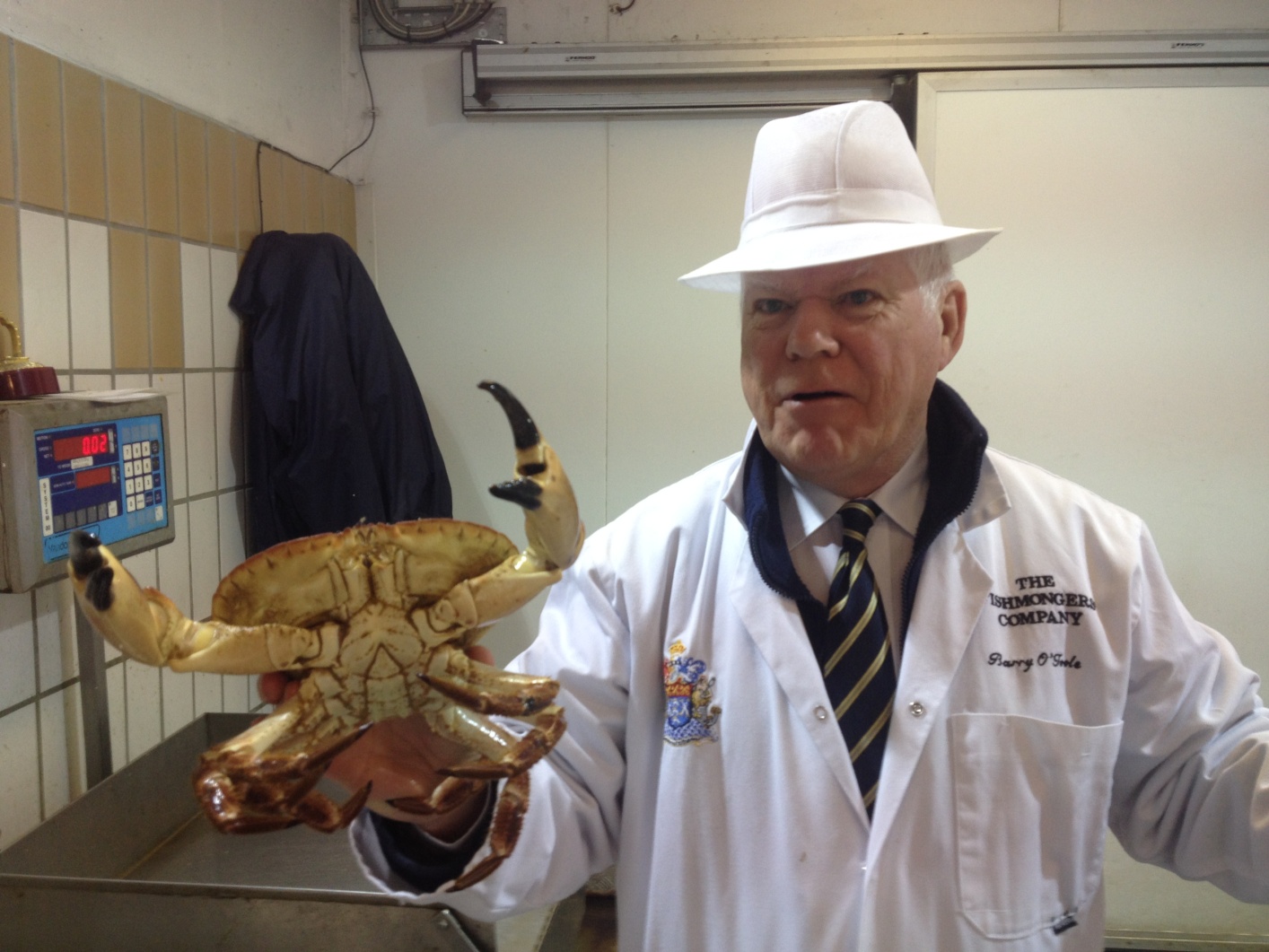 While we were admiring some impressive hand-dived scallops from the Orkneys Barry moved in to rearrange the contents of one box so that they were all lying flat side up. They are tossed around as customers rummage through the boxes and they will die if they are left round side uppermost. All the shells were tightly closed and undamaged (those of dredged scallops tend to get broken) and the presence of barnacles was a good sign. Barry is partial to an oyster and reckons the ones from Colchester and Maldon are the best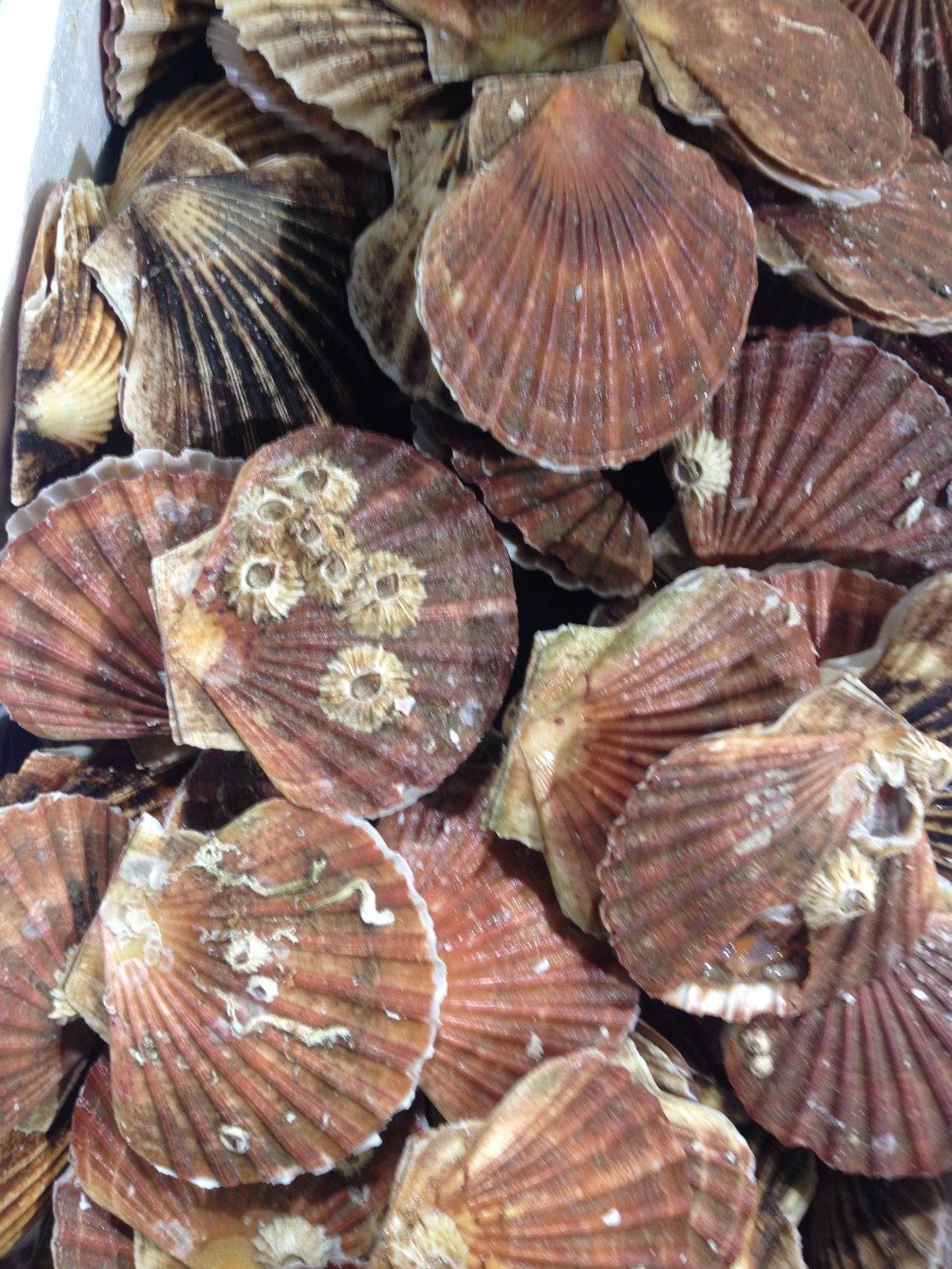 As we progressed around the market, Barry pulled fish out of boxes, drawing attention to their slimy surface, firmness and bright eyes, indicating super-freshness. He was constantly checking the boxes for quality and spotted some fish on one stall that weren't as fresh as they should be. He had a quiet word with the stallholder. He held up a massive Norwegian halibut, so heavy that he could only hold it up for a few seconds before dropping it, to cries of derision from his colleagues.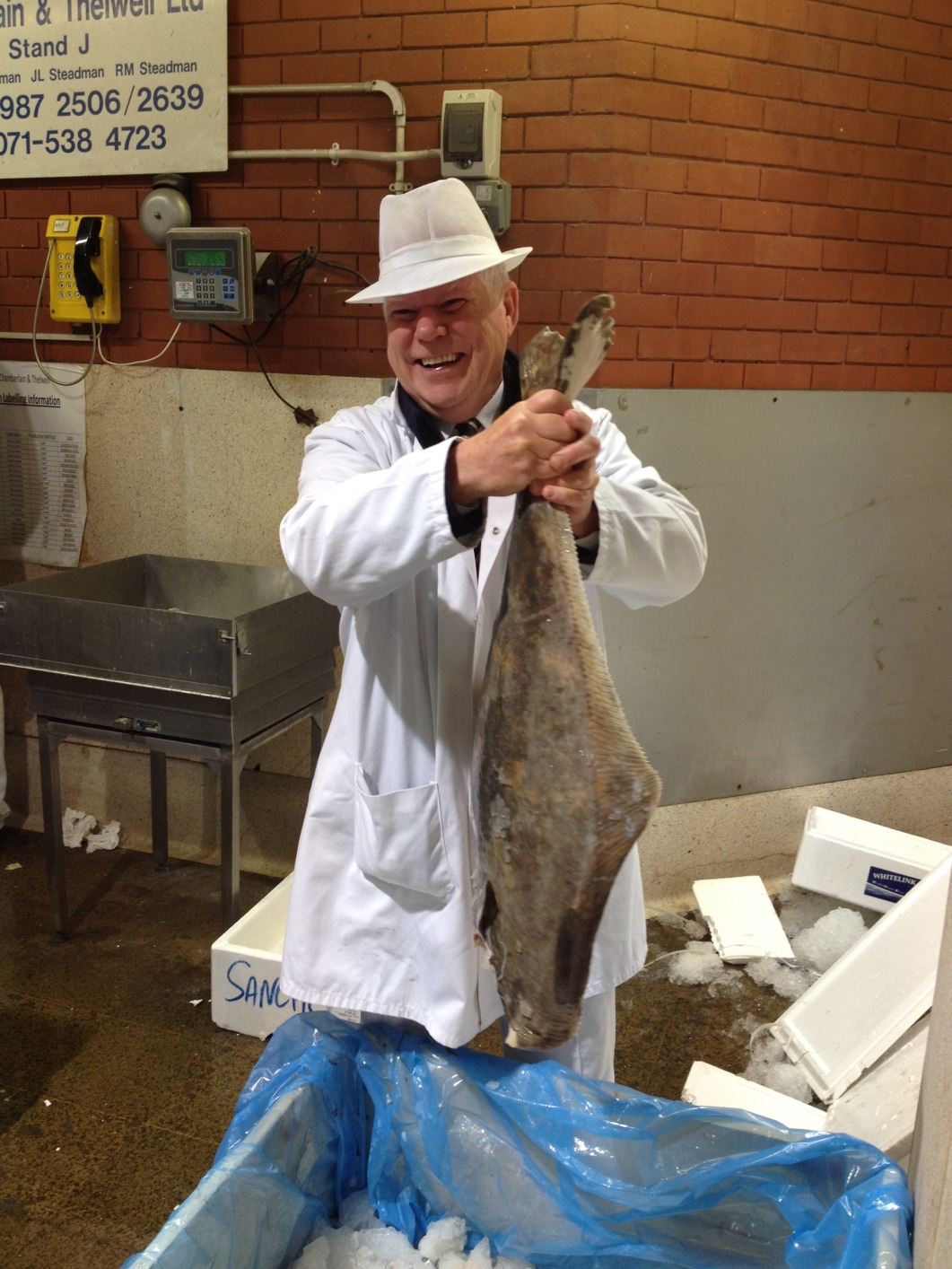 We admired John Dory (65% wastage), grey mullet (good cheap fish with very expensive roe), prime red mullet (the scales flake off easily), farmed gilt head bream from Turkey and Greece (superior to farmed bass), sushi grade tuna from the Mediterranean, snapper from the Indian Ocean and pearly pink skate. There were stalls specialising in smoked fish, dried fish, tiny crabs ("more meat on a butcher's apron") and huge tiger prawns from farms in Nigeria and Ecuador. In spite of having the pick of all the best fish in the world, Barry's top fish is the mackerel – "The one -stop -shop fish. Omega 3s, all the essential nutrients. It's brain food. Whack it in the microwave, pour a can of tomatoes over it. A squeeze of lemon. Less time than I've been talking" – I'm not sure about your recipe Barry, but I agree about mackerel being a top fish.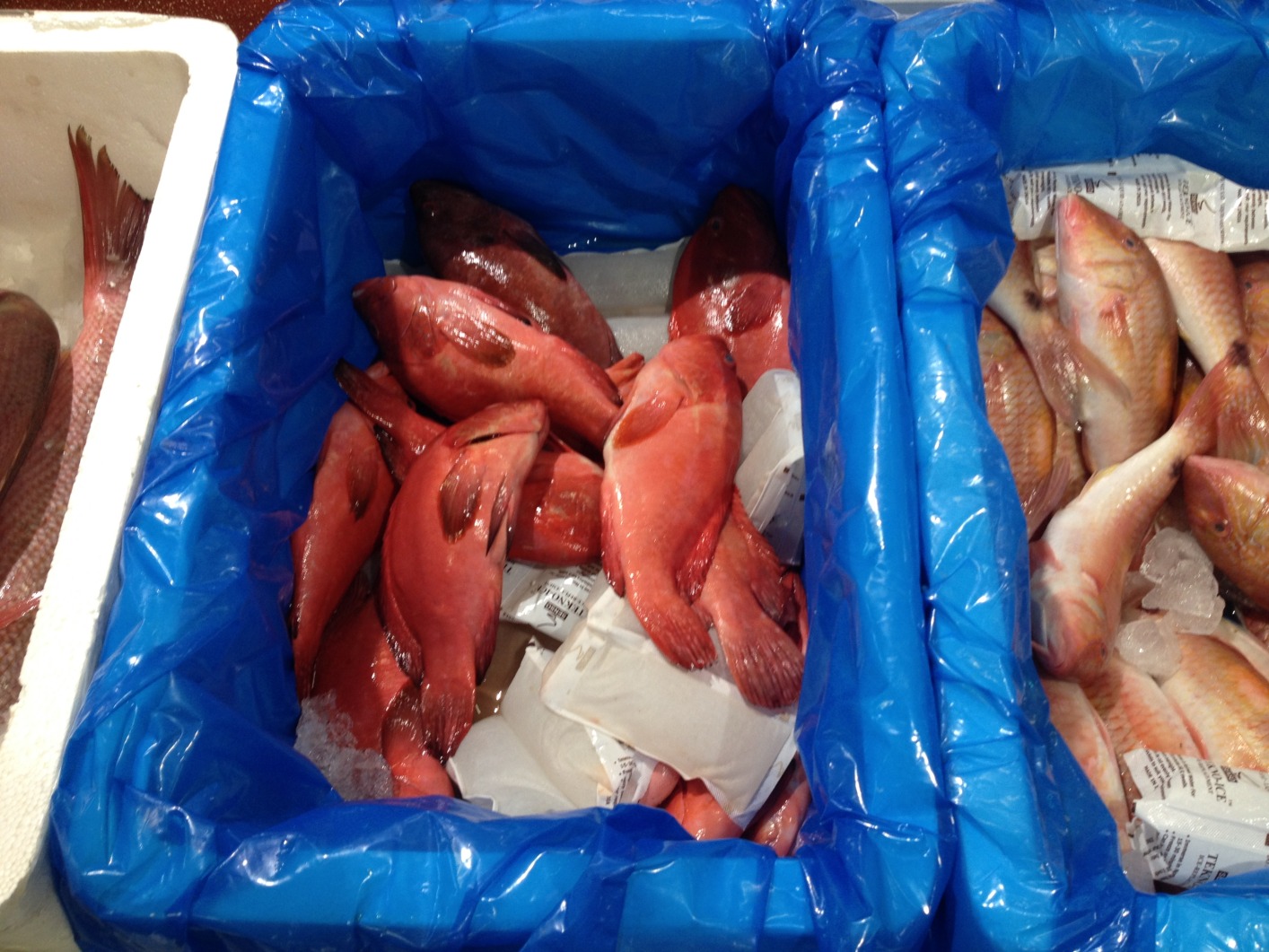 One stallholder, standing gloomily behind a pile of boxes of unsold salmon explained the problems facing the salmon industry. A major slump in global supplies has been caused by the deaths of millions of fish in Chile after an algal bloom released toxins into the water. He said his trade has halved and prices had risen by £20 a kilo since the previous week. Sales of salmon from Scotland and Norway are affected by the increase and it is having an impact on salmon processing businesses. Prices of smoked salmon for Christmas will be considerably higher than last year.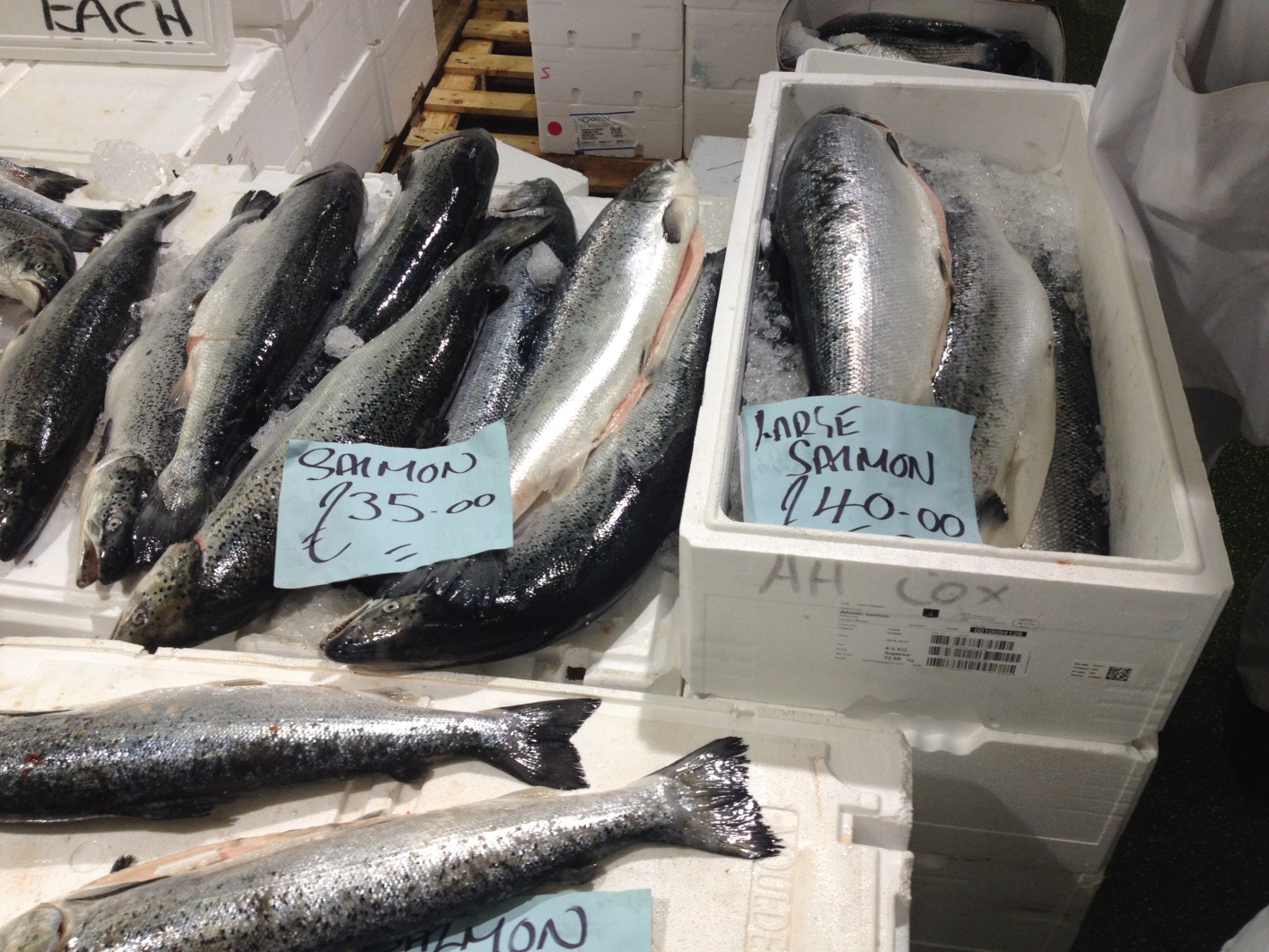 Pulling open a metal drawer, Barry revealed a tangle of writhing eels. Many of them come from Dutch canals and Loch Neagh in Ireland and the biggest market for them is China. I didn't know whether or not to believe the story that when eels are cut up after being killed, the pieces of eel move towards each other to try to join up, not necessarily with their own body parts!
By the time we completed our tour of the trading hall most of the stalls had packed up. Fish is then boxed up and sent out to fulfil orders and what remains unsold is stored in fridges until the next day. Most of it is sold within two days. In a chilly preparation area on the way out of the hall skilled workers swiftly and deftly fillet, portion and pack fish ready to send out to restaurants. Outside, where seagulls were dive-bombing for scraps, chiller trucks were being loaded with boxes destined for all over the UK and beyond. Wearing his inspector's hat, Barry randomly selected three boxes waiting to be stacked on a lorry. He checked inside to make sure that the live crabs they contained were correctly packed for their flight to China. Some of the crabs may find their way back again once they have been processed as it can be cheaper to send fish and shellfish to China than have it processed in this country.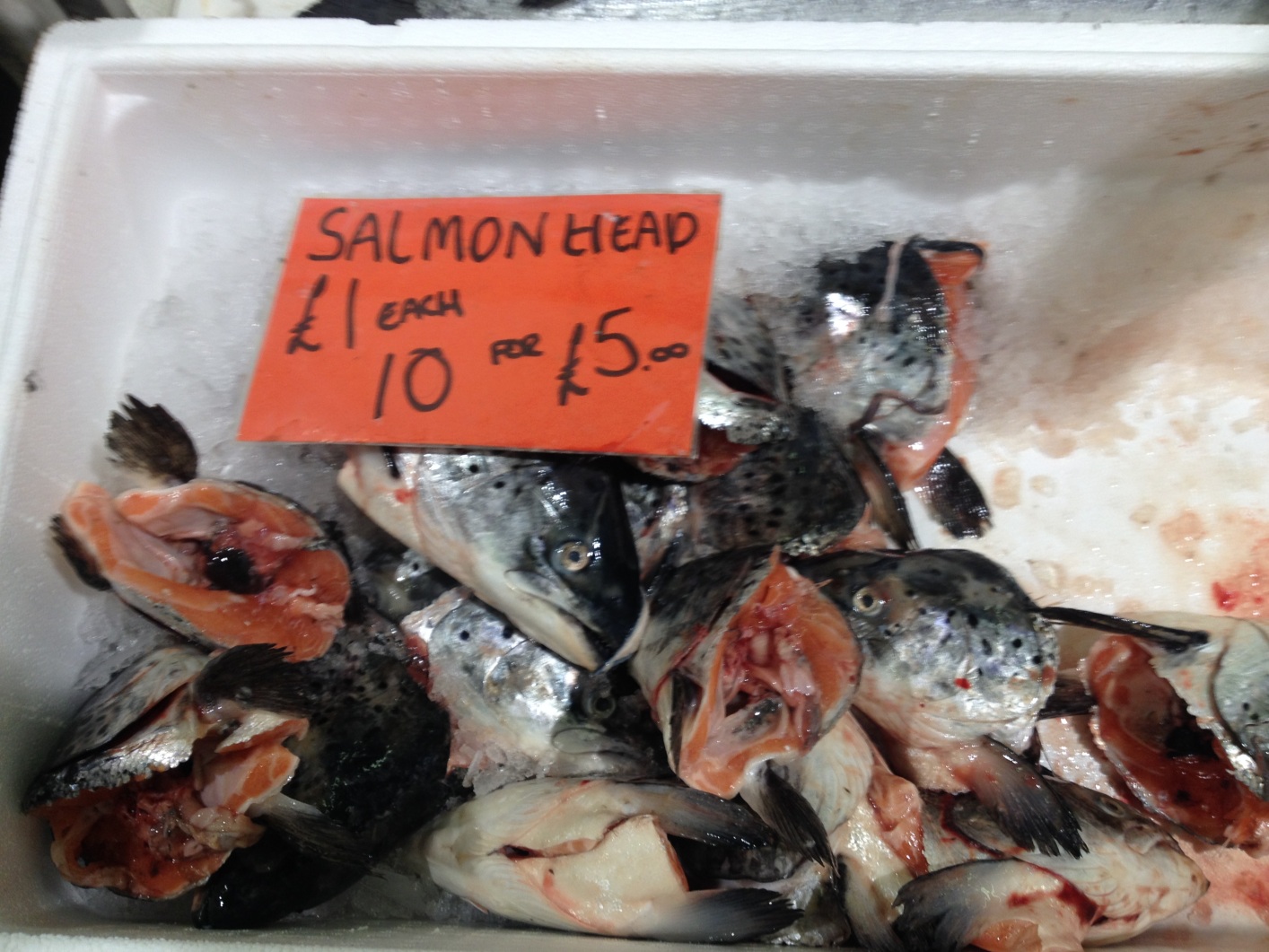 We peered briefly into an ice making area where the person with the coldest job in the market was responsible for producing 500 17kg bags of ice a day. That was when we began to feel the effect of starting the day before dawn had even cracked, and the lure of coffee became overwhelming, so we headed back to the cookery school for breakfast - a delicious kedgeree prepared by Guild member CJ Jackson. CJ has been the CEO of the Billingsgate Seafood School since 2005, working with schools and catering students, fulfilling the charitable aim of the school to encourage young people to enjoy seafood as part of a healthy diet. The School also provides industry training for supermarkets such as Tesco and Waitrose and runs courses for chefs and members of the public. This is vital work at a time when fish consumption (particularly in the home) is dwindling, and the range of fish which people are comfortable with buying and cooking is extremely limited.
As we left, we looked down on a very different scene in the market hall. The stalls were deserted and broken polystyrene boxes were heaped in the corridors. In a few hours it would all be springing to life again. Meanwhile, in the area around Billingsgate, traders of a different kind were scurrying to work in their Canary Wharf offices.
© Lesley Mackley 2016
Photographs © Lesley Mackley 2016
Guild member John Whiting made a video recording of this workshop and you can see what happened at youtu.be/FzON5sT_VQo.