Chocolate Tasting Workshop: Wednesday 7 December 2016
08 December 2016
Chocolate at the Cutting Edge
A festive tasting of chocolate and wine with a perspective on the future
This is a report written by Nick Sandler of the Guild's Chocolate Tasting Workshop, which took place on Wednesday 7 December 2016 at 6.30pm at Westminster Kingsway College, Vincent Square, London SW1P 2PD
Our principal speaker, Frank Homann, the founder of Xoco, joined us to outline his vision and his insight into the 'truth' behind claims on labels, the apt price for a bar of the finest – and what the future might hold for lovers of fine chocolate.
Frank Homann
We were guided on the history and taste of fine chocolate by Guild member and Academy co-founder and Chairman Sara Jayne Stanes OBE, with complementary festive drinks selected and introduced by Sarah Jane Evans MW, former President of the Guild and a Board member of the Academy. Both have written classic guides – Sara's Chocolate: The Definitive Guide is due to be published in a revised edition; Sarah Jane's Chocolate Unwrapped draws intriguing parallels between the taste sensations involved in sampling fine chocolate and wine.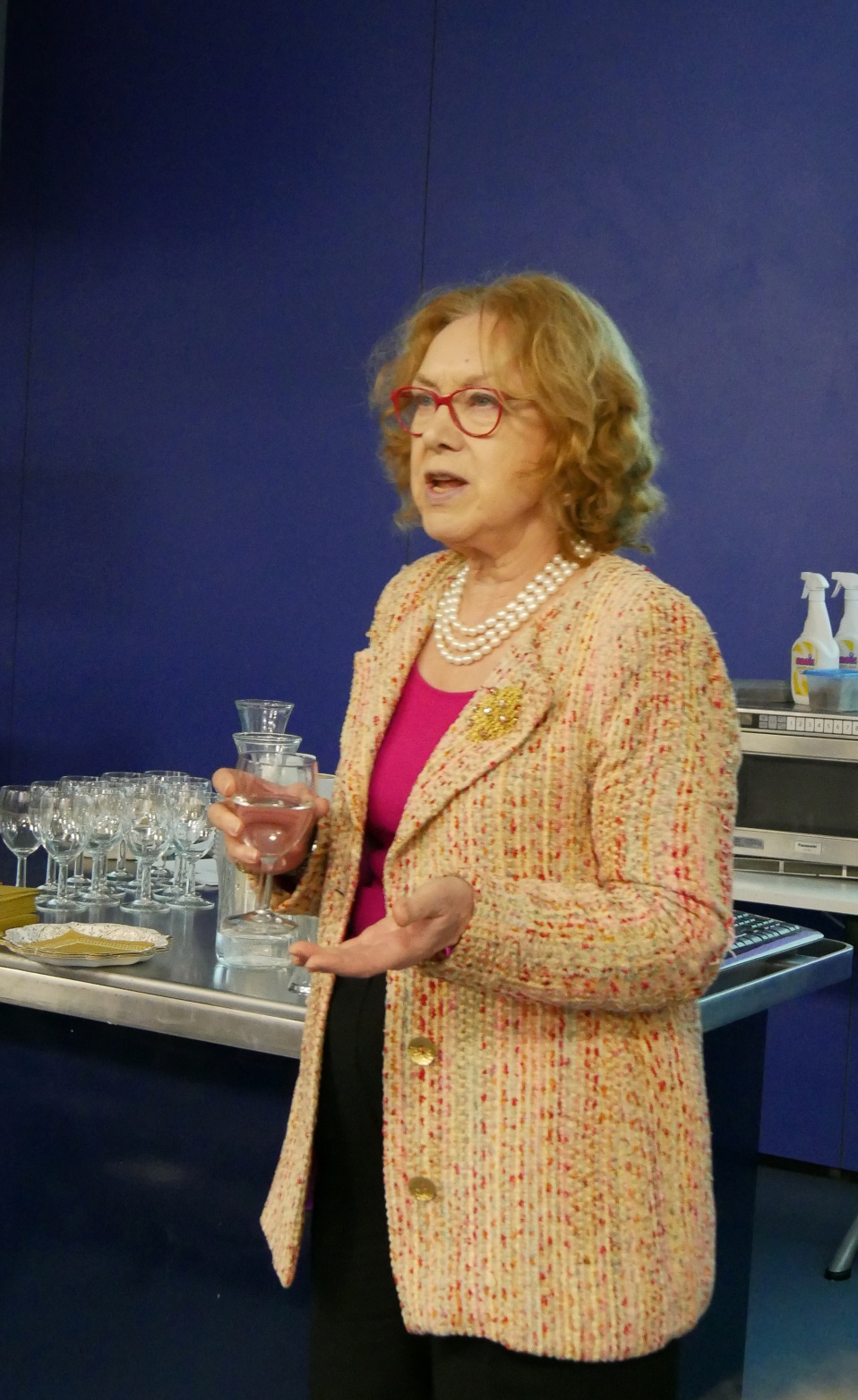 Sara Jayne Stanes OBE
We were hosted by Westminster Kingsway College, hosts of the Academy's annual Awards and at the forefront of teaching Patisserie Diploma students the process of bean to bar production in a special chocolate production lab. Several students joined the workshop, absorbing the information and sampling the chocolate with intense attention.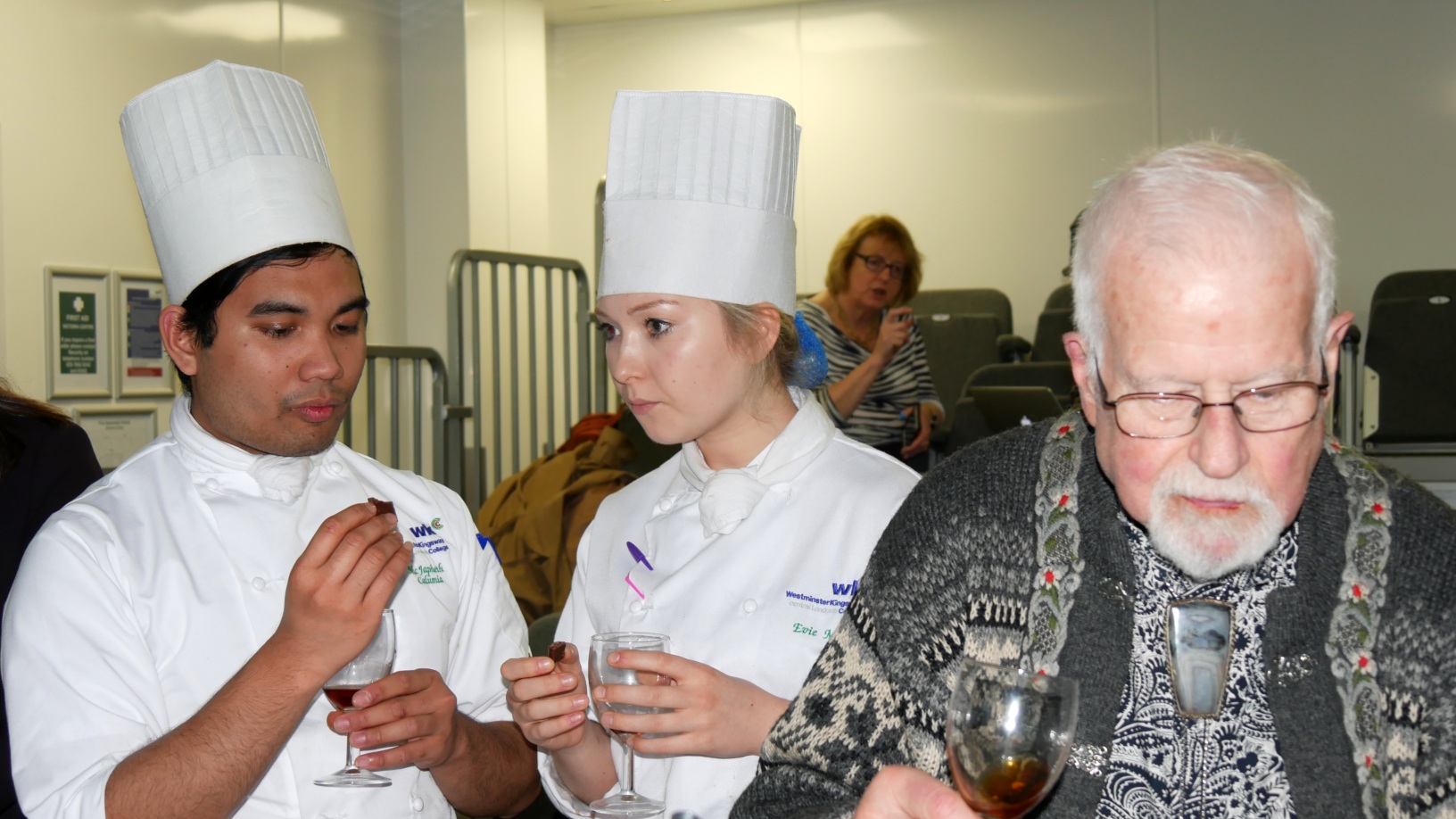 Frank Homann told us about his career as an officer in the Danish army and explained that after leaving he became a management consultant. He later started a high-tech company and eventually moved with his family to Mexico. Frank then joined an NGO project in Honduras with one of his former colleagues. The assignment was to study the future of cocoa as a means of combating poverty. Frank's conclusion was that bulk cocoa is not a business for small holder farmers in Latin America as the prices paid are volatile and often below cost. Frank decided to set up a fine cocoa company.
Frank compared cacao to the wild apple tree. Each seed produces a different fruit. Wild apples are rarely edible. Just occasionally an apple seed sprouts us a wondrous new variety such as Discovery, Cox's Orange Pippin or Royal Gala. The Romans showed us how to graft a small branch of the required variety onto wild apple rootstock to ensure we get the same fruit, time after time. Until now cacao has never been commercially grafted.
Frank travelled to Central America and roamed the forests to identify those cocoa trees with the potential to produce the best gourmet beans. Eventually, in the Northern Coastal forests of Honduras (known to us as the Mosquito Coast) he came across 400 trees of Mayan Red, owned by an old lady who was too old to harvest the beans.
Frank feverishly fermented the Mayan Red beans in wooden boxes in their own pulp using micro-fermentation techniques for the optimum release of flavour. The first small batch of chocolate made from Mayan Red was immediately identified as from 'Flavour Cocoa', almost extinct in Central America. Frank set his 'Mother Trees' to work with a massive grafting operation so that he could be sure of obtaining the same fine flavour from successive crops.
Now, several hundred farmers have partnership contracts with Xoco. They are guaranteed good prices and technical support for the productive lifetime of the trees. The cocoa grows in pods all year round. It is perennial. Inside the pod lie 30 cocoa beans within a sweet pulp. The bulk fermentation of beans is carried out in San Pedro Sula, Honduras' second city. The beans are then dried, packed into sacks and exported to chocolatiers.
Frank explained to us that true speciality chocolate forms just 1% of the market. Compare this to coffee, where speciality is 50%, speciality beer 15%, speciality cheese 15% and you realise the chocolate has a long way to go. The average consumer doesn't know how to identify fine chocolate and as it is claimed that chocolate stimulates over 800 taste sensors in the mouth, more complex than wine, Frank argues that most of us are eating the chocolate equivalent of plonk!
Frank also argues that most chocolate is too cheap. At Whole Foods it merely costs $2.99 for a bar of chocolate that saves an animal, feeds a farmer, is UTZ certified, Fairtrade and endorsed by the Rainforest Alliance. The Fairtrade price to the farmer is 5% of the selling price of the bar. After all the certification that's 9 cents. The price paid for the cacao that goes into this bar won't lift farmers out of poverty, indeed will anchor poverty, The price is so low that child labour is often used. It is doubtful that chocolate this cheap can be good for cacao farmers or the environment.
Further information on Frank and Xoco can be found at xocogourmet.com
Emma Cope, the couverturier for Hotel Chocolat, treated us to a chocolate tasting starting with dark chocolate made from the Mayan Red cocoa bean. This was not chocolate as we know it. Here are our tasting notes summarized: cranberries and raisins, plums and tobacco with smoky, woody undertones. The flavours lingered giving off liquorice and blackcurrant. We were told that the Mayan Red is synonymous with the Syrah grape but we were bingeing on chocolate, including Danish bean to bar chocolatier Friis Holm's award-winning interpretation of Mayan Red – forget the wine!
Emma guided us through her rare and vintage range of chocolate. Her job is to test all the single origin beans and analyse every harvest to obtain the best quality dark chocolate. We also tasted salted espresso Martini chocolate from Hotel Chocolat, festive Nashido bars with kindling flavours from Zotter; calamansi caramel and honey salted caramel filled chocolates, both Academy Gold Award winners from Rococo.
Sara Jayne Stanes OBE gave us a remarkable lecture on the history of chocolate. We learned about Mayan culture, the arrival of Hernan Cortes and the death of Montezuma - all entangled with a healthy dose of drinking chocolate. Cocoa beans became the preserve of Spanish aristocracy, the church and apothecaries. Cocoa cured everything - but it still didn't taste particularly good. The grandson of Joseph Fry discovered chocolate as a by-product of drinking chocolate in the mid-19th century using a chocolate press that squeezed the butter out of the beans - this was the first time that solid chocolate was eaten for pleasure.
The chocolate making process is an epic journey from tree to bar. After the beans are transported to the factory they are cleaned, roasted & then winnowed, separating the nib from the shell. The cocoa nib is ground, producing cocoa mass which is kneaded with sugar into a dough. The dough is refined through a series of steel rollers to 20 microns and then conched (mixed with shell-shaped paddles) for a long period to drive off volatile odours and bitterness.
You can find more information on the Academy of Chocolate Website academyofchocolate.org.uk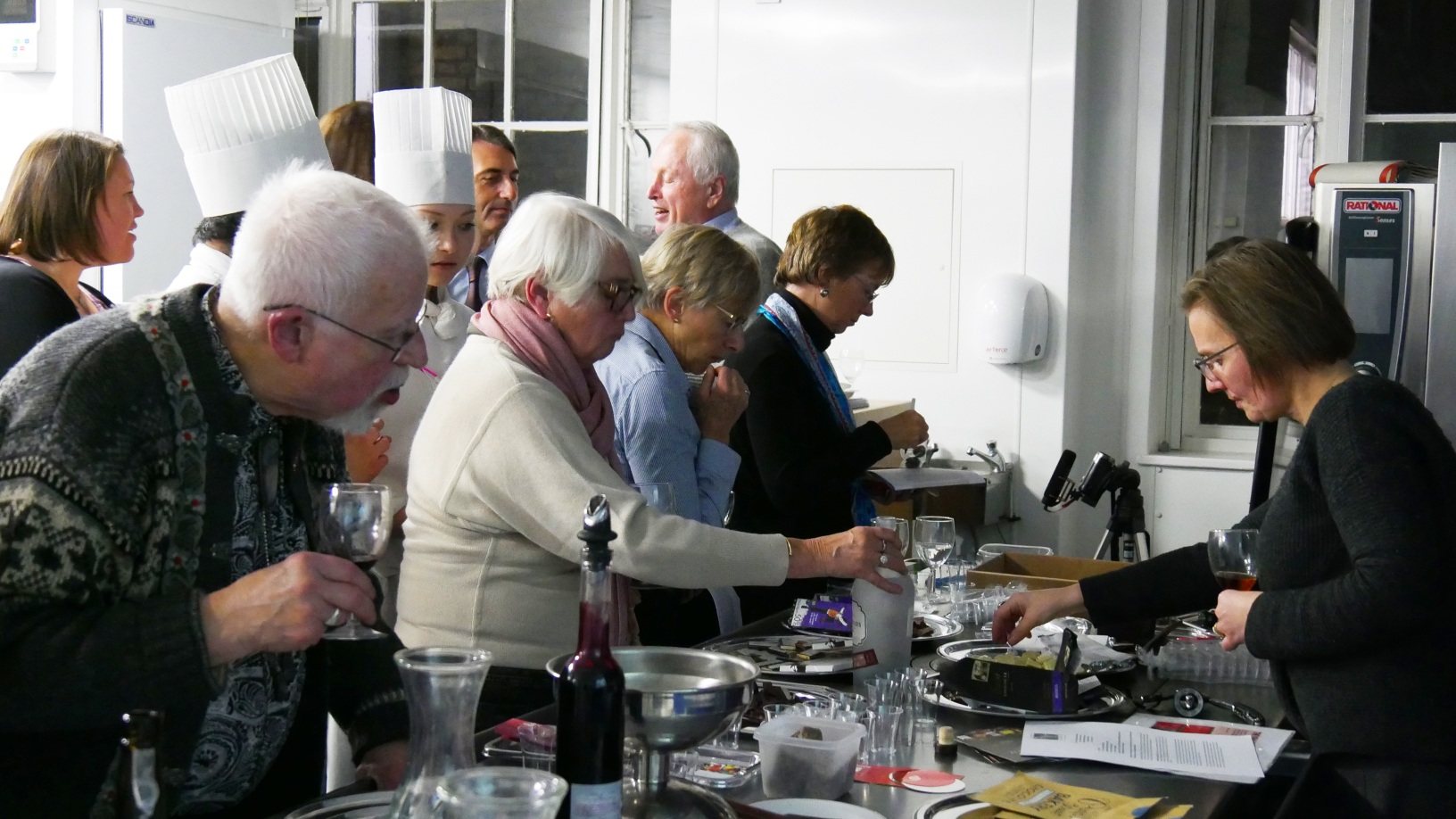 The tasting continued with a selection of bite size Amedei and Cluizel chocolates served with cacao nibs, salt and roasted beans. 'Blanco de Criollo' was balanced and harmonious. 'Porcelana', a criollo hybrid, made from a rare variety of cocoa only grown in Venezuela was delicate and scented with lemongrass and passionfruit. Michel Cluzel's São Tome 'La Gracinda' had leather notes, smoke and peat with low levels of tannin in the background. Finally we entered the realm of Toscano Black, pure power with a lingering spiciness.
Our taste buds were still tingling as Sarah Jane Evans wheeled in the drinks trolley.
Sarah is a founder member of the Academy of Chocolate and as a Master of Wine has very finely tuned taste buds. As with the production of most fine quality foodstuffs and beverages, she noted, where the chocolate comes from and the method of production make a considerable difference to quality and flavour. She sees chocolate as a sensuous, special product and appreciates it in the same way as she does a glass of wine, even down to the way it's a good deal about the anticipation!
We all got a little overexcited as we found that fortified wine goes well with chocolate, very well! Yet more samples were forthcoming at this stage, with examples of highly ethical 'Tree to Bar' production from Chocolat Madagascar – bars produced on the island itself – adding dark milk and white chocolate to the tasting mix. Try Madeira, with a marked acidity but also sugar, oranges and raisins. 20 year old Tawny Port has enough maturity to complement fine dark chocolate with its caramelised character but you could also try something quirky such as a grenache 'vin naturel' (tasting like blackcurrant juice on steroids). A subtly sweet espresso martini would be a good partner for a juniper bar.
Thanks to all for a memorable evening. We learned a lot about chocolate and were lucky enough to taste some of the best bars in the world.
© Nick Sandler 2016
Photographs © Silvija Davidson 2016
Guild member John Whiting made a video recording of this workshop and you can see what happened at youtube.com/watch?v=7UJKS0W6VWU&feature=youtu.be.