Peruvian Superfoods Workshop: Tuesday 15 March 2016
23 March 2016
This is a report written by Wendy Sweetser of a Guild Workshop that took place on Tuesday 15 March 2016 at 6pm at Andina, 1 Redchurch St, Shoreditch, London E2 7DJ.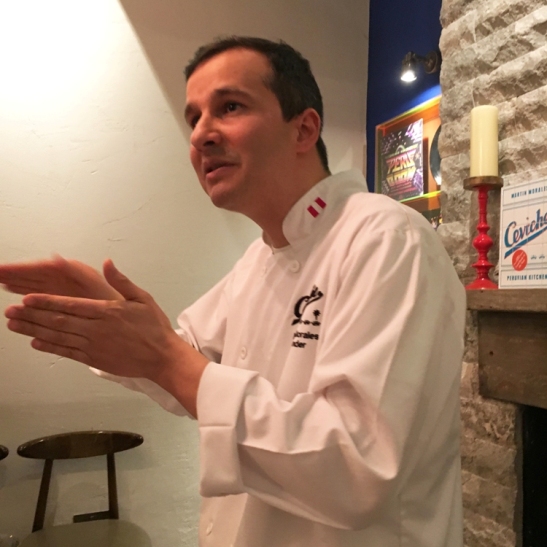 Martin Morales
A few years ago, if you asked someone what they knew about Peruvian cuisine, the chances are they'd have said 'guinea pigs' and maybe if they considered themselves 'foodies', the name of an obscure grain – probably mispronounced – might have crept into the conversation as well.
Before Guild member Martin Morales's Peruvian superfoods workshop, we, as food writers, probably felt we were familiar with this cuisine that predates the Incas. However, I don't think any of us lucky enough to bag a place at his restaurant, Andina, were prepared for the wealth and variety of genuine superfoods that are native to his country. As we entered the restaurant's private dining room clutching pisco sours, the array of seeds, spices, fruits, vegetables, herbs, sauces, grains, nuts and roots, stretching out before us on a long table, took us all by surprise.
Some of the ingredients, such as quinoa, we were confident we already knew, until that is Martin explained in Peruvian markets there would be 35 different types of quinoa on sale, including the black and red varieties on the table alongside the more familiar white. Rather than just adding quinoa to salads, Martin said Peruvian cooks serve it as an alternative to couscous or rice, use it in place of panko breadcrumbs to coat croquettes or arancini, turn it into granola, porridge and drinks or grind it to a flour for bread and other doughs. It can even be popped like corn and, he assured us, 'makes delicious burgers and sushi'. It's not surprising the shrewd Incas considered this ultimate protein food more valuable than gold.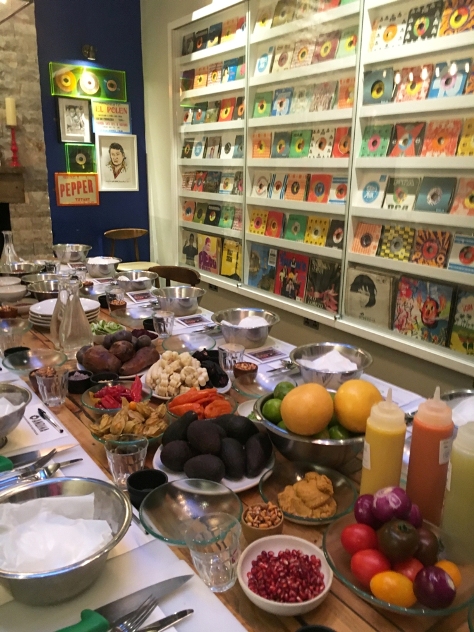 Martin spent his early years in Lima and was only nine years old when he began cooking. 'Each week my Peruvian grandmother, who came from the Andes and was a farmer, sent us a hamper. I can remember these hampers had a cloth on top and, when you lifted the cloth, underneath there were wonderful things like eggs that were bright orange in colour, hams, cheeses, chillies and so many different types of quinoa. My great aunt taught me to cook but it was my grandmother's ingredients that inspired me.
'When I opened Andina, which translates as "a woman from the Andes", I named the restaurant after my grandmother. Here we cook with love using my childhood ingredients, matching flavours and introducing people to foods that have grown in Peru for thousands of years. There are three-and-a-half thousand varieties of potato that grow around the world, two-and-a-half thousand of them in Peru. Over the past 500 years, migration has brought Spanish, Italian, Chinese and African settlers to the country and they have all left their mark on our cuisine. We have 492 national dishes – and I haven't just made that figure up', laughed Martin, 'Peru is in the Guinness Book of Records as having the highest number of dishes of any country.'
Before Martin reached his teens, his Leicester-born father brought the family to live in the UK after they were threatened by the Shining Path Guerrilla Movement in Peru and were forced to live under armed guard – 'It was a bad situation', said Martin with a wry smile.
As well as food, Martin's other great love is music as witnessed by the dozens of vinyls lining the walls of the private dining room and called, appropriately, The Music Room. Before opening Andina and his two other restaurants, Ceviche Old Street and Ceviche Soho, Martin worked in the music business for Disney and Universal and launched iTunes in Europe for Steve Jobs.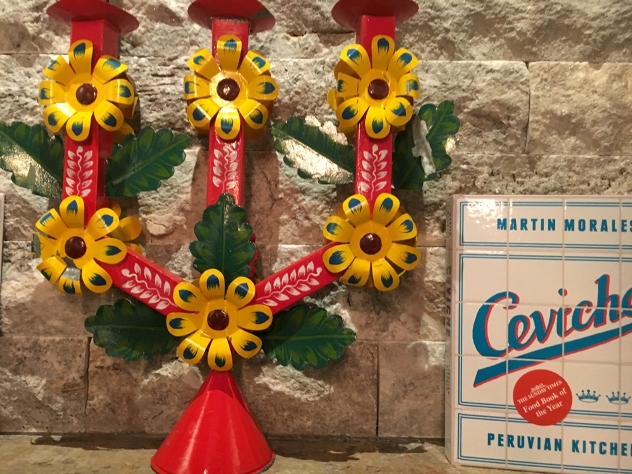 But eventually Martin knew what he really wanted to do was cook the ingredients he loved. He started with supper clubs at his home and then graduated to pop-up restaurants. 'Five years ago people didn't know about Peruvian food', Martin told us. 'I wasn't gastronomically trained but I wanted to create something in the centre of London where I could show people the incredible variety of the food, serving the dishes my great aunt had taught me but with Michelin-starred touches.'
Martin and his head chef Vitelio Reyes talked us through many of the less familiar ingredients spread out before us and described how they create the dishes on Andina's menu.
'We work initially with the visual aspect,' explained Martin. 'Green and purple ingredients not only make bright, pretty dishes, we think those are the most nutritious as well. Freshness is also all-important with dishes needing to be prepared as close as possible to when they are going to be served. Many varieties of corn grow in Peru with purple being particularly high in antioxidants. We boil it to extract its flavour and serve it as a drink. Another variety of corn called chulpe is dry fried, which makes the kernels jump around in the pan. They don't burst like popcorn and we eat them as a snack called cancha. It tastes like crunchy corn-flavoured nuts and is totally addictive!' None of us needed persuading to put this to the test and the contents of the cancha bowls rapidly disappeared.
One ingredient that provoked much comment was lúcuma, a fruit from the Andes similar to a green mango with orange flesh, a creamy butterscotch flavour and quite gritty texture. Rich in calcium, fibre and beta carotene, in Peru it is made into an ice cream and is the country's biggest selling flavour after vanilla and chocolate.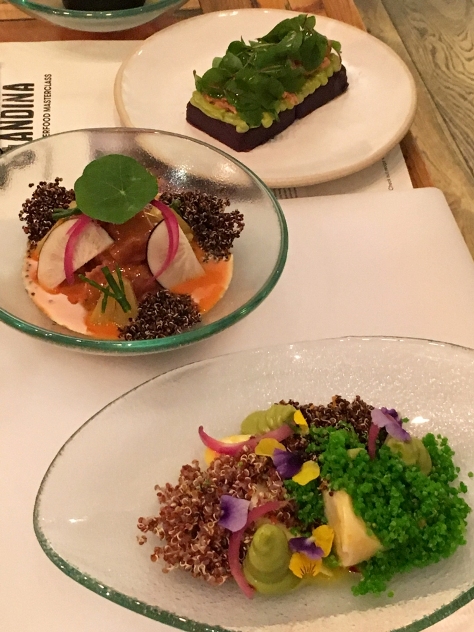 When Martin said he used lúcuma at the restaurant, it raised the question of how he sourced his ingredients. Visions of jumbo jets packed with Peruvian superfoods touching down each week at Heathrow were quickly dispelled as Martin said the majority of his ingredients were sourced in the UK. When he began as a restaurateur, he approached UK growers asking if they could grow the ingredients he needed. The response was immediate and today 93 per cent of the produce Martin uses in his kitchens is sourced here. This achievement has won him the prestigious 'sustainable restaurant of the year' accolade. The remaining seven per cent such as lúcuma, which can't be grown in the UK, he does import from Peru but as the singular fruit also doesn't travel well it has to be pulped before it can be packed and shipped.
As he talked, Martin, together with head chef Vitelio, prepared three dishes for us to taste. The first was Causo Puno, sustainable line-caught tuna tartare on a bed of cold purple potato mash, topped with crushed avocado and greens and spiked with lime and rocoto chilli. Just one of the many types of chilli that grows in Peru, several of us commented that it comfortably earned its place on the Scoville scale.
Next to be passed around the table was a Tuna Ceviche, an elegant bowl of lime-marinated tuna, black quinoa, black radish, pickled onion and some fearsomely hot chilli that Martin assured us was the perfect partner for rich fish.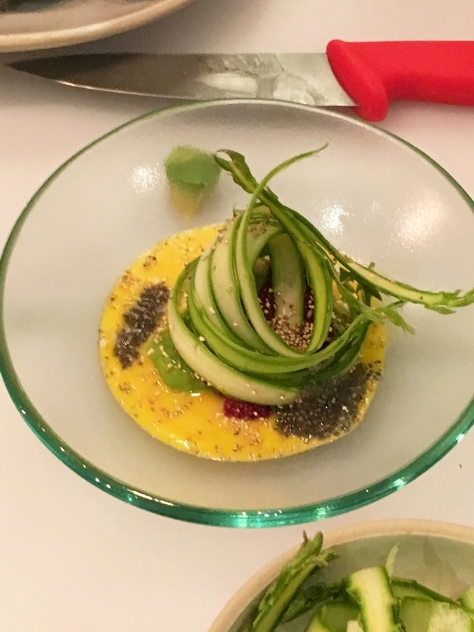 The final dish was Ceviche de Palmitos (above), a tangy combination of palm hearts, chlorophyll cooked with quinoa, avocado purée and tiger's milk. As we all did a double take when he mentioned the last ingredient, Martin assured us there were no tigers in Peru. Relieved we were not depriving any cubs of their sustenance, he explained Peruvian tiger's milk was a zesty marinade used for ceviches made from, among other things, fresh lime juice and chillies.
Finally, it was our turn to create our own Peruvian mini-masterpieces. As we layered our salads with baby avocadoes, wafer-thin curls of shaved asparagus, popped quinoa, red amaranth, puréed lúcuma and beetroot, and drizzled them with sacha inchi oil and tiger's milk, Martin and Vitelio came among us to offer advice on combining flavours and compliment us on our efforts. The proof was in the eating as it seemed whichever ingredients we paired the result didn't just look beautiful, it tasted delicious too.
But where were the guinea pigs? Martin laughed and said it was quite true that Peruvians did eat them. He assured us – and no doubt countless children everywhere – that in Peru guinea pigs aren't kept as pets. 'When I was little I'd go to my grandmother's house and she kept a basket of live guinea pigs under the stove in the kitchen. Rather than sweet, cuddly little pets, these were chunky creatures with plenty of meat on them. She'd tell me to pick one for my dinner and I have to say they always tasted very good!'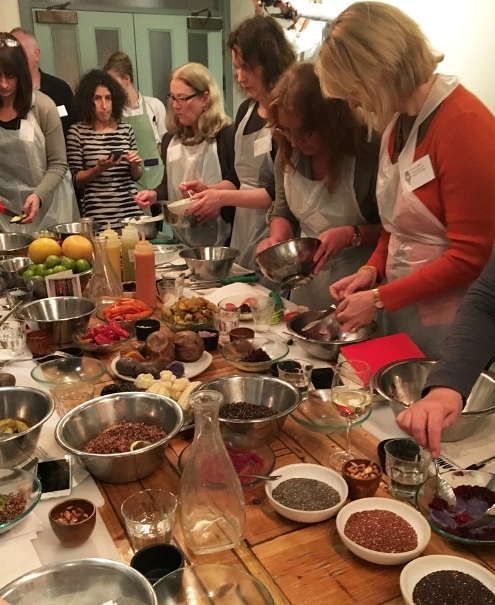 © Wendy Sweetser 2016
Photographs © Wendy Sweetser 2016
www.andinalondon.com/shoreditch
Guild member John Whiting made a video recording of this workshop and you can see what happened at youtu.be/F7HOlI4SIJ4