Whisky and Food Pairing Workshop with Cesar da Silva and Rosemary Moon: Monday 26 September 2016
26 September 2016
This is a report written by Susan Campbell of a Guild Workshop that took place on Monday 26 September 2016 at 6.30pm at The Capital Hotel, 22-24 Basil Street, Knightsbridge, London SW3 1AT
Brought up by a whisky-drinking father, and married (successively) to two more aficionados, I thought I knew quite a lot about a drink which, for at least the last 50 years, I have regularly downed every evening come seven o'clock. I was intrigued therefore, by the subject of this workshop. By the end of it I was feeling considerably more genial than I was when it began, as well as very much more educated.
Rosemary Moon (above) and Cesar da Silva divested me and also, I would guess, the fifteen other attendees at this workshop of several misconceptions; chief of which was that Whisky was One Thing; Food Another.
Four small square tables awaited us at the Capital Hotel, each set with four places meticulously lined up. Each had a folded napkin, a knife and fork, a rectangular plate with, from left to right, paper-thin slices of three kinds of salami, two large-stamp-sized pieces of cheese, one cheddar, one blue, with teeny dabs of chutney beside them, and a thumb-sized piece of chocolate cake.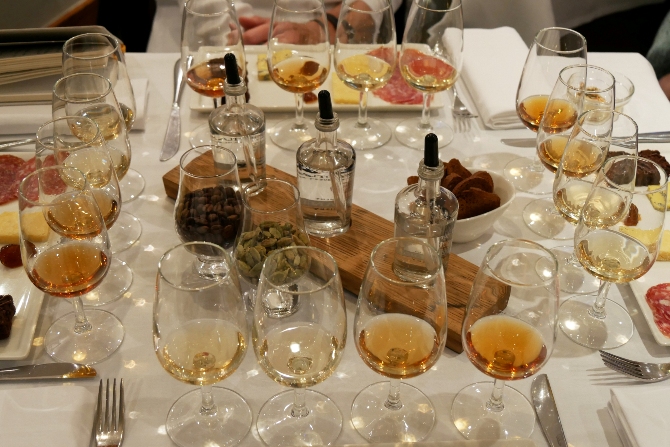 Four small copita-shaped glasses, each containing a couple of tablespoons of neat whisky, varying in colour from palest amber to dark copper, were lined up like guardsmen behind each plate. There were also two bowls containing the thinnest of thin Melba toasts, a trio of small water bottles with drop-administering tops and, most mysteriously, two more glasses; one containing coffee beans, the other, cardamom seeds.
But first, as if at a party, came waiters bearing trays of cocktails – complex whisky-based 'Glenfinis' containing apple and grape juice with a finish of orange peel and oil – to be accompanied by the Melba toast and little bowls of divine taramasalata.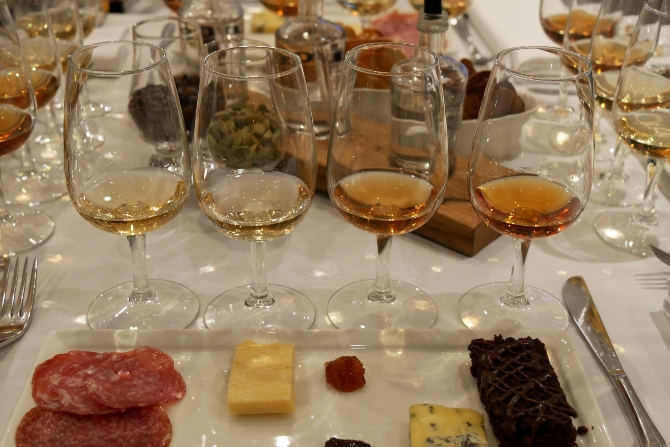 Then came the first pairing starting with the palest glass; a Lowland single malt, Ailsa Bay from Girvan, near Troon. This went with the first slice of salami, a smoky sausage with what, at first sip, seemed to be a rather burning whisky. But, as Rosemary explained, the first sip, on the tip of your tongue then rolled round the mouth, is just for your brain to get used to; with the second you get the full taste of the whisky and, she added, the salami was to complement the smoky flavour of the whisky. With that second sip, the whisky tasted subtly different – a characteristic shared with wine – and one that changed again on tasting the next salami, mushroomy, smoky and Hungarian. With the third slice, a spicy chorizo, the whisky changed once more, with some of us wanting to add water.
And, while our taste-buds were encountering all these surprises, Cesar da Silva (below), the youngest sommelier ever to be made Keeper of the Quaich and, quite clearly from his name and accent, not a native Scot, explained how different whiskies could be chosen to suit your mood, the time of year and the situation; how our tongues, gums, noses and brains received the flavours (hence the whisky-enhancing coffee beans and cardamom seeds which we were invited to sniff between sips); how the wood of the casks in which the whisky matured, the wines or spirits which had in those casks matured, and the length of time it was in there, all affected its taste as well as its colour.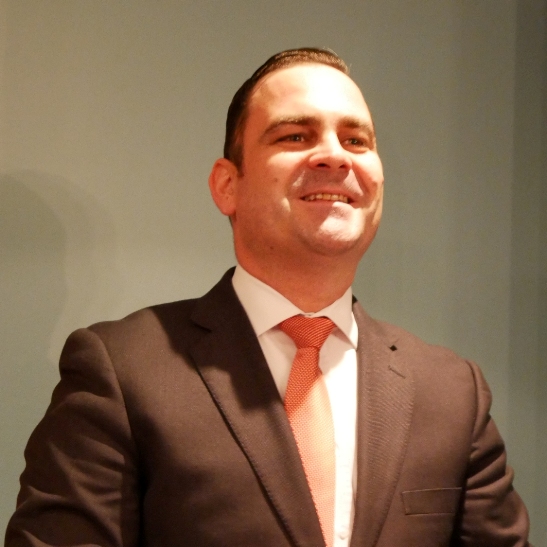 Cesar da Silva
More revelations followed, with Rosemary, who runs a Whisky for Women club in Chichester joining in. She admitted that finding the right whisky for herself was like her memory of kissing the first person she really cared for. More seriously the traditional tumbler is not a good shape for tasting whisky; the copita or a true quaich is best. Water can be added after the first sip, as it 'opens up and rounds' the whisky but ice never, unless you must. And each of the waters in the little bottles on the table was from different parts of Scotland, and therefore suited to whiskies from those localities – soft Speyside, more minerally Highland and peaty Islay.
Rosemary then extolled the pairing of food and whisky, saying that the Lowland Ailsa Bay especially was a great accompaniment to fish and summer fruit and even curry, though that last was greeted with a good deal of scepticism. We were on to our second sample, Compass Box Enlightenment. The name, Rosemary explained, was inspired by the writers, philosophers and scientists of the Age of Enlightenment. Compass Box is a relatively new company of young 'whiskymakers' specialising in malt (ie barley) whiskies. This whisky is a new style blend of Highland single malt and single grain, buttery, malty and sweet, which went beautifully with the aged cheddar, sweet and salty with its dab of chutney.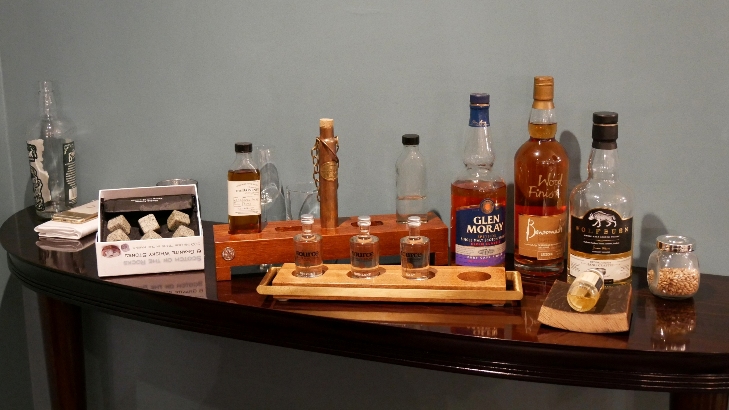 The blue cheese was for eating with the third whisky, a 20 year-old, and therefore old-style Bunnahabhain from Islay. It was by now quite clear that we were sampling brands which were not to be found in any supermarket south of the Border. This one, my notes say, tasted of toffee, but it had been matured in sherry casks and the very idea of adding water was anathema. Cost began to enter into our symposium; like the buyers of wine there were whisky consumers, collectors and investors but, unlike wine, once bottled whisky remains much the same from day one. Moreover, although like wine, it is best kept undisturbed in a dark place, an opened bottle of whisky doesn't go off for at least a year, so all the more reason to spend a good price on a fine bottle. Nor did a whisky-tasting involve swirling the glass then spitting out the sample.
Which led us to whisky number four, a Highland single malt, from The Dalmore King Alexander III, costing £155 + VAT, online. Utterly beautiful, coppery-coloured, tasting of treacle, coconut, almond and liquorice, this was a blend of whiskies matured in six different casks and the perfect partner to the chocolate cake.
Our dismay on hearing that Rosemary and her husband Nick will be shortly heading for retirement in the Orkneys was therefore slightly tempered by this thought at the end of the evening – her whisky orders, once there, will be not so much online as on tap.
© Susan Campbell 2017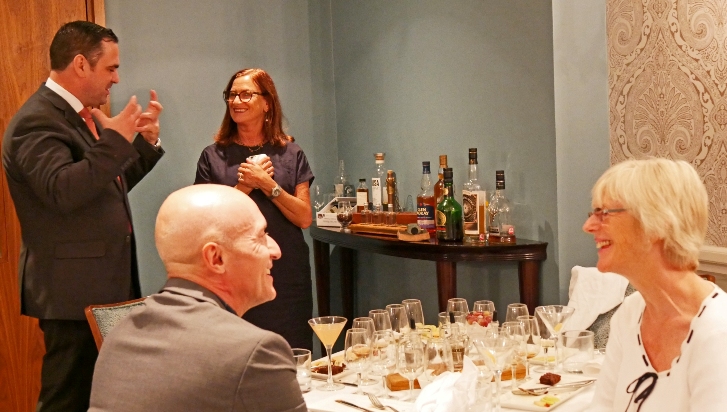 Photographs © Silvija Davidson 2017
rosemarymoon.com/whisky-for-women/
Guild member John Whiting made a video recording of this workshop and you can see what happened at youtube.com/watch?v=_sf_CmhnXAU