Devon Highlights 'Coast to Coast' Tour: May 2017
18 May 2017
This is a report written by Martha Collison of a Guild Tour of Devon's vibrant and richly varied food scene, as guests of Food & Drink Devon, which took place from Monday 15 to Wednesday 17 May 2017
On a drizzly Monday afternoon in May, a group of ten hungry food-enthusiasts from all across the country gathered outside Exeter St Davids station united by a common goal; to discover the best food and drink Devon has to offer. The trip, a lavish complimentary tour of the West Country, was generously set up by Food & Drink Devon and organised by the incredible Hayley Reynolds. It included staying in destination hotels, indulging in fine food and meeting exciting new producers showcasing the best of their crafts and local produce. This was my first trip since recently joining the Guild, and I was keen to come as much of my family originated from South Devon. Growing up nearer London, I've never been able to discover the county from a foodie perspective or to fall in love with the countryside and everything it cultivates. Too good an opportunity to turn down, we set off for a foodie adventure that blew all our expectations completely out of the water.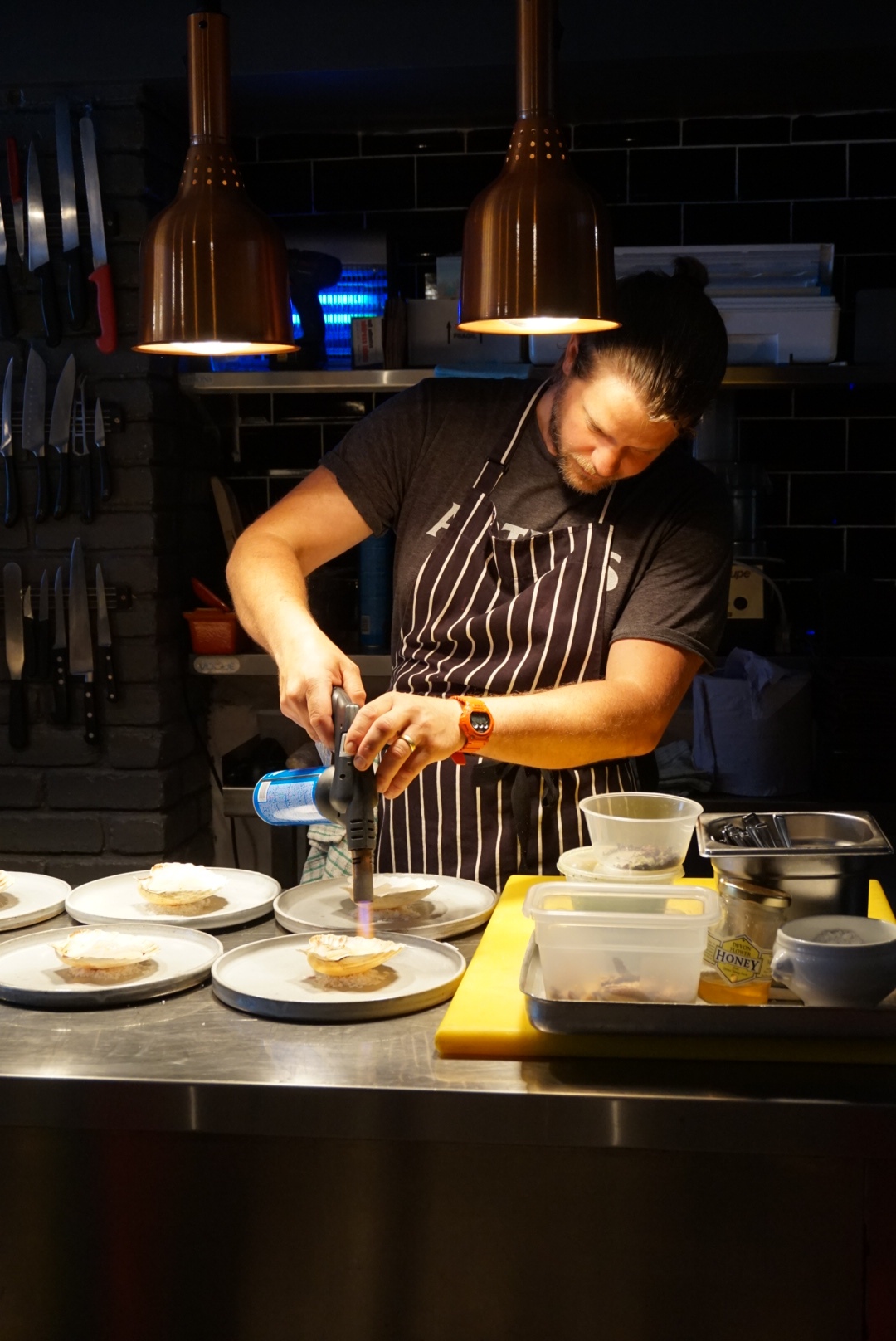 Neil Corston
As soon as we'd been introduced, we were packed into cars and began a long winding journey towards Woolacombe on the North Devon coast, ready to feast on a tasting menu at Noel Corston's restaurant. It didn't take long for the stark comparison between city and country life to present itself, as our journey was interrupted by the need to rehome a brood of lost ducklings. The brave instincts of one Guild member sprung into action, wringing the neck of a suffering duck and rehoming its duckings with a local farmhouse.
Once regrouped, it was finally time to tuck in to our first meal together – highly anticipated as we were ravenous! Noel's 'biosphere' restaurant is the perfect balance between a laid-back beach restaurant and a fine dining establishment; the intimate style of dining feeling as though you are sitting around a kitchen table where the most beautiful, responsibly sourced ingredients are transformed before your eyes. The menu was light and refreshing, but packed with flavour: perfectly and simply formed courses. Particular highlights included blow-torched scallops with artichoke puree and dashi broth, whipped duck fat studded with seaweed smeared on crisp sourdough, silky and rich wild garlic mash with 8-hour slow roasted duck and rhubarb ceviche and hibiscus sorbet. We were introduced to three local producers over the meal who shared the background of their businesses. Ebb Tides, showcasing seaweed as a new, innovative seasoning and explaining the difference between kelp and dulse varieties and how they can best be used. We tried beer from Braunton Brewery and Devon Oke cheese with a quince jelly. Lunch ended with a quick break to brave the drizzle and dash down to Woolacombe beach to admire the surroundings and pose with a few surfboards.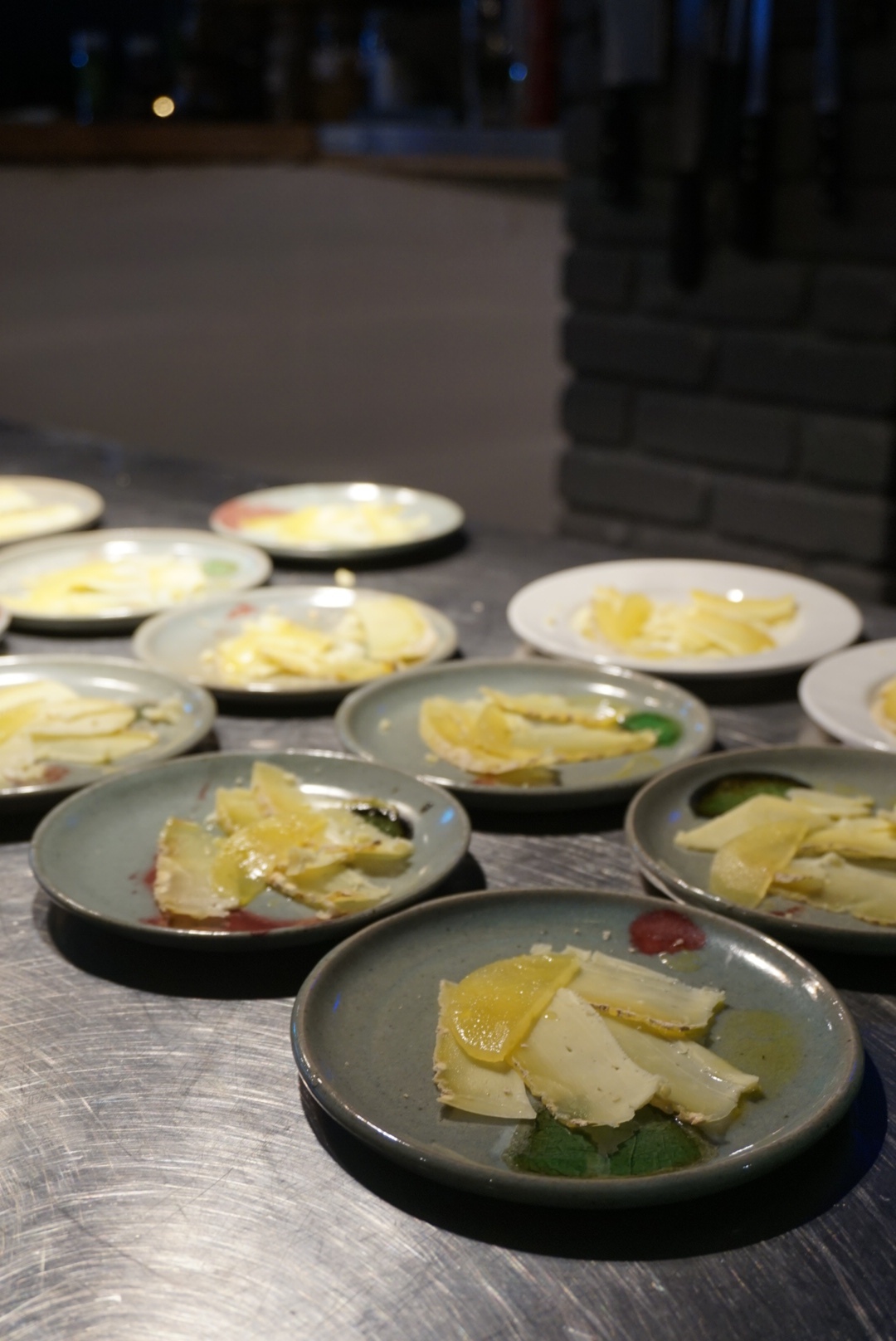 Next stop was the Broomhill Art Hotel, a sculpture hotel with quirky interior. We arrived in torrential rain, so unfortunately couldn't explore the sculpture-filled garden, so we headed for bed, but not before a meal together, complete with gin and tonics made with Luscombe Drinks tonic water. We feasted on a four-course menu and drank and chatted the night away, before retiring to bed, suitably stuffed, looking forward to the days to come.
An excellent breakfast of locally smoked river trout with fresh eggs and an unexpectedly long car journey later, we were warmly welcomed at Eversfield Organic farm by Mark Bury and his family, the team behind the vision of the farm, with hot drinks and freshly baked cakes. An informative and passionate talk followed about his organic farm, one of only 37 certified pasture fed livestock farms in the country, sharing about the exciting growth in the market and the consumer shift towards eating less meat, but meat of a higher quality. We were honoured with a rare opportunity to see inside the onsite butchery, and saw the high level of care and attention to detail put into every single meat box. The visit was a true insight to organic farming of the future, and after a lunch of farmhouse breads and homemade charcuterie, we left inspired by what we'd witnessed.
Next stop was one which as highly anticipated by our group: a visit to newly-opened Salcombe Gin and the opportunity to distill our very own bottle of the stuff in the Gin School. This was my personal highlight of the trip; combining aromatics and flavours feeling very similar to my comfort zone in baking. Help was on hand to advise us on what botanicals work together – a balance of citrus, juniper, spice and earthy being best, but we were free to infuse our gin however we liked. We tasted the distinctly different layers of flavour in the head, heart and tale of the gin, bottled up our efforts and left proud; albeit a little lightheaded!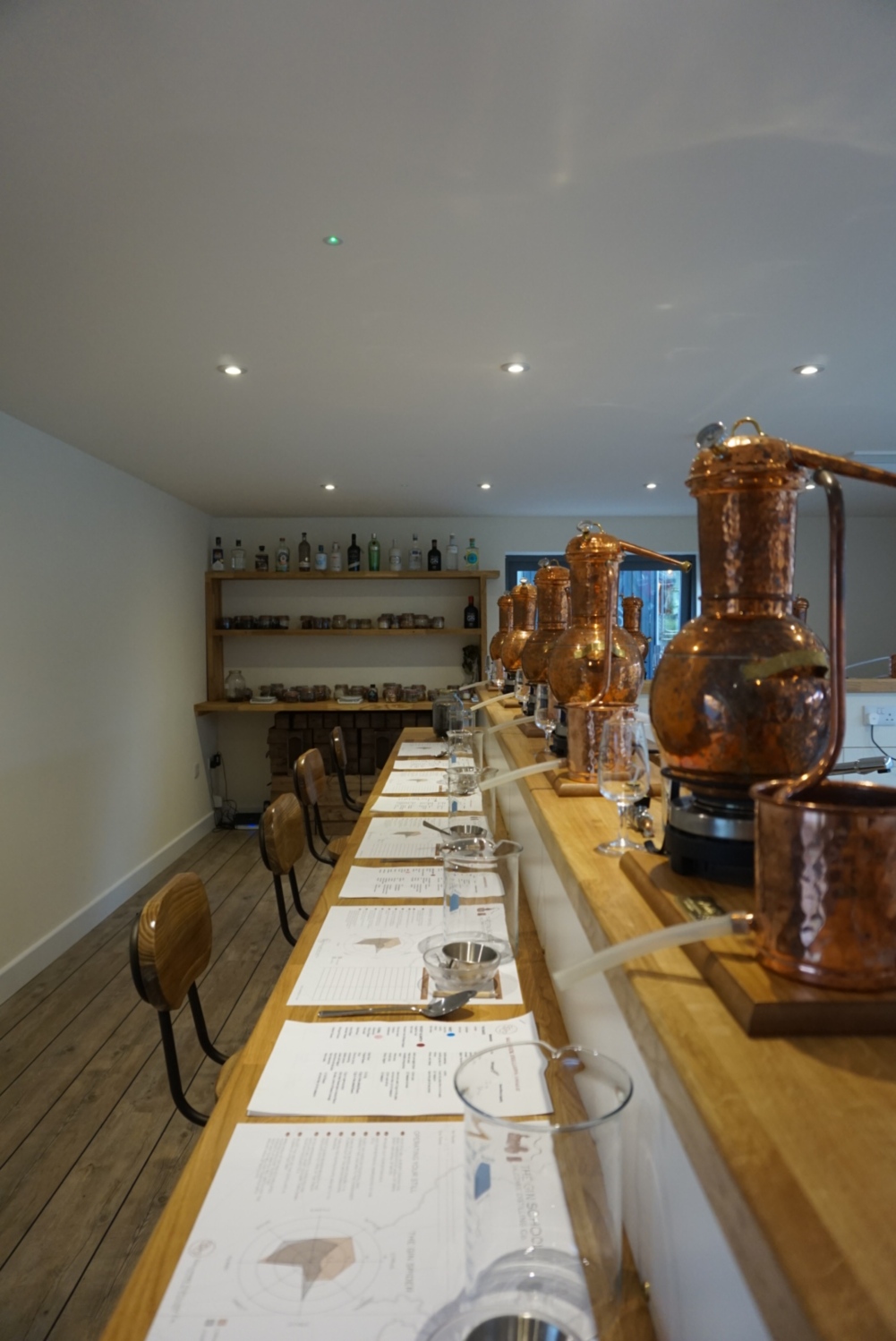 The alcohol-heavy evening continued just down the road at the South Sands hotel with a Lyme Bay wine tasting with a stunning meal cooked by Allister Bishop, designed to compliment the wine served with each course. Admiring the views over the estuary, refreshing glasses of wine made lovingly in Devon in hand, was a fitting end to an information packed day.
The final day of the tour started just up the road at Salcombe Brewery. A stark contrast to the polished, copper plated gin distillery, the brewery was in its early stages of development. It was eye-opening to see the bare bones of brewing and the smell and handle the different hops that make beer different. The braver, strong-stomached members of the group sampled the beer at 10am – others graciously accepted bags of beer to try at a more timely hour.
Our next excursion took us north to visit Dartington Shops. On the way, we stopped at Sharpham Estate vineyard kitchen. The estate boasted spectacular views, even on a wet day, and we enjoyed fire-cooked delights (squid ink tapioca crisps infatuated the group!) washed down with Sharpham champagne. A relatively new restaurant confirmed itself as a must visit on any Devon trip. Dartington shops were next, and Hayley from Raw PR did a stellar job at rounding up a group of tourers somewhat distracted by the Dartington food and cook shops to Venus Café, to hear of their sustainable efforts like recyclable packaging, coffee cups and cans of water to replace plastic bottles. We then visited the drinks shop, where we were introduced to local producers Luscombe Drinks, Black Tor ale and Hunt cider. Next on the agenda was Manna from Devon, the flames from their outside stoves providing a beacon of warmth on a drizzly day. They'd cooked us a delicious and unusual pearl barley risotto and focaccia bread over the flames – unique and charred in flavour. Our busy morning ended with a visit to the food shop on site, where we tasted everything from popcorn to ghee to goats curd ice-cream!
The final stop with our group of 10 (plus a few local Guild members who joined us for various parts of the trip!) was the Green Table Café. The number of establishments we had the pleasure of visiting who were passionate about sustainability and showcasing local ingredients was truly inspiring, and the Green Table was no exception. It captured the essence of the week, with a hearty meal served up to set us up for the long journey home that was to follow. We then said our goodbyes to most of the members, with just a handful staying on for an extra morning of food appreciation down at Exeter Cookery School. Knowledgeable and inspiring duo Jim and Lucy Fisher taught Emma Winterschladen and myself the joys of homemade pasta, and we formed our own egg yolk ravioli whilst listening to Jim's tales of life in the Dordogne and his clear passion for good food done well. The cookery school was newly opened and a real treat; the Guild members who had returned home were suitably jealous!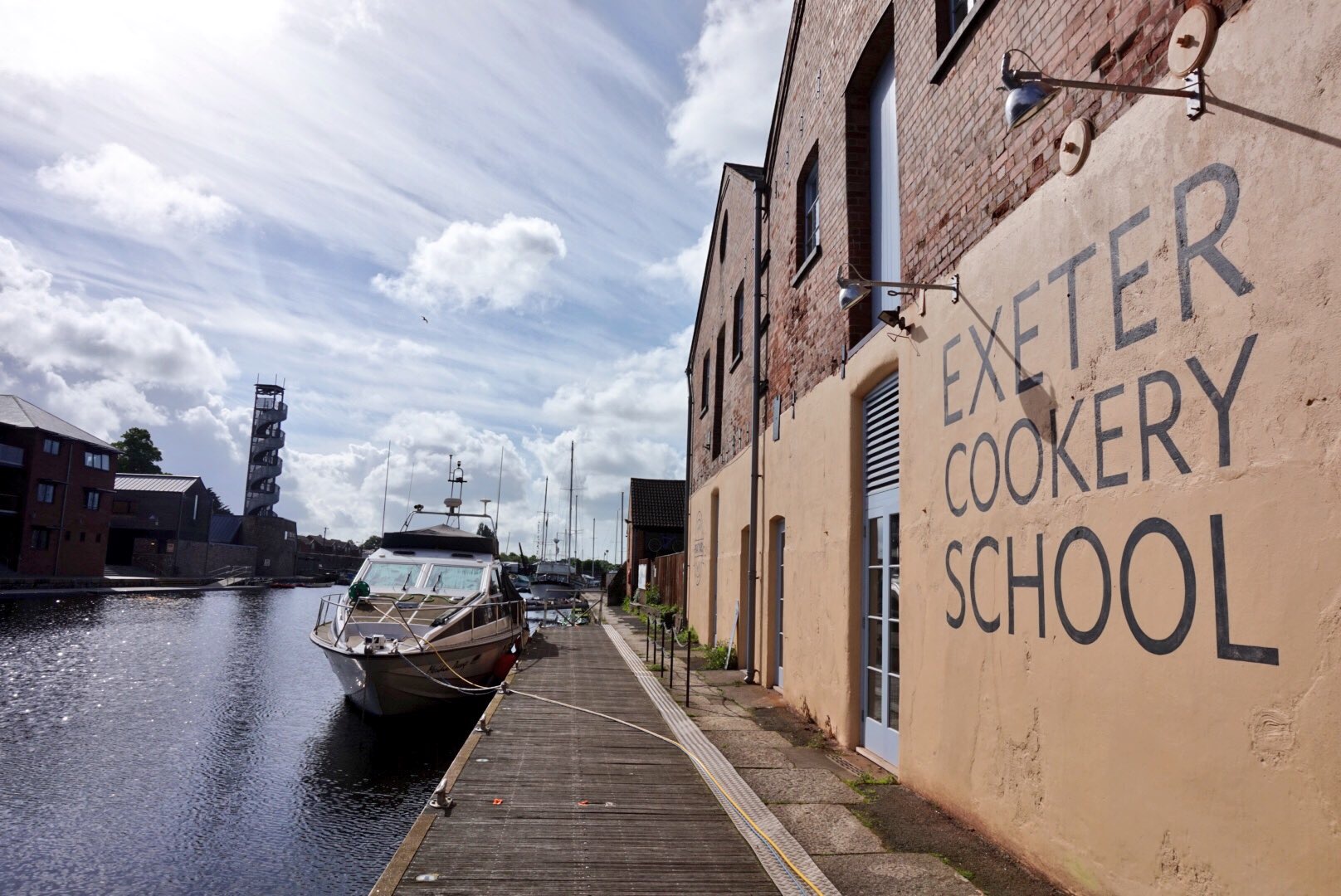 All that is left to say is a huge thank you to Hayley Reynolds, all at Raw PR, local Guild members Orlando Murrin and Anna Turns for showing us truly the best that Devon has to offer with passion and charm. I left heavily laden with bursting goodie bags, planning my next trip down to the wonderful West-country imminently.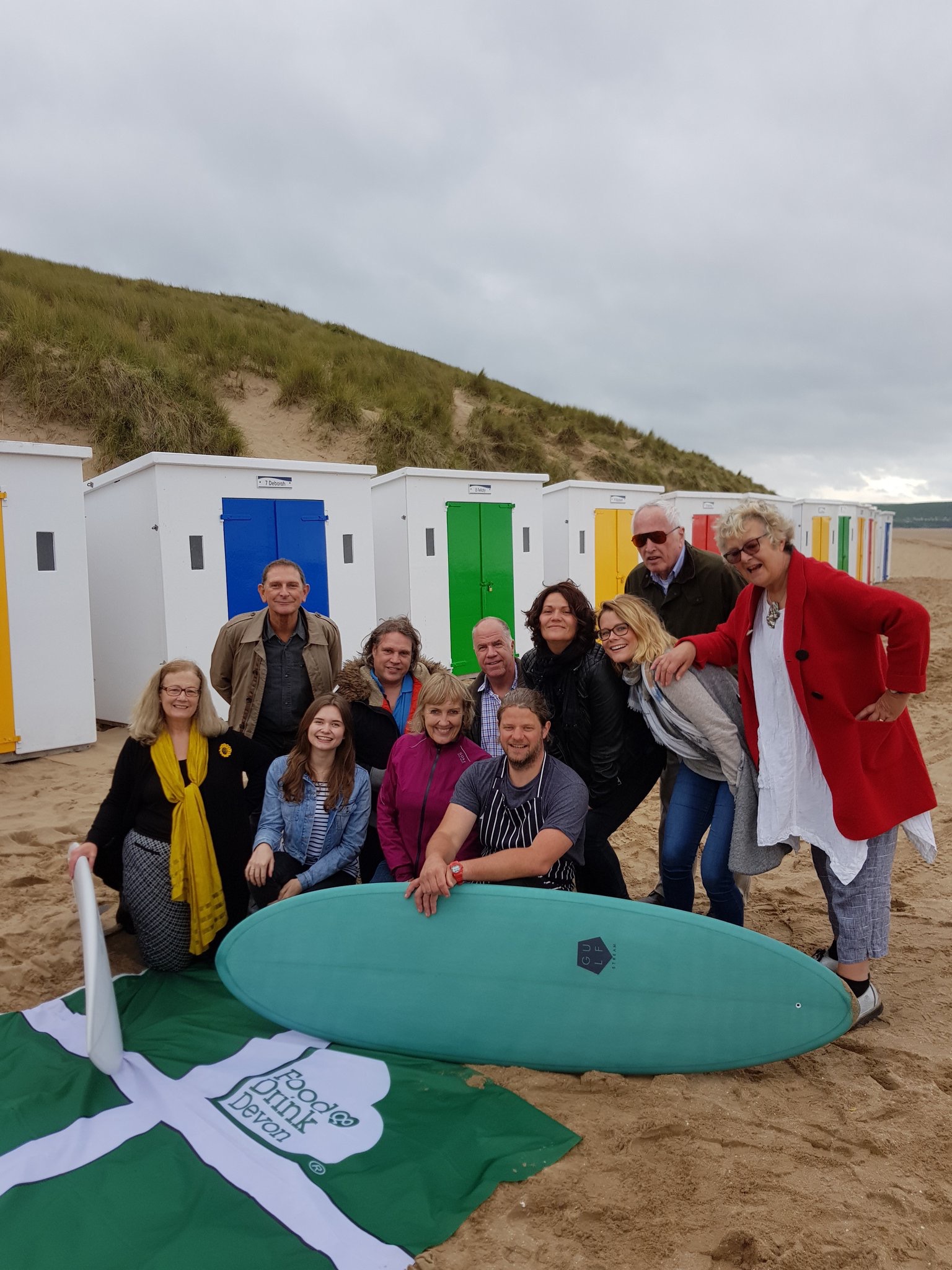 © Martha Collison 2017
Photographs © Martha Collison 2017