Manna from Devon Wood-fired Cooking Workshop: Monday 17 July 2017
17 August 2017
This is a report written by Chloë King of the Guild's Wood-fired Cooking Workshop with Manna from Devon, which took place on Monday 17 July 2017, from 6.30pm at The Swan, 1 Evershed Walk, 119 Acton Lane, Chiswick, London W4 5HH
On a balmy evening in late July, I nervously head to my first Guild of Food Writers event… What might I expect from the Wood-fired Cooking Workshop at The Swan in Chiswick? Will I be burnt alive for not knowing my onions?
As I turn a corner in the pub's spacious and well-tended garden, I can only say I'm pleased to find the two Morso Forno ovens sitting aglow in front of me are way too small to fit my 5'11" frame inside.
Leading tonight's workshop are Holly and David Jones from the Manna from Devon Cooking School and B&B.
Since 2005, the pair have built a strong reputation. Their school offers a range of sought-after, convivial classes, a picturesque setting overlooking the River Dart and expert cookery training, with David and Holly being particularly skilled when it comes to bread, fish and fire.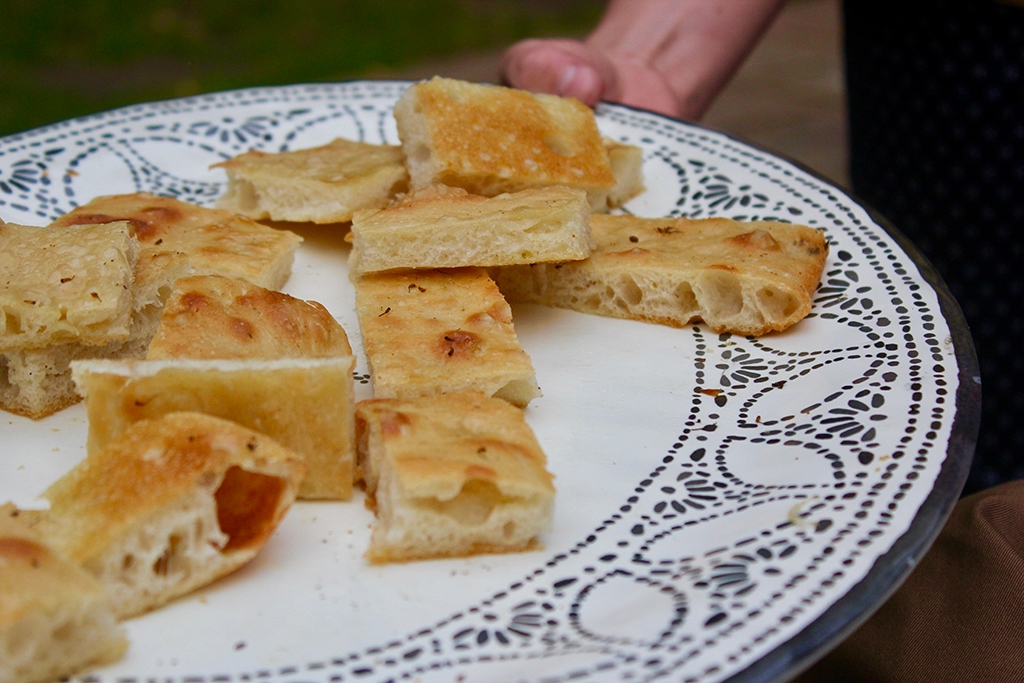 David tells us they began working with wood-fired ovens when they were still 'deeply unpopular' about eight years ago. In the last two years, he says, their use, 'for whatever reason, has gone stratospheric'.
It's true to say that, in 2012, I thought it radical when a new sourdough pizzeria opened locally, sporting a central wood oven positioned so customers could gaze lustfully into its flames. Now you commonly find these beauties not just in pizzerias, but on cramped street food vans and in luxurious suburban gardens.
We're told there are lots of new UK manufacturers, and if you look online you'll be bombarded with so many different styles it's hard to know which you might need.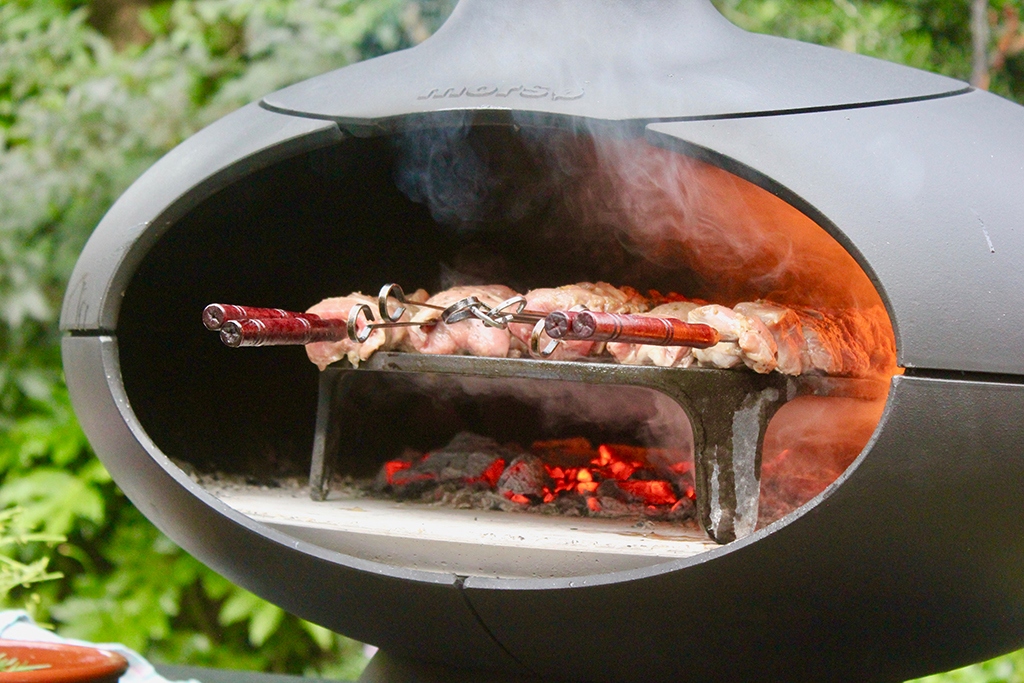 The Danish Morso Fornos will set you back £1099, but they are a solid investment. The attractive, bulb-shaped cast iron ovens weigh100kg and have bases of stone. Says David, 'it's a very lightweight oven'.
Indeed, while the Morso Fornos are moveable, you couldn't exactly call them portable, and for a wood-oven that's a good sign.
With traditional wood ovens, the fire heats the oven itself so that it becomes its own heat source. Once a big one is heated, and it may take five days to sufficiently heat a bakery oven, it can take up to a month to cool down in entirety. Their fantastic heat retention is what gives these ovens their stability, and the potential to make meltingly delicious stews, roasts and bakes over long cooking times.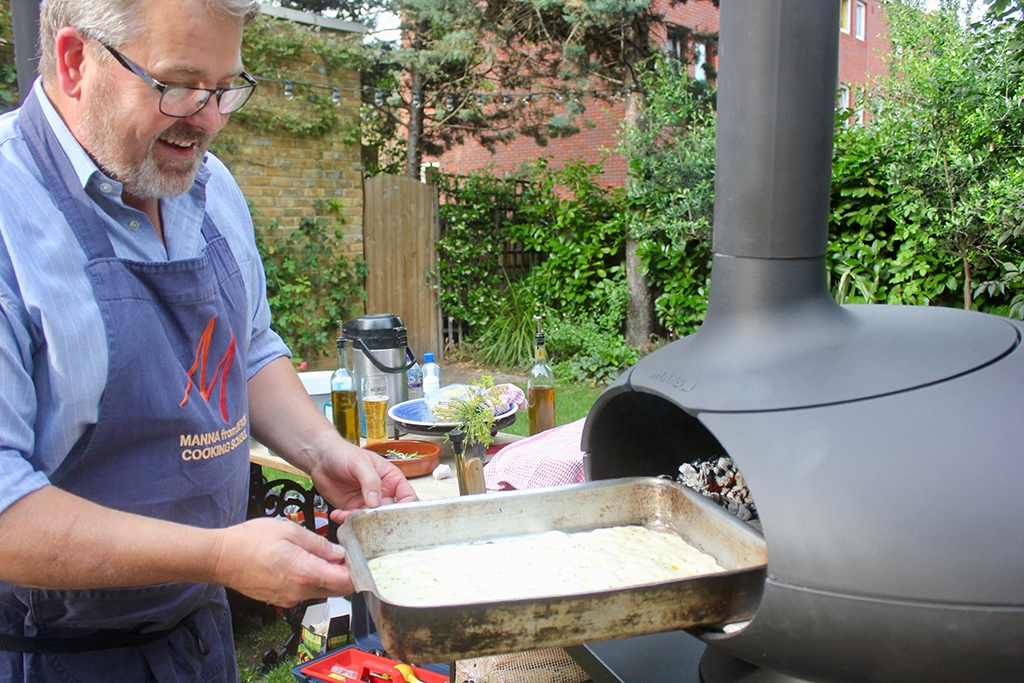 By contrast, the cast iron ovens have far less thermal mass. They take just 20 minutes to heat and a cooking session will take perhaps a sack and a half of wood. They are best suited to things like pizza, flatbreads, fish or kebabs and thus are perfect dinner party gear – a means to offer guests a bit of theatre and the chance to get involved in the cooking process.
'It's a bit of an advance on cooking over open fire,' says David, who recognises how fashionable the rediscovery of 'old tech' is becoming. It's easy to see why, he says. 'Our lives are so overrun by new technology that it all gets overwhelming. It's something nice to step away, to use your senses and instinct rather than some gizmo.'
The more you work with a wood oven, the more you become attuned to the heat. Still, their lack of stability can create challenges for precision cooks. A laser oven thermometer is a handy piece of kit, but, jokes Holly, 'we've come up with this way of telling the temperature by shoving David's hand in'.
'The trick is to sense what the heat is doing to your hand and imagine what that would do to a chicken.' Better still, 'once you relax into this mode of cooking,' says David, 'it's good enough to know that it's about right.'
The recipe to remember is that you should start with well-seasoned wood of only 20% moisture. If worried, you can use a multimeter to measure this. Holly and David use a lot of Latvian birch grown near to their village but any hardwood like oak, sycamore or beech works just as well.
To introduce smokiness, you can throw in a handful of damp woodchips. It's important to remember, however, that you don't want to cook in flame because doing so imparts nasty creosote flavours. The fire should be positioned at the back so that heat will surround the food.
While you may imagine that wood-fired cooking is about creating smoky flavours, the barbecue holds the crown for that. The real benefit is to do with retaining the succulence and moisture in the food.
We're told it's great for tapas, mussels, gambas, tortilla – and at this point I get a side order in how to cook proper tortilla from my neighbour, Elisabeth Luard.
'Do you flip it?' she asks me directly.
'No,' I reply, feeling my cover blow, 'I usually finish under a grill'.
'Ah, you always know when a tortilla hasn't been flipped because it doesn't get the right shape, or colour, and you don't get the gooey middle,' says Elisabeth. 'Do you ever achieve a gooey middle?'
'Yes,' I say, quietly, and at that, she looks back at me, unconvinced.
I'm not punished for my error, but I clearly have a lot to learn.
What we ate
Holly and David cook Rosie Barron's lamb souvlaki which is marinated overnight in lemon, white wine, garlic, oregano and oil. The lamb skewers are brushed with olive oil courtesy of a handmade bundle of fresh rosemary and cooked on a 'Tuscan grill' fashioned out of a bent cooling rack. 'There's almost nothing that can't be made from bent cooking equipment', says David.
Their foccacia with fresh fennel is deliciously sweet. Fennel seed is sprinkled under the bread made from a leaven dough using a yeast 'biga' that has pre-fermented for 36 hours to add flavour and texture. Goes beautifully with fish!
Not least, their 'Brixham hake with a caper and green olive sauce'. The succulent fish is cooked in a tangy Mesina sauce also featuring green peppers and proper sun-dried tomatoes. Good quality olive oil is of course a must, and Holly and David source theirs in the Sierra Nevada from a supplier also favoured by Sam and Sam at Moro.
Their 'Totnes oats with beetroot tops, pumpkin seeds and feta' I find a real discovery. The oats are from Devon by Grown in Totnes and, pre-cooked in mushroom stock then mingled with garden veg, salty feta and toasted seeds, prove a fab alternative to rice in this versatile pilaf.
Last of all we enjoy some dinky raspberry and hazelnut empanadas, the recipe for which, along with the above, can be found on the Manna from Devon blog.
What we drank
I am currently off the sauce so many thanks to Silvija Davidson for providing her tasting notes from the evening.
The range of Luscombe drinks that shared the journey from Devon are some of the finest softs around and promise a generously flavoured alternative to wine.
Classy and with some weight, but with that characteristic slight sour apple tang that English sparklers tend to display.
One of Silvija's absolute top gins, made in a crisp London style, but hugely aromatic and pretty perfect for a garden cocktail.
Domaine de St Lannes Colombard, Côtes de Gascogne, 2016
Crisp, fresh, citrussy with some tropical fruit notes, but also nicely rounded – great with the grilled produce from veg to meat.
Montepulciano d'Abruzzo 'Il Faggio', 2016
Velvety soft and rich, with plum and chocolate notes, but enough brightness and 'lift' – and alcohol lightness – to work well al fresco on a warm summery evening.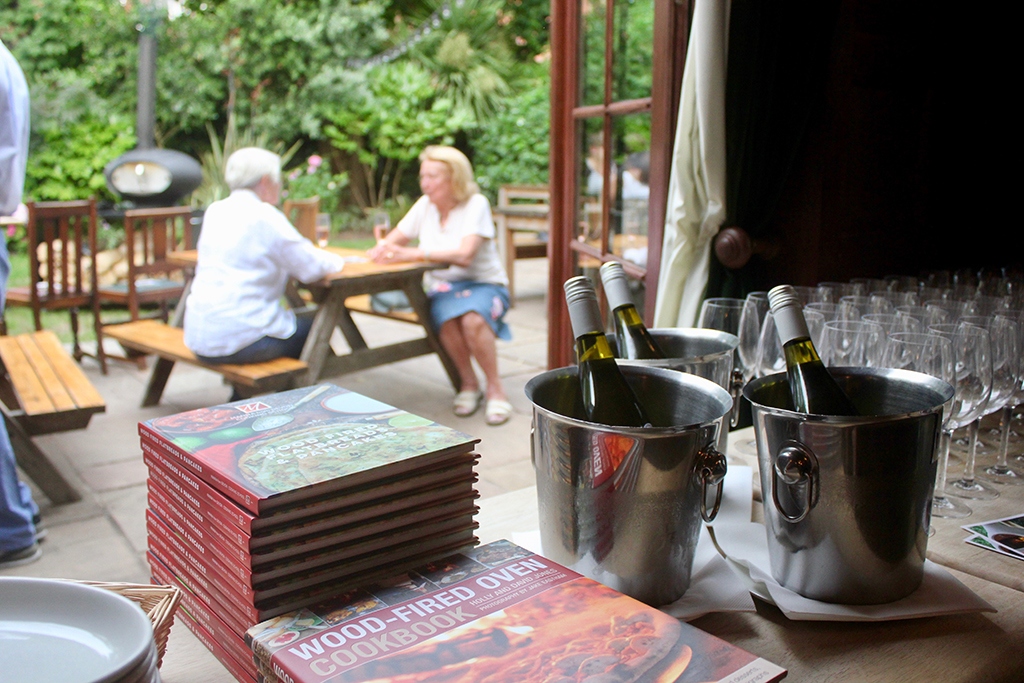 Chloë King is a writer and illustrator based in Lewes, East Sussex, where she runs a cookbook club and events series entitled Cook the Books.
Twitter @ChloeHKing
Instagram @ChloeHKing
Facebook /CooktheBooksUK
Website cookthebooks.club
© Chloë King 2017
Photographs © Chloë King 2017
Guild member John Whiting made a video recording of this workshop and you can see what happened at youtube.com/watch?v=Pw813ZtQhsw&feature=youtu.be.