Tributes to Rosemary Stark
24 May 2017
Long-time Guild member and former Guild Chair Rosemary Stark died on 24 May 2017 after a long illness.
Susan Fleming and Stuart Walton, who both knew Rosemary well, have very kindly let us share with you their tributes to this special lady.
Susan Fleming writes:
'Rosie and I met in 1970 in Soho. She was working at Woman's Own, in the Home Department, and I was a junior editor in Macdonald's, a general book publisher. Our respective partners bonded through a shared love of cricket, and Rosie and I, both Scottish and amply bosomed, became fast friends as we watched weekend cricket matches, reading newspapers, making patchwork quilts and talking food, about which she was passionate. Rosie occasionally did the scoring, perhaps one of her most surprising accomplishments (cricket scoring being notoriously complicated).
Our food careers took off at roughly the same time. One Sunday night after a splendid Rosie dinner, I suggested she should write a cookbook. She said she had one in mind. The next day, stumped for ideas at an editorial meeting, I diffidently mentioned The Loaves and Fishes Miracle Cookbook (how to stretch what food you have to feed more), and it was commissioned! The book was well written, witty, full of great recipes and ideas. It had only a modest success, but it led to both of us specialising thereafter in food, she writing, and me editing. She worked for Options, Good Housekeeping, Taste, Sainsbury's Magazine, You Magazine (with The Mail on Sunday), The Sunday Times Colour Supplement, The European, Homes & Gardens, BBC Good Food, BBC Homes & Antiques, olive. She edited Gourmet Good Food, and was Food Editor of Food & Travel Magazine.
Rosie made the change from writing general features to food with ease, but she had many more strings to her bow. Throughout these food years, she was also an examiner at the British Board of Film Censors, a part-time job she held for some 20 years. Several years later, she created and taught the UK's first food-writing course at London's City University, which I think benefitted more than a few current Guild members. In 2007 she completed an MA in historical research at Birkbeck, University of London, with a view to writing food history. She got a first, but her next pet project – writing the authorised biography of one of our favourite food writers, Jane Grigson – sadly didn't take off. Other interests included canal-boating and her motorbike, which she rode until her late sixties.
Her career was rich and varied, and she encouraged many others to success in her own field, especially during her years as Chairman of the Guild of Food Writers. She loved cooking for friends, and her entertaining was lavish. I am thinking of boat-race parties in Putney and street and firework parties in Primrose Hill particularly, and many Guild members will remember annual celebrations on The Magnificent Joan, her (very) narrow boat, at the Oxford Symposium.
We went to the cinema weekly – a lasting passion for us both – and to our favourite pub in Soho. We were so regular that one barman was heard to declare, 'If it's Susan and Rosie, it must be Thursday!' I miss the companionship, the collusion that comes with long friendship, the confidences, the flash of those startling blue eyes, her giggling as yet another person mistook her for Judi Dench. I miss all the laughter too. Until quite late on in the progress of her illness, she was proud of her ability to still make us laugh. We will all miss her.'
Susan Fleming
susan.swf@gmail.com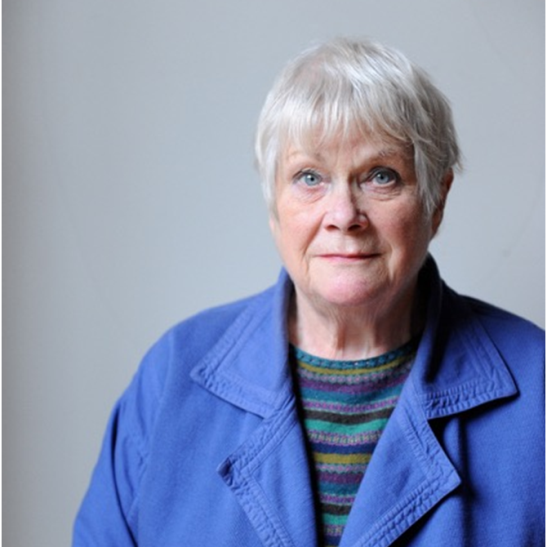 Stuart Walton writes:
'In late 1992, to her own great surprise, Rosemary Stark, whom ever after I – like everybody else – would know as Rosie, was approached to edit a new BBC magazine, what would now be classed as an 'upscale' spinoff of the best-selling BBC Good Food. A vegetarian spinoff had done sufficiently well that its contract publisher decided to risk a little toe in the scented waters of aspirational food publishing, the kind of milieu in which readers of the US journal Gourmet moved, and which had been left vacant in the UK a few years earlier by the closure of A La Carte.
Having given it much pained consideration, Rosie gave up a twenty-year billet on the British Board of Film Classification, a job that she loved and from which she was parted only with a violent wrench, in order to edit what was to be a monthly, then a bimonthly, then a quarterly magazine. She recruited a chief sub, and then she recruited a raw young features editor whom she had briefly met at a tasting of supermarket food products he helped administrate under the tutelage of Paul Levy at The Observer.
Following the launch of a pilot issue, the magazine was allowed precisely four numbers before it was sent to the freshly turned earth prepared for it by the company's executive board four floors above. It had been a bad idea after all, it turned out. 'We were too gorgeous to live,' Rosie told anybody who asked, adding in a stronger tone, 'Bastards!', when condolences were offered.
Whatever its tonal and conceptual faults in a notoriously unimpressible market, and however inelegant its lumpen-composite title, BBC Gourmet Good Food, on which I worked under Rosie's editorship, afforded me, beyond compare, the seven happiest months I ever spent in gainful employment. We began by giggling at an idiotic press release about Italian microwave cookery, which promised to make pans of water a thing of the past, and we didn't stop laughing until we were made redundant.
Rosie's first impulse on being made editor was to re-wardrobe herself for the role, getting 'all Jaegered up', as she put it, in order to look the part, an effect she judiciously counterbalanced by travelling to the office on her old motorbike. She had lived for years in a two-storey flat in a Primrose Hill cul-de-sac, a micro-community of north London leafiness, diffused socialism and the constant churn of gossip, in which she enthusiastically participated, and where she played host to evenings of voluble and reckless sociability. Drink was taken, it's fair to say, in heroic measure, as was the measure of the times. Political talk, philosophical talk, drunk talk and the indispensable gossip were the order of many an evening that became half a night.
When there weren't parties, there was dinner à deux, the product of a day's assiduous recipe-testing for one magazine or another, accompanied by the best of whatever wine samples I'd had in that week. In better weather, we began in gin on the decking out at the back, and moved inside only to spare my own fastidious horror at outdoor eating, which she thought pathetic. At the Oxford Food Symposium, we went and sat in her boat, which had a mooring on the upper reaches of the Thames, and chewed the fat with the aristocracy of American food writing. She helped me do a good portion of my assignments for the Good Food Guide, a task she undertook with the utmost diligence and a readiness to be unimpressed when occasion demanded.
Rosie was a cookery writer of long and prolific experience, and there was something entirely right about her devoting the last stages of her career to teaching her skills to the rising generation. But she also wrote supremely gifted prose of bracing freshness and wit, which Guild members may at least recall from her newsletters as Secretary in the early 1990s. It was a wit that sparkled out even from the handwritten notes she would leave me at work, the large, angular, ferocious script an odd conveyance for her playfulness and candid piss-taking.
She could undoubtedly be truculent and emphatic in her refusals of anything that smelled of pretention or reactionary arrogance, and she certainly didn't see foolishness as worth the suffering or the time. It never took long, though, for the frown of bemusement, at the proffering of silly canapés or appalling copy, to turn quickly to chuckling. There was a mile-wide streak of kindness in her, as well as the certain instinct that life was for living, a homily to which everybody subscribes and for which hardly anybody has read the instruction manual.
I shan't – and couldn't – forget the proprietorial start she gave my career in journalism. Nor will I forget the dedicated partying that was an equally important part of it. On the evening I learned she'd left us, I sat at my window and got through a bottle of champagne and a wad of memories. I feel it's what she'd have wanted.'
Stuart Walton
Guild of Food Writers Treasurer 1993-1996
stuartwalton@hotmail.co.uk