Lecture by Professor Tim Spector: Food, Diet and Gut Microbes: Monday 1 October 2018
01 November 2018
This is a report written by Jo Lamiri of the Guild Lecture by Professor Tim Spector that took place on Monday 1 October 2018 at Smeg Flagship Store, 14 Regent Street, St James's, London SW1Y 4PH.
Tim Spector, Professor of Genetic Epidemiology and Director of the TwinsUK Registry at Kings College, London, proved a popular draw for GFW members at our annual lecture held at the luxurious Smeg showroom in central London, full of covetable fridges in ice cream colours and retro toasters.
Standing behind a gleaming stainless-steel sink facing a room full of food writers, Tim joked that it was his big opportunity to be like Jamie Oliver, but then quickly segued into scientist mode, quick to debunk many myths around food, dieting and gut health. The bottom line, he says, is that we should focus on the diversity of what we eat – ideally 30 plants per week, which can include fruit, vegetables, seeds, nuts etc – as this variety is the key to good health and allows the biome to thrive. 'If you look at someone who is healthy compared with someone who has lots of diseases in every case the crucial factor is the variety and diversity of microbes. To get this you need a diversity of foods, plants. It doesn't matter what they are.'
Modern medicine, by necessity, adopts a 'one size fits all' approach and puts everyone into 'average' groups, although he predicts this will change over the next decade, when more personalised medical services are available. 'We will be able to predict which foods people can eat to get a better response than others.'
There are about a hundred trillion microbes in our bodies – about the same as the number of cells – and it's your microbiome – not just your genes – that determines how you respond to foods. We share only about 25-30% of our microbes with each other, but 99.5% of our genes and DNA. Everyone has their own unique mix of microbes and it's this individuality that leads so many diets to fail. For some people, said Professor Spector, a low-fat diet is key to losing weight whereas for others a low-carb regime is more successful. 'A study in Stanford last year looked at 500 people (usually 20!) and they gave half the group a low-fat diet and half a low-carb diet. There was no difference between the groups over a year in terms of weight loss.' 
'We've just started Predict, the largest nutrition study ever, where we look at twins' responses to food. They may have identical DNA, but after eating a bowl of pasta, the sugar can spike in one twin and stay flat in the other. The only difference bet them is their microbes, so the microbes are causing this.' 
This surprising finding was borne out by Spector's own 'boring hospital sandwich' lunch over a decade of a tuna and sweetcorn sandwich creating a huge sugar spike, something he wasn't aware of until using a glucose monitor. Pappardelle lovers, maybe you can eat your heart out.
As well as ringing the changes on our plates and in our shopping baskets, Professor Spector advised us to up our intake of polyphenols (antioxidants) found in red wine, chocolate over 70% cocoa solids and berries. Your microbes use polyphenols to produce other chemicals to keep our blood vessels clear and arteries moving without clogging, helping our immune system. Coffee lovers will be delighted to learn that up to 8 cups a day is considered beneficial (coffee is better than green tea, which is, in turn, better than black). He did also urge us to question 'studies' outlined in the media – the important thing to note is who is conducting the study, the sample size and whether or not the researchers have a vested interest in the findings.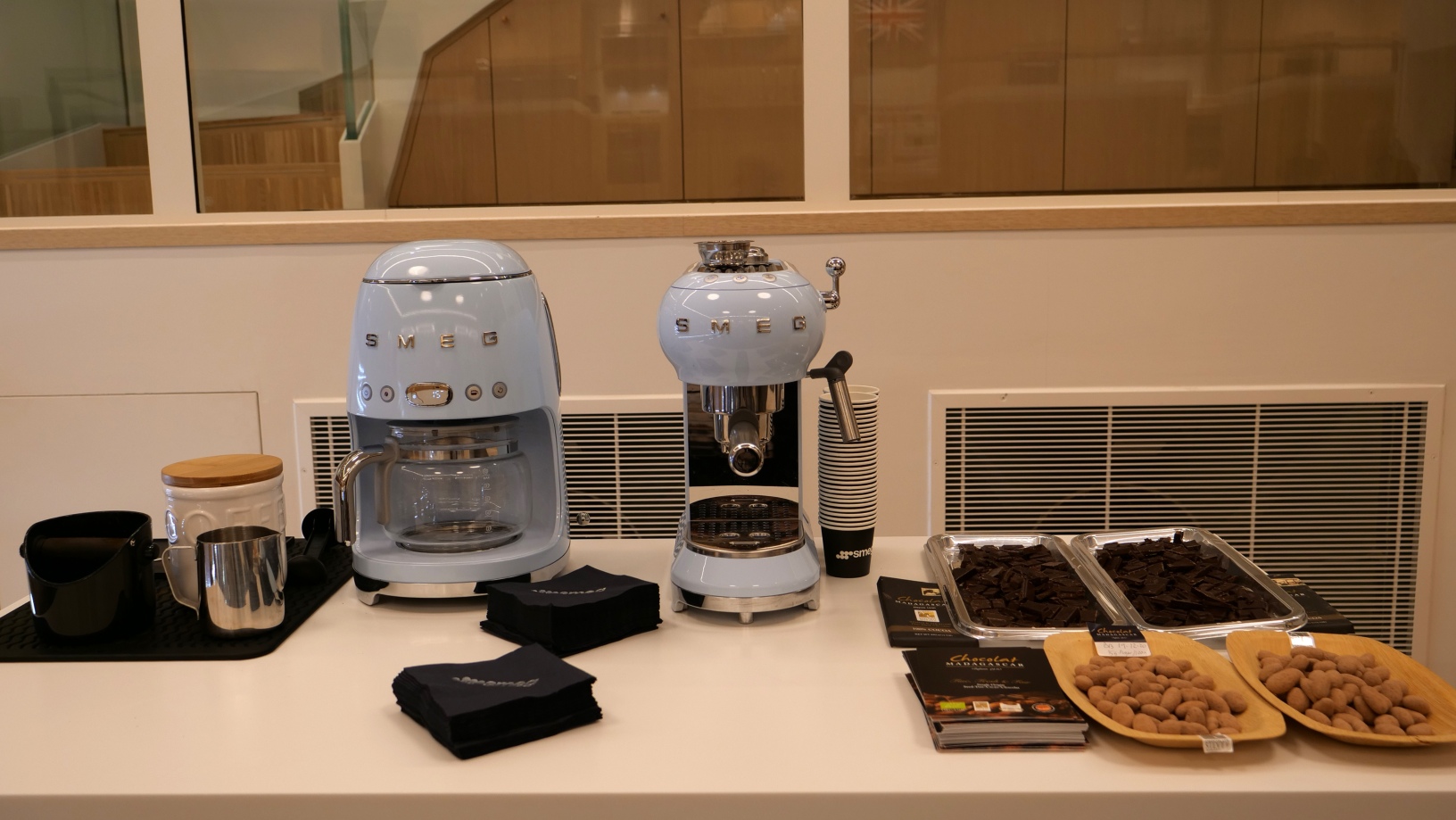 It's also well known that good gut health is maintained with the use of fermented foods, such as kefir, kombucha, kimchi, pickles and unpasteurised cider, which should be ingested on a regular basis. In answer to a question from the audience he also advised these foods – rather than probiotic supplements – as a way of restoring gut flora wiped out by antibiotic use or illness. In some cases, probiotics have even been shown to help with depression.
Another good bit of advice is to give the gut a bit of a rest now and then. Intermittent fasting may be a bit of a fad but it has its base in good science: if you miss a meal, says Professor Spector, you shouldn't then binge for the next two, nor graze all day, but it will give your gut a rest, boost your health and also help with weight loss. The idea that grazing rather than gorging is the way to go is wrong.
To continue the gut theme and embark on an immediate gut boost, we all happily tucked into red wine, unpasteurised cheeses from Neal's Yard Dairy, kefir from The Collective, (13 different strains, providing billions of live cultures); kimchi from Tickles Pickles, coffee, roasted cocoa beans and 100% chocolate from Chocolat Madagascar and Mediterranean foods from Belazu. All in all, it was a fascinating and convivial evening, even if, as Tim Spector says, 'the science isn't quite there to say "eat more kale or button mushrooms".'
Guild member John Whiting made a video recording of this lecture and you can see what happened at youtube.com/watch?v=NGWkEQc9lkc.