Event Information
Wednesday 12 June, 11am to 4pm
Overton Farm, Babcary, Somerton, Somerset TA11 7EJ
Gold Top have organised a day-trip for Guild members to a dairy farm where we'll be given the opportunity to learn about both Gold Top and the workings of the farm.
Gold Top came about over 50 years ago thanks to a group of enterprising Jersey and Guernsey cow farmers in England, Scotland and Wales who decided to combine their skills and resources by forming a new co-operative. Recognising the potential of their high-quality milk, they formed a new company, Quality Milk Producers Ltd (QMP), to market and promote their new brand, 'Gold Top'. QMP successfully registered the brand name in the 1970s and from this has evolved their range of quality dairy products under the Gold Top name.

Our day will be spent at Overton Farm, more familiar to Guild members as producers of award winning Hurdlebrook raw milk and cream. Hurdlebrook has been producing high quality, raw milk and cream from award winning Guernsey cows since the early 1980s - with Taste of the West and Royal Bath and West Show awards. They have also won multiple Great Taste Awards over the last three years. The farm is currently undergoing the conversion process to becoming organic.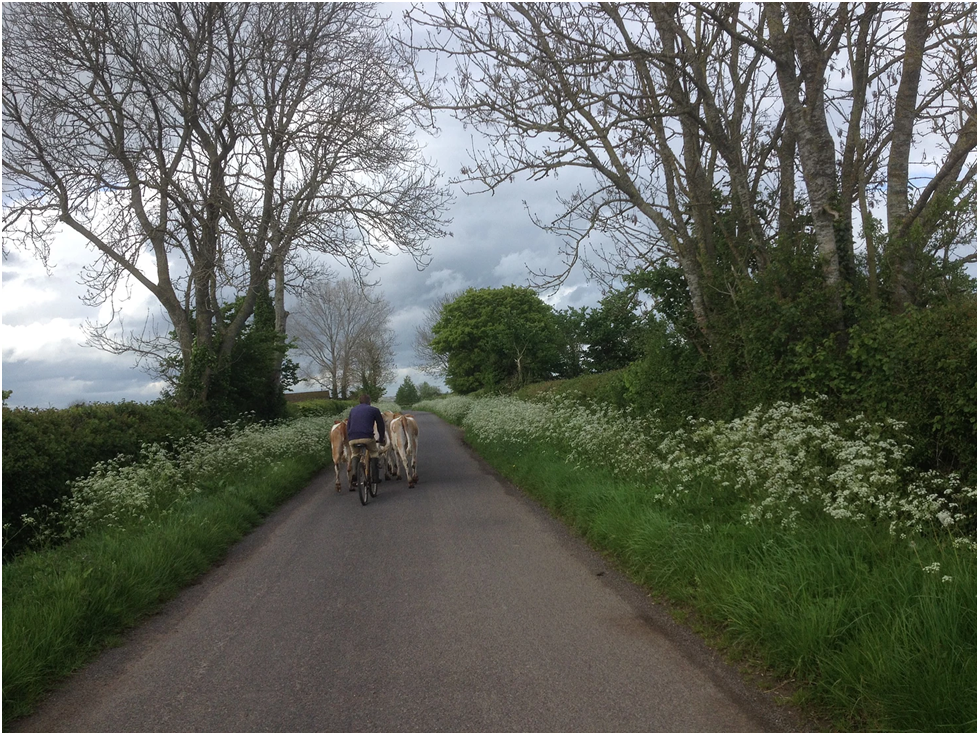 The cows graze on the lush pastures full of clover, which is fertilised with regular applications of their own farmyard manure, and they were, until recently, milked twice daily in an immaculately clean herringbone parlour. A highlight of our visit will be seeing how cows are milked using the most up to date technology - robots!!

The Guernsey raw milk is golden in colour due to the breed's inefficiency to digest the beta carotene in the grass and forage. This gives the milk its beautiful flavour and colour, and also makes it silkier, thicker and more delicious than standard milk.
 
Third-generation dairy farmer Dave Paull is a huge advocate of the health benefits of drinking raw milk, which has the advantage of containing the natural bacteria and enzymes that are destroyed by the typical heating processes. These natural bacteria are essential to the maintenance and promotion of gut well-being and the fight against infections.
 
We will of course have the opportunity to sample the full range of Hurdlebrook dairy products along with other local Guernsey cheese, yoghurt and ice cream, for ourselves. The farm tour, milking parlour visit and product sampling will also allow time for a delicious lunch.
This should be a fun day with interesting opportunities to see behind the scenes at a working raw Guernsey milk dairy farm and gain insight from Gold Top into their range.

To book a place for the Gold Top Day Trip, please reserve a place by emailing jonathan@gfw.co.uk. Places cost £10 for members and £15 for guests; there are two ways to pay:
Internet banking: If you have internet banking and would like to pay that way, the Guild's bank account is at HSBC's Esher branch, sort code 40-20-26 and the account is in the name of the Guild of Food Writers, account number 21142607. Please quote your name as the reference when making a payment.

By cheque: Please send a cheque, made payable to the Guild of Food Writers, to Jonathan Woods, The Guild of Food Writers, 255 Kent House Road, Beckenham, Kent BR3 1JQ.