A Foodie's Snapshot of Barbados
25 April 2019
Featuring an abundance of soft, white, talcum powder like beaches, azure skies and inviting warm blue ocean to dip into, Barbados is a little gem of a Caribbean island.
Paynes Bay was our destination and we chose well. The fully equipped, pristine apartment boasted a kitchen with full size cooker, dishwasher, microwave and even a top loader washing machine! With a shower room plus separate bathroom, large bedroom, patio and sitting room it was situated, as part of a hotel complex, rather conveniently, opposite both a lovely beach and the local fresh fish market.
Food in Barbados, being mostly imported, is expensive. Whether eating in a restaurant, at a beach bar, or shopping in the supermarket, there is absolutely no getting away from this. A two course evening meal, in a middle of the road restaurant consisting two courses with just 2 drinks, gives you no change from £100, and can often cost far more!
With its amazing coastline one might expect fish to be the protein of choice for the English-speaking Bajan people. Fish is of course both readily available and normally well cooked, but chicken, in various forms, also always appears on each and every menu.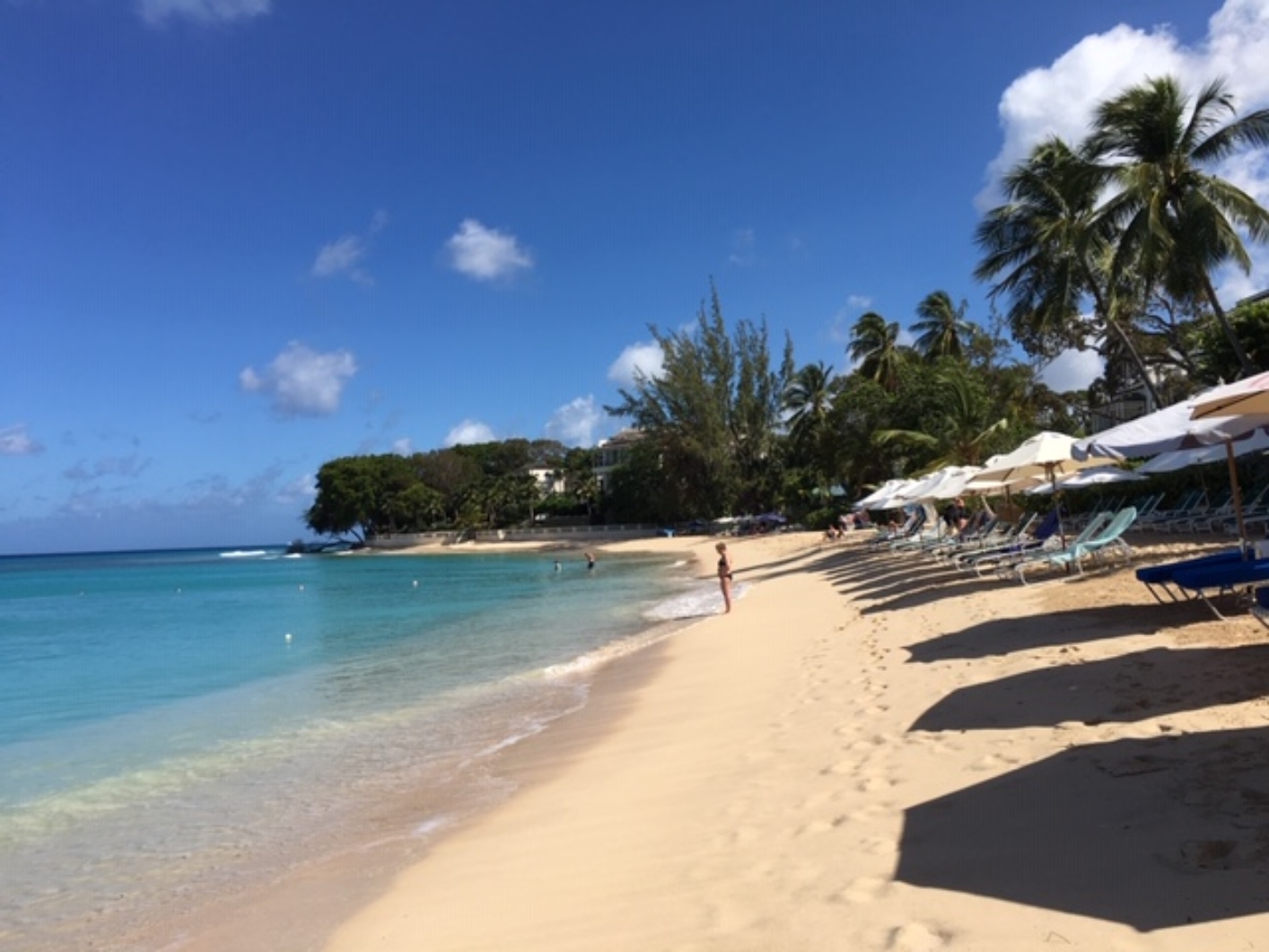 Bajan seasoning, a wonderful rub of finely chopped onion, garlic, lots of freshly chopped herbs, pepper sauce, curry powder and salt is used extensively to flavour both chicken and fish, meats, dips and soups. Filleted local fresh fish, such as dorado, mahi mahi (dolphin), salmon, barracuda, red snapper and marlin all taste succulent and simply delicious. Meaty lobster is freely available if a bit pricy. Often marinated in a lime based sauce with olive oil, they fry or barbecue the fish quickly. Interestingly, it is quite normal for a BBQ to offer yam pie, split peas and rice as well as macaroni pie, salad and coleslaw, alongside the fish, chicken and meat. A vegetarian option of stuffed peppers or aubergine is common too. No wonder the Bajan people are not an especially slim race! Especially as the famous Bajan rum punch, will be available, in copious amounts to wash all the food down!
We had heard that Oistins, a former fishing village on the south coast was worth a visit and were not disappointed. The venue comprises many bustling individual stalls, alongside the large fresh fish market with varied lively entertainment to accompany your supper, on both Friday and Saturday nights. Having walked on the pier and fortunately spotted three majestic hawksbill, golden backed turtles, swimming really close at hand, we mingled amongst the many locals and our fellow tourists before finally settling down, at a table, to enjoy a cold beer and to savour grilled snapper with grilled potatoes as well as the traditional battered fish and chips. Both types of fish had been marinated in a lime juice and salt dip before cooking. Both dishes were bursting with fresh zingy flavour and tasted amazing!
Charizma, a stylish restaurant, up in the fertile hills served the best roast chicken in red wine sauce ever! Accompanied by a Parmesan crisp and a cheesy dumpling, my meal proved to be wonderfully memorable, even if I didn't manage to spot Cliff! Our table apparently overlooked his garden!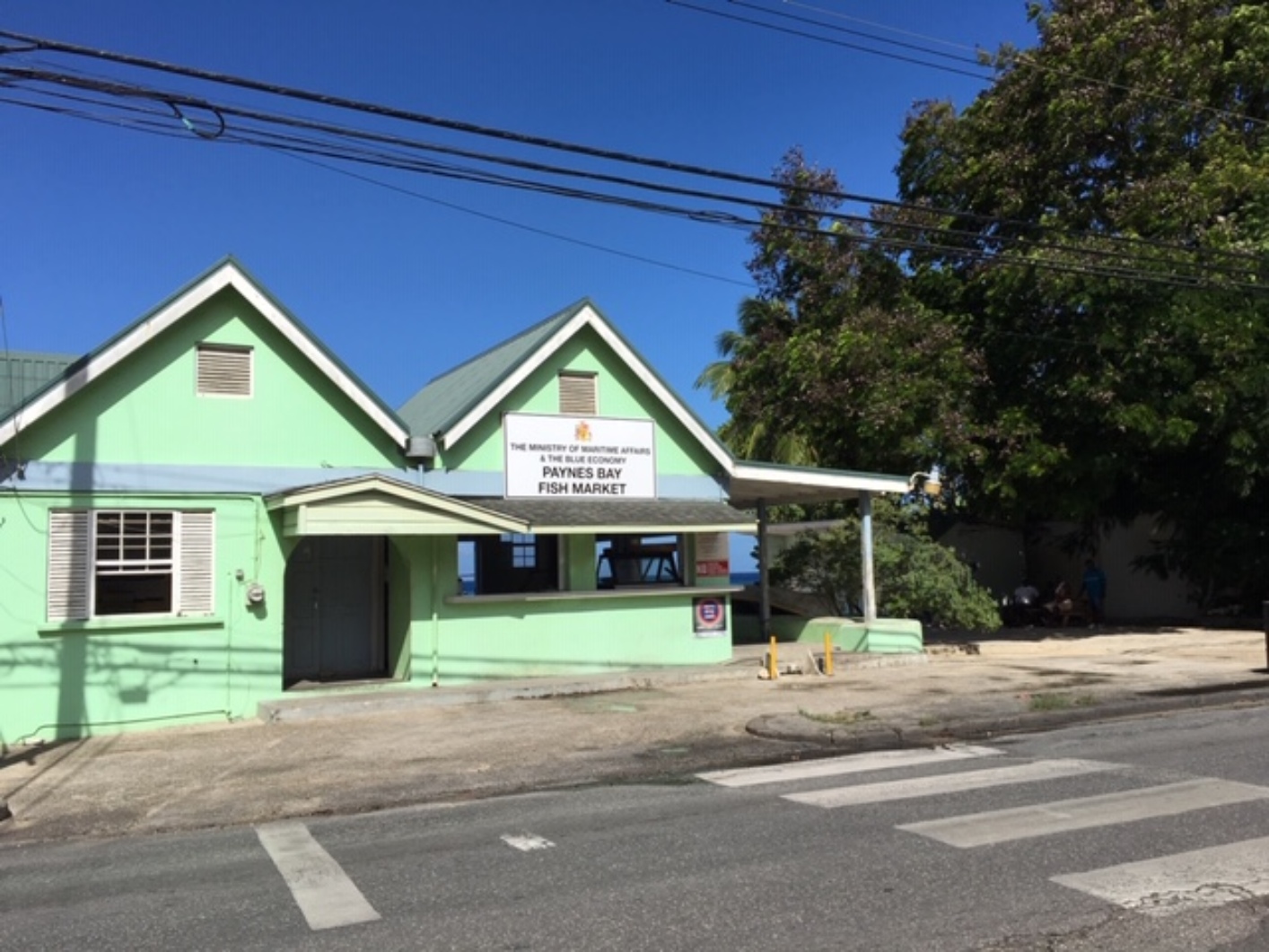 Our one food disaster was luckily served in an eatery fairly close to our adopted home. We explained carefully that I am very allergic to mussels and were ensured, from the chef that the prawn curry had no mussels in any part of it. To be honest, when my dish arrived, the prawns had obviously been frozen and were rather overcooked, leathery and disappointing. Within an hour of leaving our table, I was both momentarily unconscious and shaking violently, and had to lie down on a convenient wall!! Poor Malcolm! At least a taxi was close to hand and I was pretty swiftly transported back to my bed, ensuring the poor driver beforehand, that it definitely was not an excess of rum punch that was to blame for my demise!! There definitely had to be mussels hidden somewhere in that sauce!!
Maybe due to the historic importance of the sugar cane, the Bajan people just love anything sweet: coconut and banana breads; baked custards; spiced doughnuts; mango mousse; pineapple upside down pudding; chocolate fudge and chocolate cookies; ginger cake laced with rum; and cupcakes are all extremely popular.
On our last evening, the ginger carrot cake we shared for dessert, accompanied by vanilla ice cream has to be one of the food highlights of our trip. Served warm, it was wonderfully sweet and sticky, moist and gingery, all at the same time. The generous portion was presented with a generous scoop of chilled, rich vanilla ice cream on the side, plus two spoons!
Barbados, thank you. We miss you and will be back soon!