Shellfish Workshop and Lunch with Cyrus Todiwala OBE and Mike Warner: Tuesday 20 November 2018
21 November 2018
This is a report written by Alan Rosenthal of the Guild's Shellfish Workshop and Lunch with Cyrus Todiwala OBE and Mike Warner, which took place on Tuesday 20 November 2018, from 11am to 3pm at Café Spice Namasté, 16 Prescot Street, London E1 8AZ
Café Spice Namasté, just east of the City of London, was the location for a fascinating, and delicious, workshop and lunch devoted to British shellfish last November. Guild members and their guests joined Mike Warner, Project and Business Development Manager for the Shellfish Association of Great Britain and much lauded chef Cyrus Todiwala OBE, for an insight into sustainably sourced shellfish originating from our shores.
Mike Warner (left) and Cyrus Todiwala OBE
Also at the event was Claire Stanley, business development officer for the National Lobster Hatchery in Padstow, telling the story of the pioneering Cornwall based project that's helping to safeguard lobster stocks for future generations.
Claire Stanley
80% of all UK shellfish is shipped overseas. It's a travesty that so much of this sustainable, healthy, nutritious, wild and low carbon footprint food source isn't enjoyed more in this country. The likes of spider crabs, mussels, clams, whelks and cockles are prized by our European neighbours as well as those further afield, whilst in contrast, we've somehow fallen out of love with much of our native shellfish over the years. Consequently, in Britain, we've largely lost the knack of preparing and cooking them both in a commercial and domestic context.
Mike and the SAGB have made it their mission to promote this wonderful treasure chest of produce to chefs and food professionals around the country and to educate them about its diversity and deliciousness. And as we start to see more British shellfish on menus, they hope to reignite a nationwide love for this hugely sustainable food source and push up demand locally.
Part of Mike and the SAGB's endeavours has meant working with chef influencers such as Cyrus to help firmly fly the flag for British shellfish. In addition, they're engaging chefs directly with fishermen, taking them out on fishing boats to see these great ingredients caught in their natural habitat thereby facilitating a deeper connection with the provenance and story behind this great resource.
We enjoyed a video of Cyrus and Mike on a fishing boat off the coast of Newlyn in Cornwall in search of spider crab, a wonderful creature that's prized in other parts of the world for its sweet and succulent meat. Indeed, the majority of spider crabs caught in British waters is exported to France and Spain as well as the likes of China. From April to June, during the breeding season, they are in plentiful supply but only the males over a certain size are caught, allowing the females to lay their eggs and build stocks for years to come. Cyrus went on to prepare us a delectable fried rice dish with spider crab, coconut and lime; fragrant and delicately spiced.
SAGB Promotion Project - Spider Crab from Mr Todiwalas on Vimeo.
Throughout the workshop Mike passionately extolled the virtues of other British shellfish such as langoustines and their superiority over many king prawns imported from far flung lands. We learnt about the madness of British brown shrimp that get shipped off to Holland for mechanised shelling and processing only to be sent back to the UK later with a painful 800% mark-up attached!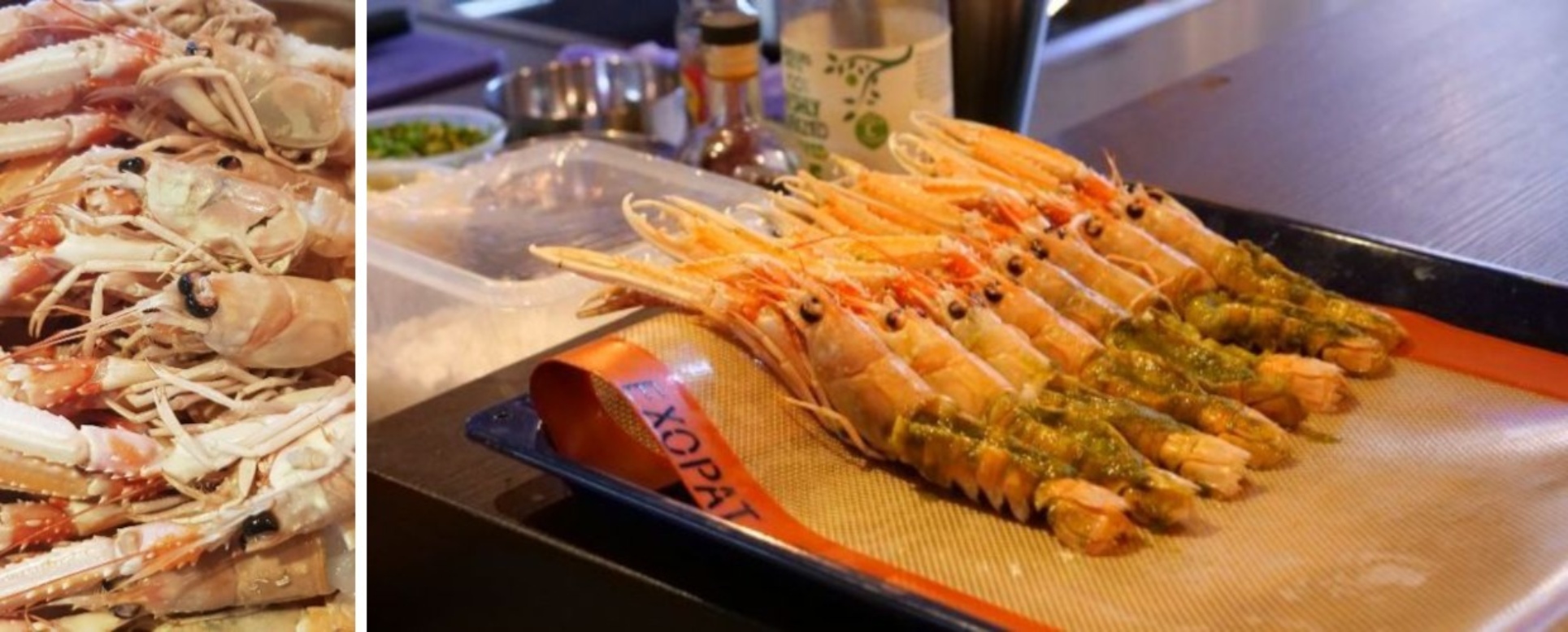 Discussions then moved on to lobster. Claire explained how, incredibly, only one in twenty thousand wild lobsters grow to adulthood as a result of predation (including their own cannibalistic tendencies). This, in combination with a gestation period of 9 months and over fishing in the past, has meant that lobster stocks have historically suffered. So, to combat depleting numbers, the Lobster Hatchery was set up by Edwin Deriman in 2000. The Hatchery now leads the way in lobster science and genetic understanding of this crustacean and releases up to sixty thousand lobsters each year at exactly the right moment to ensure as many as possible survive. As a result, stocks are up, with fishermen reporting increased sightings which should, in the long run make British lobster more affordable.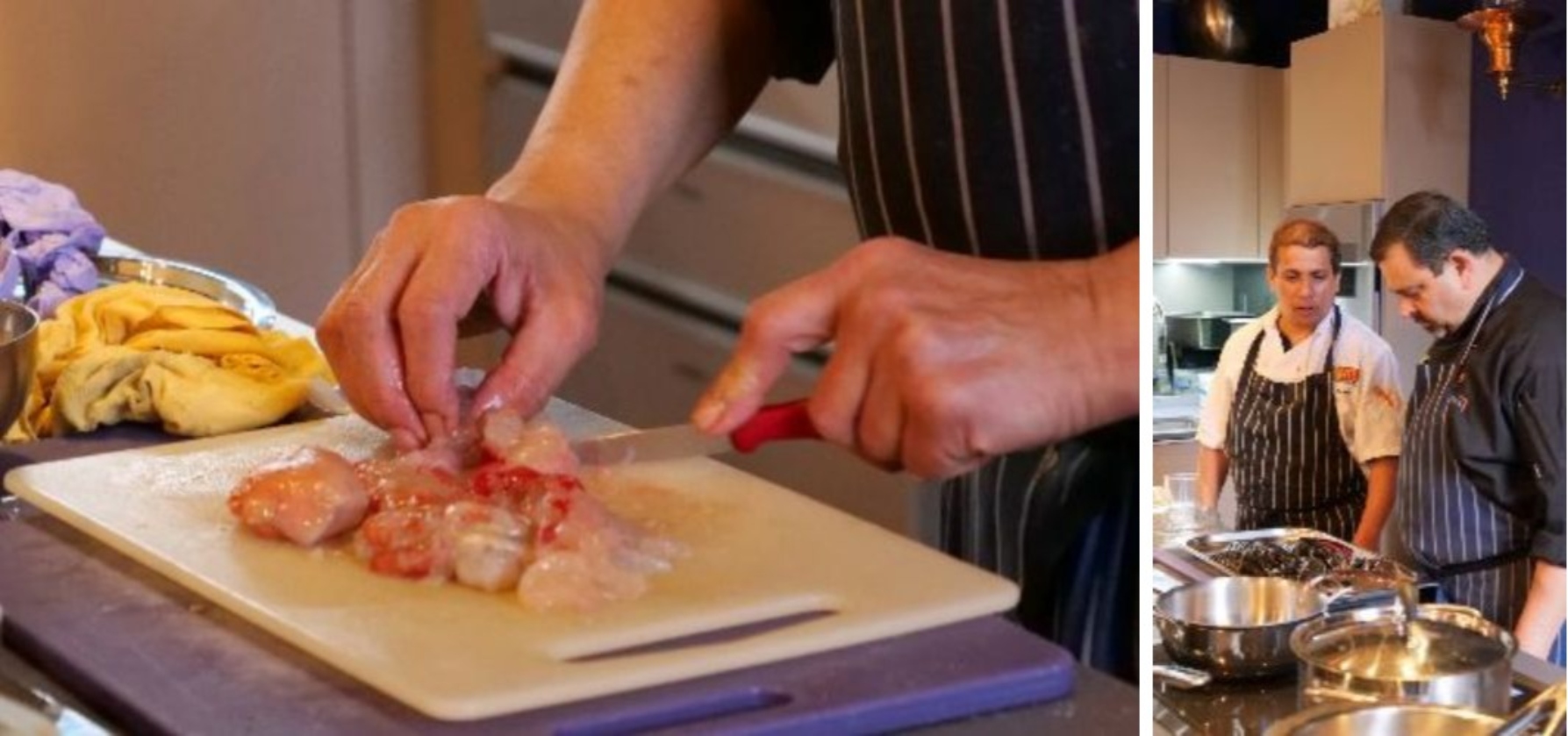 Throughout the morning Cyrus cooked a variety of treats for us. We enjoyed fried oysters coated in crisp semolina; uthappam (a lightly fermented pancake made with rice flour and lentils) with prawns and a tomato masala topped with carom seeds, a relative to cumin but with a slightly medicinal, antiseptic quality (and used to flavour Listerine!); loon foong soup helped combat a particularly chilly damp day and consisted of fried minced prawns and chicken with chilli, garlic, coriander and ginger (amongst other things) in a thickened stock based broth, a staple of Haka food which was influenced heavily by the Chinese settlers in Calcutta. We also enjoyed langoustines with a coriander and chilli marinade, the fried rice mentioned above and a sensitively seasoned lobster gratin topped with cheese. And that was all before lunch!
Uthappam with prawns and a tomato masala topped with carom seeds
Loon foong soup
The workshop rounded off with wine, chat amongst Guild members and another trio of Cyrus's dishes including a knockout spiced fish pie. Now armed with a better understanding of the virtues of British shellfish, the group of 20 or so Guild members who attended the event will certainly be championing this fantastic resource that we should have at our fingertips!
© Alan Rosenthal 2018
Photographs © Silvija Davidson 2018
Guild member John Whiting made a video recording of this workshop and you can see what happened at youtube.com/watch?v=Knsattf3hrg&feature=youtu.be.