Guided Tour of Last Supper in Pompeii Exhibition, Ashmolean Museum Oxford II: Friday 13 December 2019
06 January 2020
Last View of the Last Supper in Pompeii
Many moons ago, while still a student, I hitch-hiked from Naples to visit the ruins of Pompeii.
Climbing across rocky, unkempt fields, I pressed my forehead expectantly against the wire mesh netting. All I could see was an unending patchwork of dusty excavated squares with patchy mosaic floors and faded wall paintings. The steep admission price clinched it for me, so reluctantly, I decided against going inside. Better off to see actual life-affirming exhibits in the national Archeological Museum of Naples.
Fast forward several decades later to 2020 and I was thrilled to discover that Pompeii has journeyed instead to the UK. Just one-and-a-half hours on the Oxford Tube from London brings you to the elegant Bath Stone portals of the 17th century Ashmolean museum housing an exhibition that will engross and astonish.
Exhibits such as a mosaic panel crammed with sea creatures such as seabream, lobster, squid, octopus, prawn and striped red mullet so familiar to us today; another panel depicting a smiling skeleton created from small mosaic tiles or tesserae, better able to represent fine details; a bronze statue of the god Apollo (above), with a body as perfect as that of Michelangelo's David – but relegated to be a tray-bearer, would you believe! – during banquets in the Pompeiian House of Julius Polybius… plus an extraordinary, beautifully crafted set of Roman weighing scales perched on a branch of the male anatomy (below) [no prizes for guessing this!] – all of this and more, which GFW members were privileged to have highlighted by the museum's knowledgeable curator Ilaria Perzia.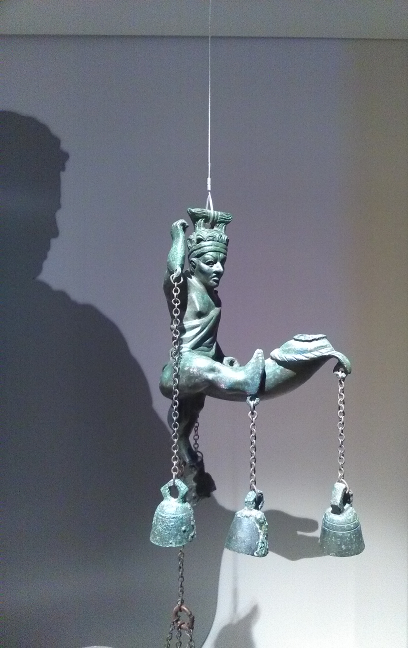 Iconic Pompeii and its sister village of Herculaneum lasted from only 1 – 79AD, so many of the exhibits range from later Greek, Etruscan and Roman civilisations.
What I found incredible is the sophistication and modernity of these societies' development, such as the piping and valves designed to carry clean water. Unfortunately, they were made of lead, so the choice of being poisoned by that or being polluted from unfiltered river water was one that the Romans had little control over.
Carbonised food might hold scant appeal for Guild Foodies but what is striking is how perfectly Vesuvius's lava preserved it and how to this day, the shape of loaves for cutting or sharing are still precisely emulated.
As for the main courses, which of us would to want to eat dormouse, albeit fattened up with acorns or chestnuts and appetisingly seasoned with poppy seeds and honey. Similarly, does stuffed sow's belly, flamingo or milk-fed snails make your mouth water? Yet, all of these were keenly advocated by the Roman gourmet Apicius.
The legends make fascinating reading: to create, for example, a mosaic of a skeleton as the centrepiece for a dining room floor seems to us a weird custom but to the Romans, the two worlds of the afterlife and feasting were entwined. The skeleton embodies death and the message is clear. 'Carpe diem – seize the day. Enjoy the delights of the banquet, while you can.'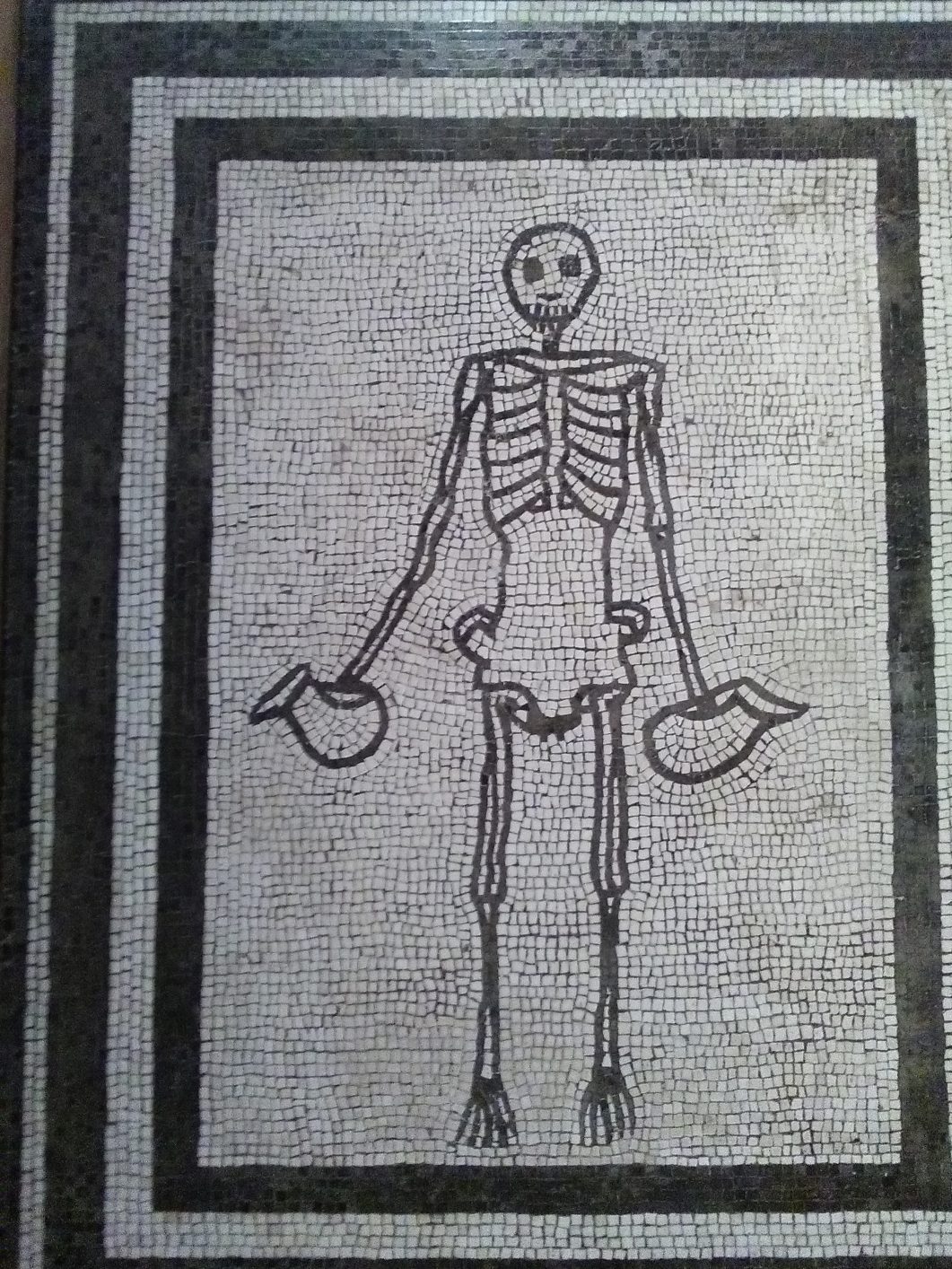 And so I say likewise, to those who learnt Latin at school 'Frui se ferre, dum potes.' The show ends soon – on 12 January 2020, so catch it while you can. 
Text and Photographs © Susan Wolk 2019
Food and art critic, editor and writer

 
ashmolean.org/pompeii
Competitions
Why not try your luck with two competitions online relating to the exhibition.
The first is offering prizes of a Pompeiian-inspired feast for four, including wine, in Heston Blumental's award-winning Mandarin Oriental Hyde Park restaurant. Dishes include an authentic Pompeiian bread and a modern take on Libum, a dessert based on baked fresh cheese curds. The competition closes on 31 January 2020.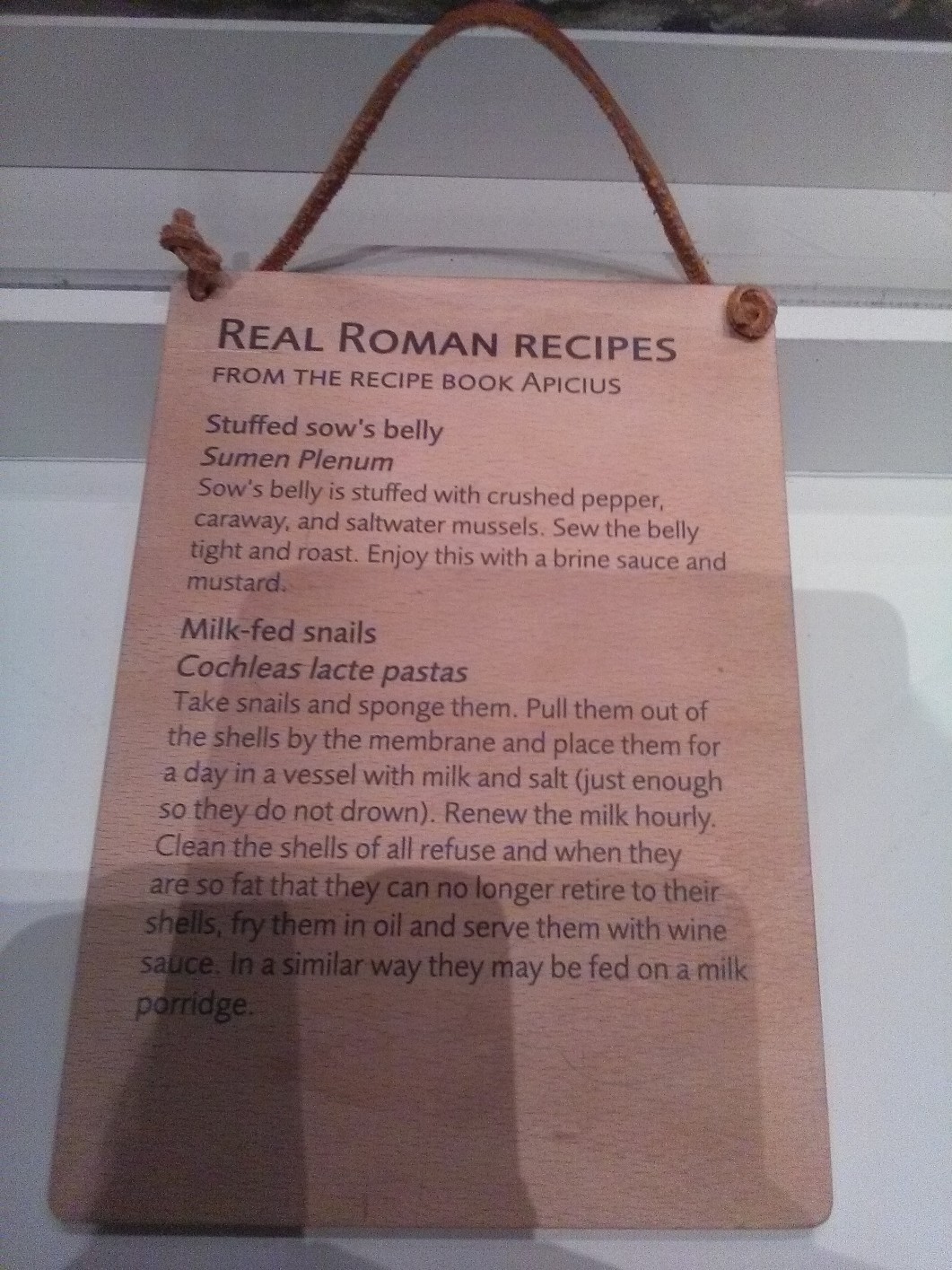 Or you might be unable to resist Audley Travel's bespoke 7-night holiday for two to Campania in southern Italy, flights and accommodation provided. It includes a guided tour of Pompeii and Villa Boscoreale, lunch in a winery and a cooking class in a local home in Sorrento. The competition closes on 13 January 2020. 
ashmolean.org/win-holiday-italy
You can also read Hattie Ellis's report of the exhibition tour here.