Guided Tour of Last Supper in Pompeii Exhibition, Ashmolean Oxford I: Friday 13 December 2019
17 December 2019
This is a report written by Hattie Ellis of the Guild's Guided Tour of Last Supper in Pompeii Exhibition, which took place on Friday 13 December 2019 at 12.10pm at Ashmolean Museum of Art and Archaeology, Beaumont Street, Oxford OX1 2PH
When Vesuvius erupted in AD 79, the resulting layers of volcanic ash captured not only a moment in time but a whole society as it went about daily life in Ancient Rome. This includes those most fleeting of materials, food and drink. An exceptional exhibition at Oxford's Ashmolean Museum brilliantly takes this focus to tell the story of the Roman world as it was preserved on that fateful day.
A group from the Guild was lucky to be taken on a tour of the show by the assistant curator Ilaria Perzia, an anthropologist by training and from an Italian food producer family, adding other layers to her insider info about the exhibition. This is a rare gathering of more than 370 objects, including masterpieces. In Italy, said Ilaria, you get the context in Pompeii and its buildings but many of the objects are on display in the museum in Naples. Here they come together.
Every layer of food culture is shown, starting with the rich agriculture and food products of the area. Time melts away in recognisable objects such as a glass jar of olive oil, its contents now a compacted dust but apparently still smelling of olive oil 2,000 years on. There's branding in the form of a mosaic for 'Mr Fish Sauce', the garum maestro Scaurus, depicting a pot of his highest quality made from mackerel.
The exhibition successfully creates different atmospheres in each section, taking you through the story. We walked down a Roman street, brightly lit as if in Italy, and with an inn sign for The Golden Phoenix as the sort of place where most people ate. There is even a loaf of carbonised bread on display, and a painting showing how bread was used for electoral bribes; a timely detail on the day after our own General Election.
From street-food to posh home, the show next passed into an atrium and garden, the rooms using film and backcloths of walls in Pompeii to evoke the feel of a villa. The hosts showed off their sophistication through the tableware on display, including a rare, delicate glass drinking horn and going right down to a small container of tiny bone toothpicks. Ilaria spoke of the theatre of wine and the drinking culture of Ancient Rome with its elaborate mixtures of spices and flavours. One of the most stunning exhibits is a valuable seafood mosaic, kept on the floor on a wooden tray so it could be transported in a house move. We missed the chance to do a Guild Name That Species quiz; below is a guide to the answers.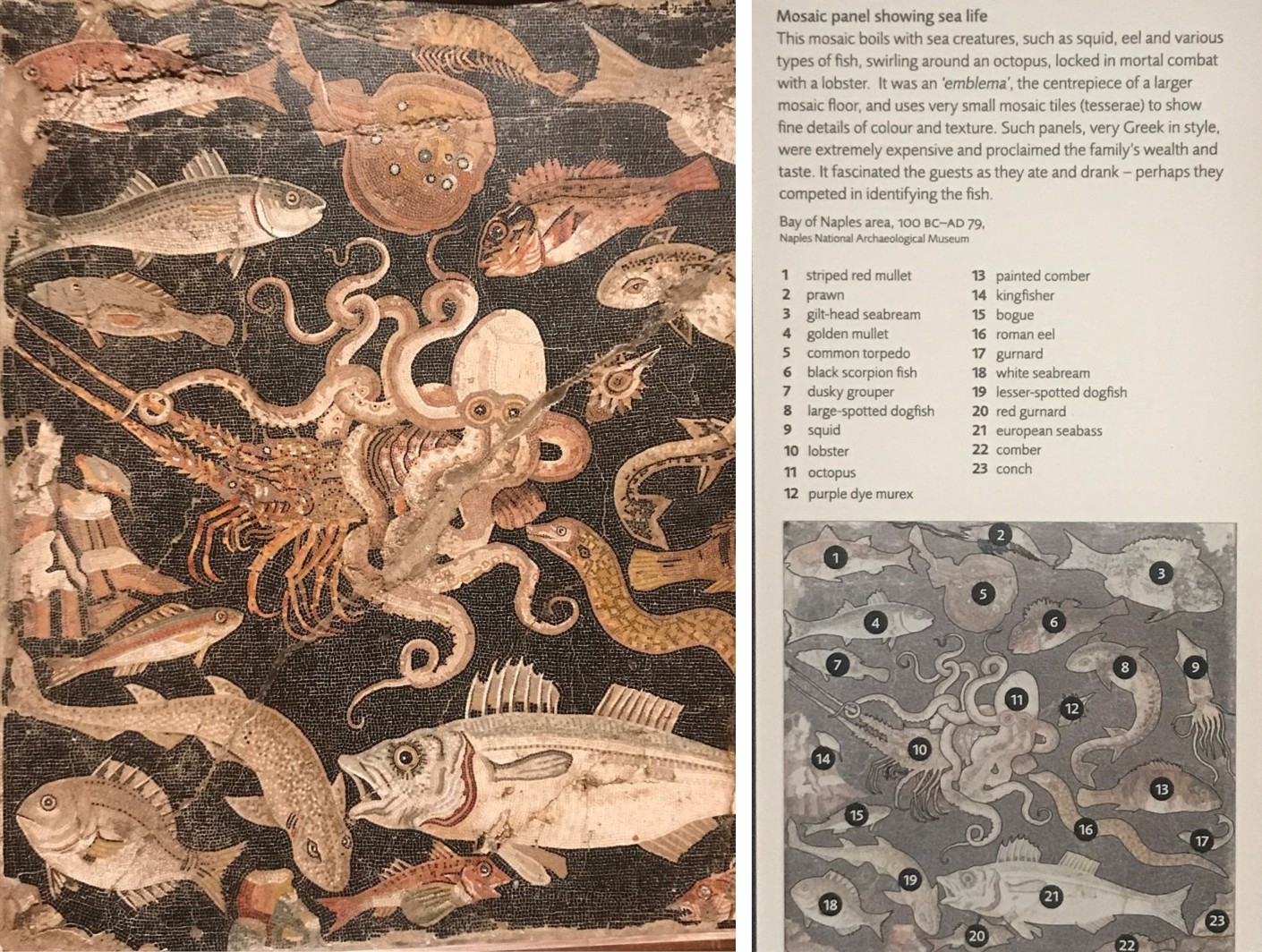 Then we went into the kitchen. Ilaria described it as smoky, smelly and with the toilet inside (another source of remains). An edible dormouse peaks out of the earthenware rearing jar, or glirarium, with its little bowls for acorns and ledges for scurrying. Heston Blumenthal has been to the exhibition and made a Roman meal to be featured on a Radio 4 Food Programme. Apparently 15 of these bony creatures are needed to make a starter and they taste like a cross between pork and quail.
The exhibition shifts from Pompeii to Roman artefacts gathered from digs around Britain and illustrates how much the Romans brought to our island's diet at that time: beer, chicken, rabbit, eating apples, cherries, plums, parsnips and brassicas such as cabbages to name just a few.
A final dark room, dramatically lit, has The Resin Lady, a cast of a sprawling body from Pompeii: an end that underlines how this is a story of life and death.
Our thanks to the Ashmolean and Ilaria for this special tour of an exceptional show, which continues until 12 January 2020. These special loans were made possible through the ongoing relationship between the Italian museums and the curator Paul Roberts, Head of Antiquities at the Ashmolean and before that 20 years at the British Museum where he put on Life and Death in Pompeii and Herculaneum. The exhibition catalogue is excellent.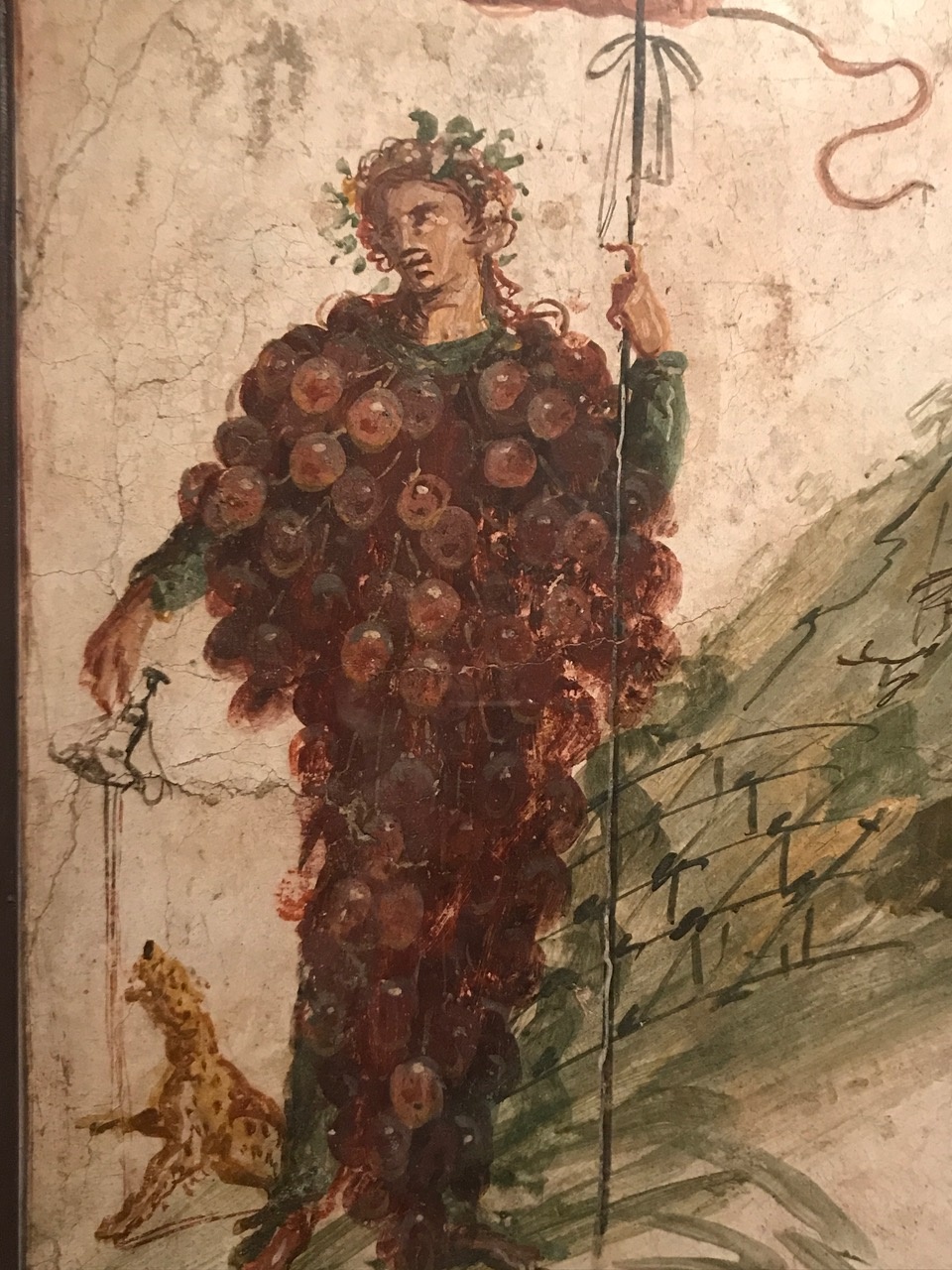 Detail showing Bacchus with vines growing up Vesuvius 
© Hattie Ellis 2019
Photographs © Hattie Ellis 2019
You can also read Susan Wolk's report of the exhibition tour here.