About the Guild
The Guild of Food Writers is the professional association of food writers and broadcasters in the United Kingdom. Established in 1984, it now has around 480 authors, broadcasters, columnists and journalists among its members
The Guild:
Brings together professional food journalists, broadcasters and authors, both at Guild events and via the internet

Compiles a comprehensive and detailed Directory of Members;

Broadens the range of members' knowledge and experience:
— by arranging discussions, forums, comparative tastings and visits, including an annual autumn event that can take many forms and monthly workshops (see Events), and
— by publishing monthly newsletters
Encourages the development of new writers by every means, including competitions and Annual Awards for Food Writing and Broadcasting

Contributes to the growth of public interest in, and knowledge of, the subject of food, including running an annual children's cooking competition, CookIt, and an annual young people's food writing competition, WriteIt

Offers professional support and guidance to its members



The Guild is always keen to welcome new members (see Joining the Guild).
You can follow the Guild on Twitter at @GuildFoodWriter and on Instagram at @thegfw. 
We actively try to promote our members' activities as well as our major events such as the Awards. Many PRs and book publishers as well as many of our members use Twitter. Please follow us and send us messages by including @GuildFoodWriter in your tweet.

For further information contact the Administrator, Henry Mackley by email to admin@gfw.co.uk or by telephone on 020 8659 0422.
History
On 12 April 1984, a group of the great and good in the British food world gathered for lunch at London's Intercontinental Hotel to enjoy a rather superb lunch devised by the hotel's celebrated chef Peter Kromberg.
Among others, Lady Arabella Boxer, Miss Elizabeth David, Mr. Christopher Driver, Mrs. Jane Grigson, Miss Claudia Roden, Mr. Michael Smith and Mrs. Katie Stewart enjoyed a Petit Nage de Sole et Homard aux Asperges, followed by Magret de Canard au Foie Gras en Cage, with a Soufflé au Fromage preceding an Assiette de nos Desserts. The purpose of this grand and memorable event was to discuss the formation of an 'association of food writers'. In the way of such things, a debate arose about whether or not it would be an élite Académie in the French style or something along the lines of the already existing Circle of Wine Writers. The latter won the day, but in so doing lost the group the support of the person who had been seen as its first president, Elizabeth David.
On 17 January 1985, the first actual meeting of the Guild of Food Writers took place in the equally august surroundings of Claridges, under the chairmanship of Derek Cooper.In the years that have followed, the Guild has grown to a membership of around 425 professional writers, editors, journalists and broadcasters in the field of food, nowadays equally at home in Thai gastropubs and farmers' market food tents as in the marbled halls of grand hotels.
On 5 February 2010, Simon & Schuster UK published a book containing a compilation of writing and recipes by members to celebrate the Guild's 25th Anniversary. Entitled How the British Fell In Love with Food: 25 years of writing and recipes from the Guild of Food Writers and sponsored by Billingtons, it was compiled by Guild Publications Coordinator Lewis Esson.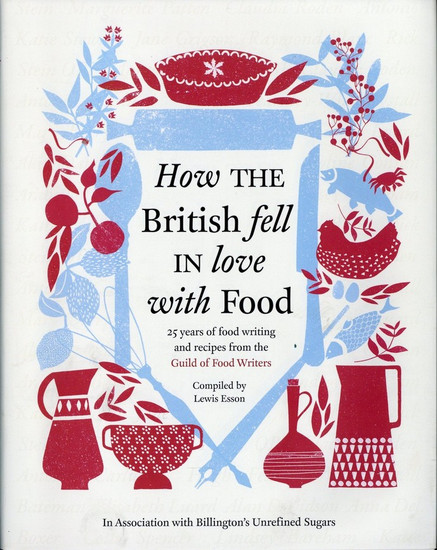 The book was named Best Culinary History Book in the UK in the 2010 Gourmand World Cookbook Awards and went on to win Best Culinary History Book in the World at a ceremony held in the legendary Folies Bergere in Paris on 3 March 2011, and Lewis was able to receive the award on the Guild's behalf. 
MORE