Cook It 2012 Winners
28 May 2012
The finals of the Guild of Food Writers' CookIt! Competition once again demonstrated that there is a wealth of talent amongst the next generation of cooks and chefs. In particular, huge congratulations go to Beth Beeley, aged 10 from Liverpool, who is the winner of this year's CookIt! Competition, which is sponsored by Gold Top.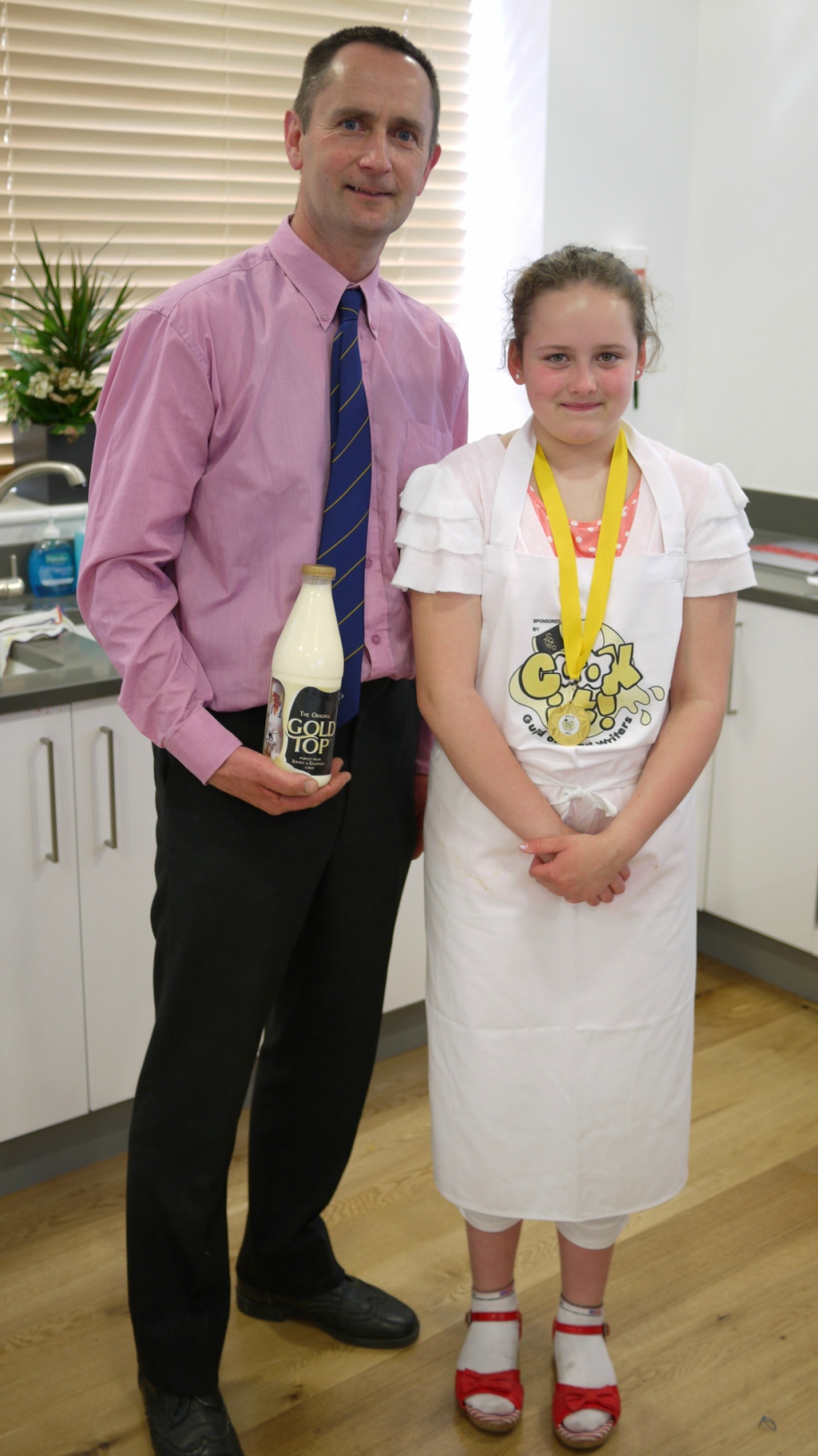 Beth Beeley with Andrew Payling from Gold Top
Beth impressed the team of judges with her winning menu of Apple-glazed Cheese and Onion Pork Chops, Stuffed Cone Peppers and Paella, followed by Peanut Butter, Raspberry and Oreo Cream Parfaits. Her menu was inspired by her favourite sportsperson, David Beckham, and was created to reflect his football career playing in England, Spain and America.
Over 23,000 schools and children's groups were invited to enter the CookIt! competition held at the Electrolux Academy this year. With the theme of 'Going for Gold', aspiring young cooks, aged between 10 and 14, were asked to create a main meal and pudding for a favourite sportsperson. Beth was chosen, along with six other finalists, to cook her recipes on 24 May at the impressive new Electrolux test kitchens.
The judges, who included the BBC's 'Gastronaut' Stefan Gates and food stylist and CookIt!'s Jayne Cross, were particularly impressed by the finalists confidence and cooking skills. They also commented that the seven finalists Beth, Claudia, Patrick Ben, Liberty, Emma and Natalie all kept remarkably calm as they cooked up a stunning array of dishes. They had just 1½ hours to cook their winning meal, with each dish judged on its taste, presentation and originality. The judges were genuinely impressed with the level of skill, creativity and contagious enthusiasm for cooking.
'I was absolutely humbled by what everyone achieved today,' commented Stefan Gates at the cook-off. 'Beth's paella was fantastic and up there with the best of them.'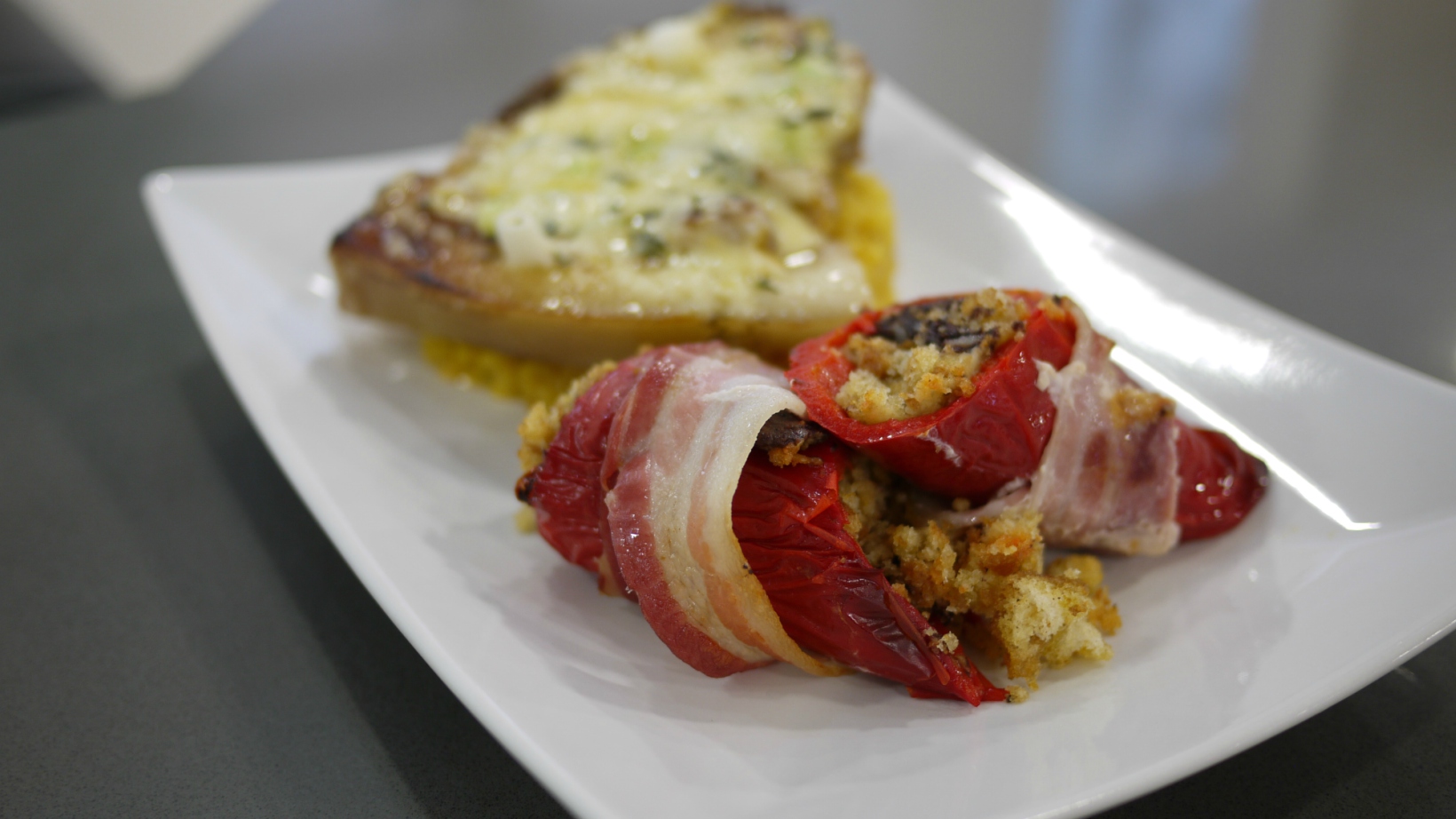 Beth's winning main course of Apple-glazed Cheese and Onion Pork Chops, Stuffed Cone Peppers and Paella
Guild of Food Writers CookIt! Organiser Jayne agreed, adding. 'Her layered dessert showed great skill and ability – and tasted delicious too. And she's only 10-years old! This competition is a great way of encouraging children's interest in food and we would like to thank sponsors Gold Top for their ongoing support of this important competition and Electrolux for their generous hosting of the final.'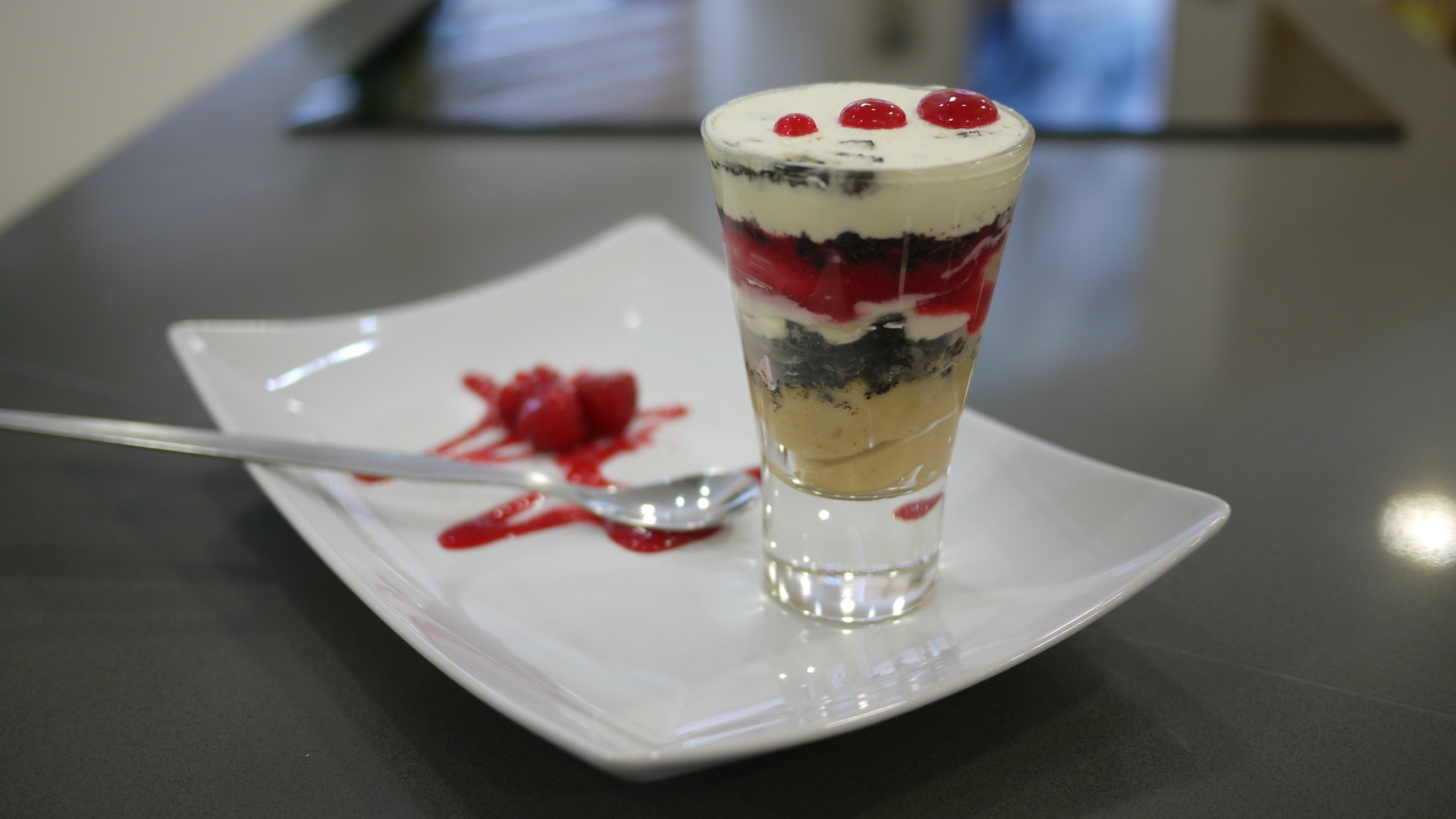 Beth's winning dessert of Peanut Butter, Raspberry and Oreo Cream Parfaits
Beth regularly cooks for her family at home, particularly spicy food, which she loves.
'I look for ideas in cookery books and then change the recipes and add my own ideas,' says Beth. 'I watch all the cookery programmes, like Heston, Gordon Ramsey and Jamie, record them and then try out the recipes at home. My dad and I like to cook together every Saturday – last week I cooked lamb shanks,' she added.
Beth is the lucky winner of a fantastic week's holiday for the whole family at Treen Farm, a working organic dairy farm in St. Leven, Cornwall, courtesy of the sponsors Gold Top.
In second place came Natalie Miron, aged 14 from Reading, who was also a finalist in last year's competition. She cooked a stunning Pan-fried Venison with Truffle-infused Pomme Purée, Asparagus and a Blackberry Sauce, followed by Gold Medal Chocolate & Raspberry Tart with Chantilly Cream. Her favourite sportsperson is Jessica Ennis.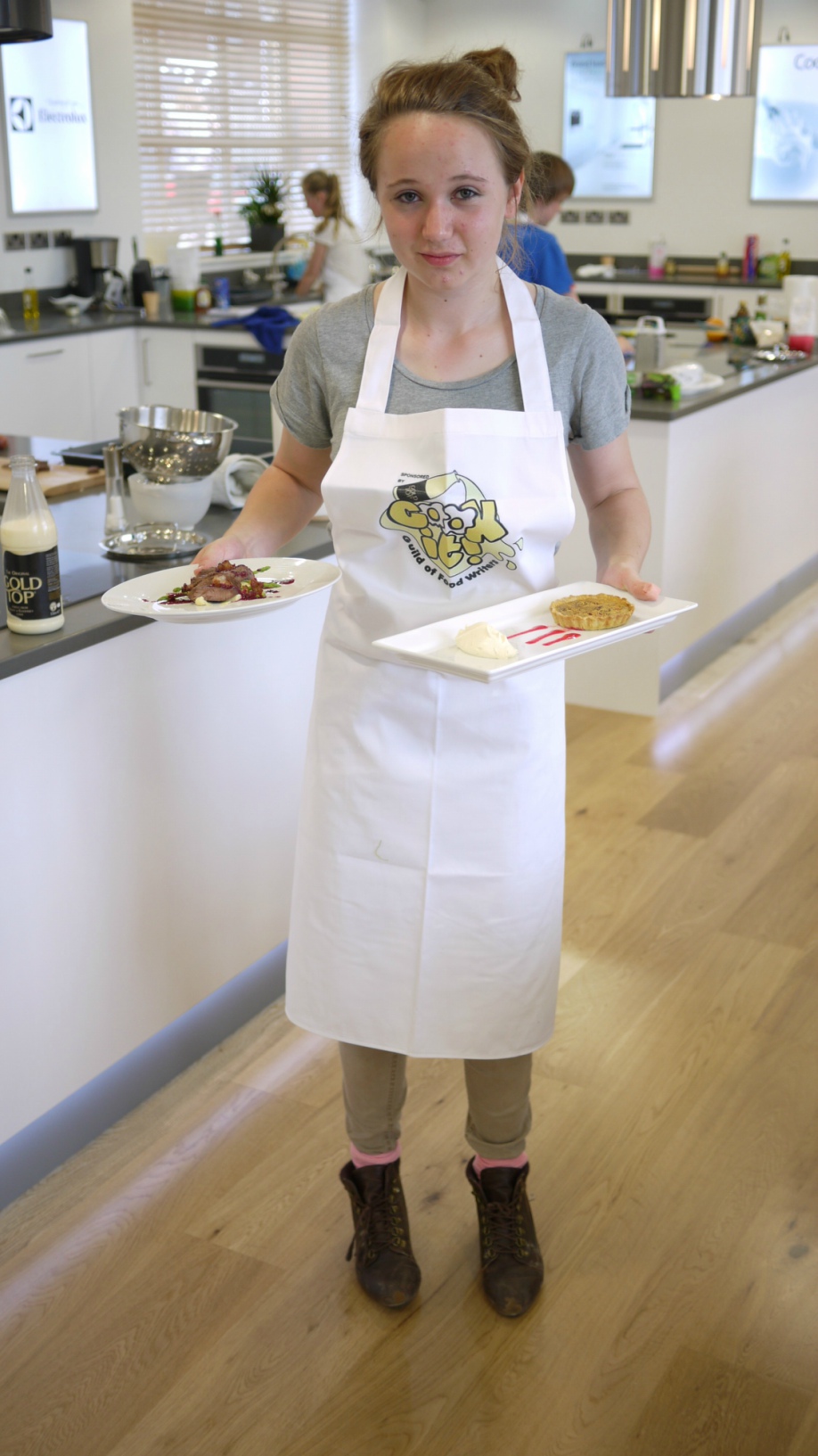 Natalie Miron
Third place was awarded to Ben Acott, aged 12 from Hampshire, who made a Chicken Tagine with Butternut Squash and served with Citrus-burst Couscous and Cumin Pitta Bread. His 'Britain in a Teacup', individual rhubarb and raspberry crumbles served with vanilla cream not only tasted great but looked good too. His menu was for his favourite sportsperson Chris Hoy.
From left to right: Jayne Cross, Ben Acott and Stefan Gates
Special skill prizes were awarded to Patrick Kavanagh, aged 12 from Worcester, for his pudding of Raspberry Cookies with Passion Fruit Cream and Raspberry Purée as well as Claudia Bartholomew, aged 12 from Huddersfield, for her Gold Medal Delight, a ginger sponge with rhubarb and ginger sauce, homemade vanilla ice cream and caramelized sugar swirl.
The judges also congratulated runners up Liberty Hughes, aged 12 from Cheshire, and Emma Hawkins, aged 12 from Wantage.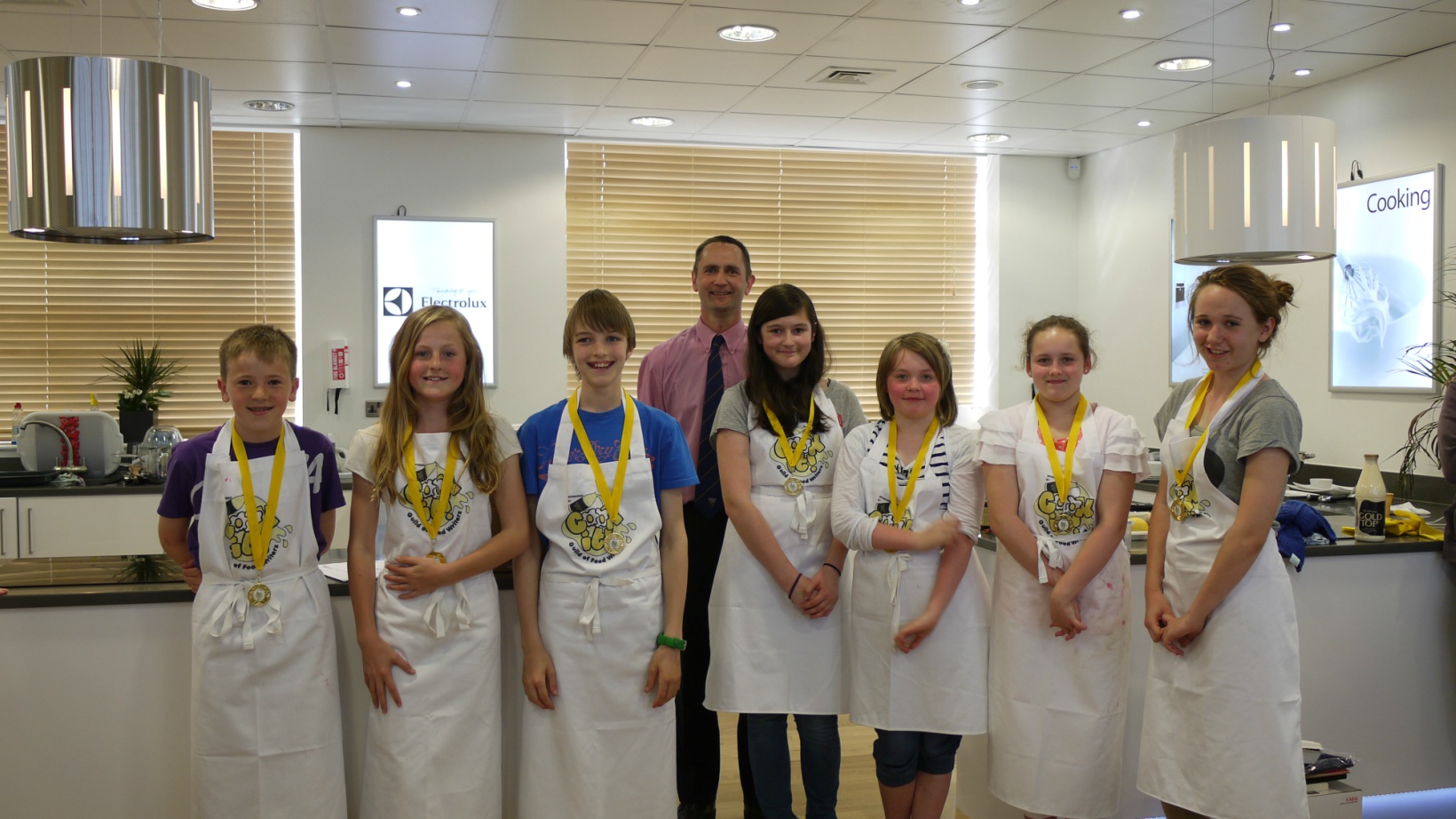 From left to right: Patrick Kavanagh, Liberty Hughes, Ben Acott, Andrew Payling, Emma Hawkins, Claudia Bartholomew, Beth Beeley and Natalie Miron
The CookIt! team, Jane Suthering, Guild of Food Writer's President, Jayne Cross, Kate Morris and Nicola Graimes, would like to thank Gold Top for sponsoring this annual event; the judges, who gave us their time and generously imparted their knowledge and skill to the finalists; as well as Electrolux, for supporting the competition and for the use of their test kitchens.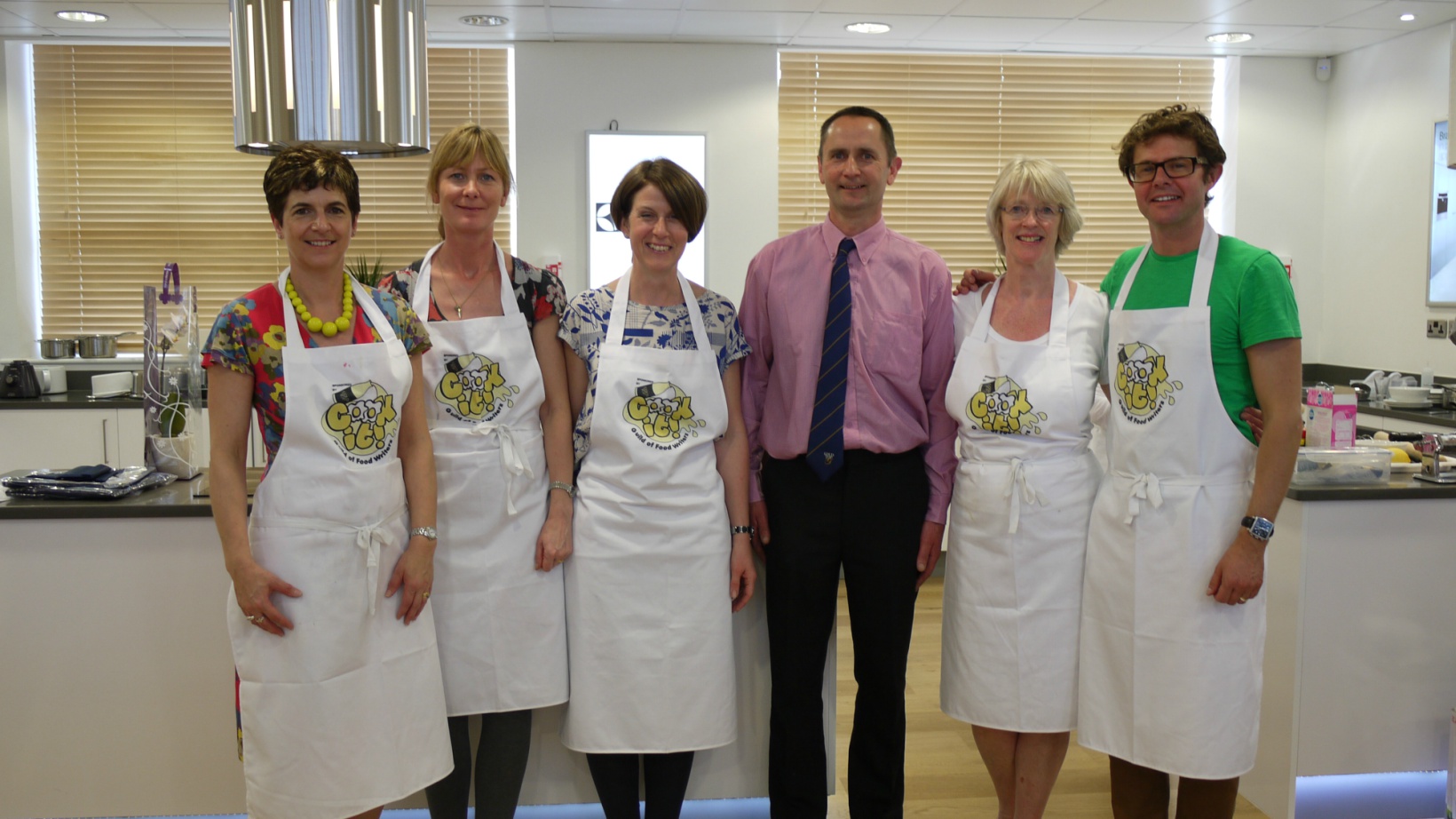 From left to right: Kate Morris, Nicola Graimes, Jayne Cross, Andrew Payling, Jane Suthering and Stefan Gates
Photographer: Silvio Bukbardis
Quality Milk Producers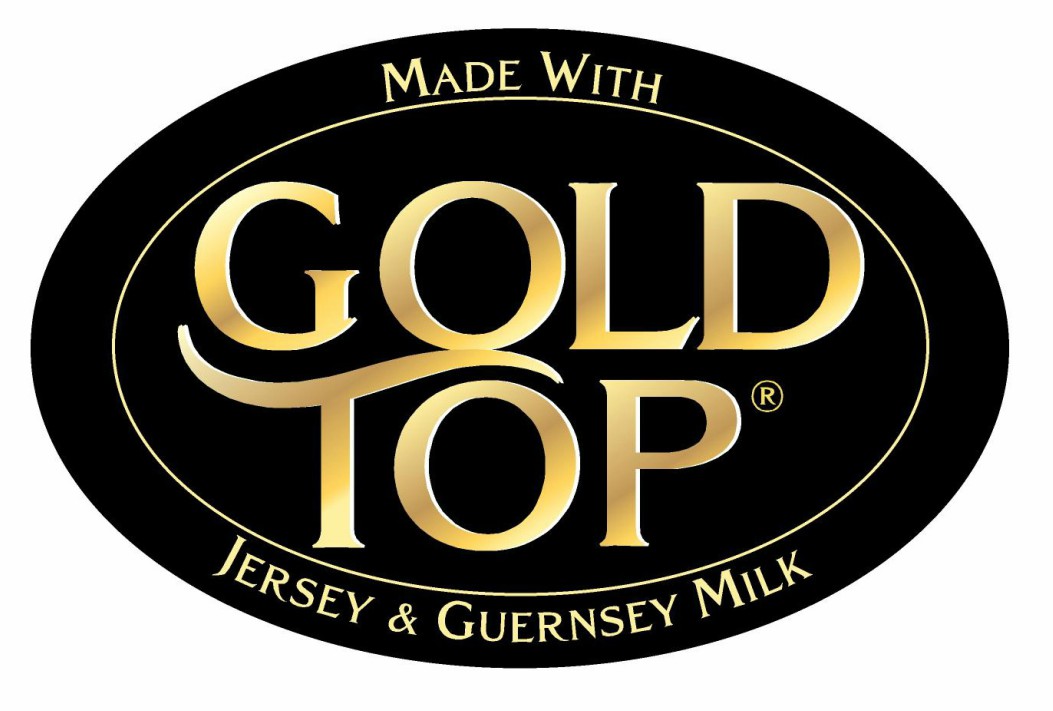 Quality Milk Producers (QMP), the co-operative of British Jersey and Guernsey dairy farmers owns the Gold Top milk brand. www.goldtopmilk.co.uk
Electrolux
Electrolux is a global leader in home appliances and appliances for professional use, selling more than 40 million products to customers in 150 countries every year. The company focuses on innovations that are thoughtfully designed, based on extensive consumer insight, to meet the real needs of consumers and professionals. Electrolux products include refrigerators, dishwashers, washing machines, vacuum cleaners and cookers sold under esteemed brands such as Electrolux, AEG-Electrolux, Eureka and Frigidaire. For more information, visit www.electrolux.com/press.