Awards 2019 Winners
28 June 2019
The winners of the Guild of Food Writers Awards 2019 have been announced.

The annual Awards ceremony, held on the evening of Thursday 27 June 2019 at Studio Spaces in London, celebrated the best of British food writing and broadcasting.

This event is organised by the Guild of Food Writers, the UK's professional association of food writers and broadcasters, and is the longest-established and largest of its kind.

The hosts for this special celebration were the Guild's new President Orlando Murrin and Vice-President Felicity Cloake. Orlando extolled the talents of all the shortlistees, commenting: 'Food writing is an increasingly crowded field, and this year we made adjustments to several categories to reflect changes that are happening in the marketplace. As ever, the Awards attracted a galaxy of entries, specially in new categories. In many cases there was a hair's breadth between the finalists, and judges found their final decision excruciatingly difficult. In the end, however, we came down to 12 worthy winners, to each of whom the Guild offers its warmest congratulations.'
Left to right: Genevieve Taylor, Madhur Jaffrey and Sumayya Usmani
This year's Lifetime Achievement Award was given to Madhur Jaffrey. Presenting the Award Guild Chair Genevieve Taylor described how it was the gift of one of Madhur's books from her granddad that expanded her own cooking horizons: 'The words sprang out from the page, enticing my senses with exotic, exciting and colourful sounding ingredients. My cooking world was changed forever, and I cannot tell you how grateful I am for that.'

Full details of the winners and sponsors are set out below.

You can view the programme for the evening by following this link.

If you would like more photographs of the event or any other information about the Guild awards please contact the Guild's administrator Jonathan Woods jonathan@gfw.co.uk.


For the third year the main sponsor of the Awards is Tenderstem® and this year's category sponsors are AC Goatham & Son (sponsor of the Inspiration Award); Aspall (sponsor of the International or Regional Cookbook Award); BerryWorld® (sponsor of the First Book Award); The FoodTalk Show (sponsor of the Food Blog and Social Media Award); Gold Top (sponsor of the Recipe Writing Award); Lakeland (sponsor of the Food Magazine or Section Award); Pukka Herbs (sponsor of the Food Writing Award); Seafish and the Shellfish Association of Great Britain (joint sponsors of the Specialist or Single Subject Cookbook Award); Thermapen® (sponsor of the General Cookbook Award); and Westmorland: Tebay Services, Gloucester Services & Cairn Lodge Services (sponsor of the Food Book Award).
Awards Winners
Food Blog and Social Media Award
(Sponsored by The FoodTalk Show)
Bitten & Written (bittenandwritten.com) by Zeren Wilson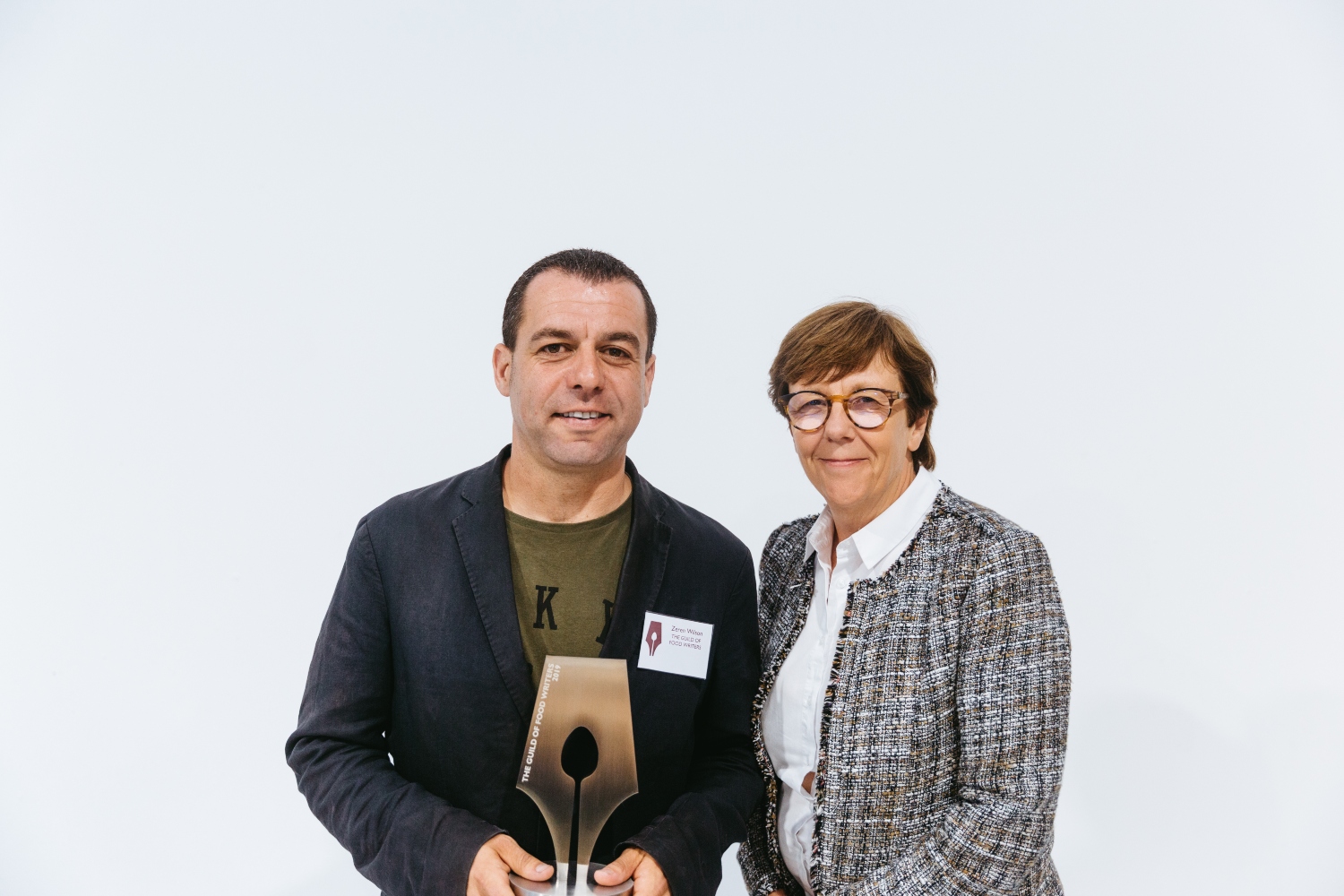 Zeren Wilson and Sue Nelson, presenter of The FoodTalk Show

Food Broadcast or Podcast Award
The Kitchen Cabinet, presented by Jay Rayner, produced by Hannah Newton, Miranda Hinkley and Laurence Bassett, and edited by Darby Dorras; executive producer Robert Abel (Somethin Else production for BBC Radio 4)
Left to right: Darby Dorras, Hannah Newton and Lawrence Bassett from Somethin Else Productions


Investigative Food Work Award
Yes, Bacon Really is Killing Us, published in The Guardian, written by Bee Wilson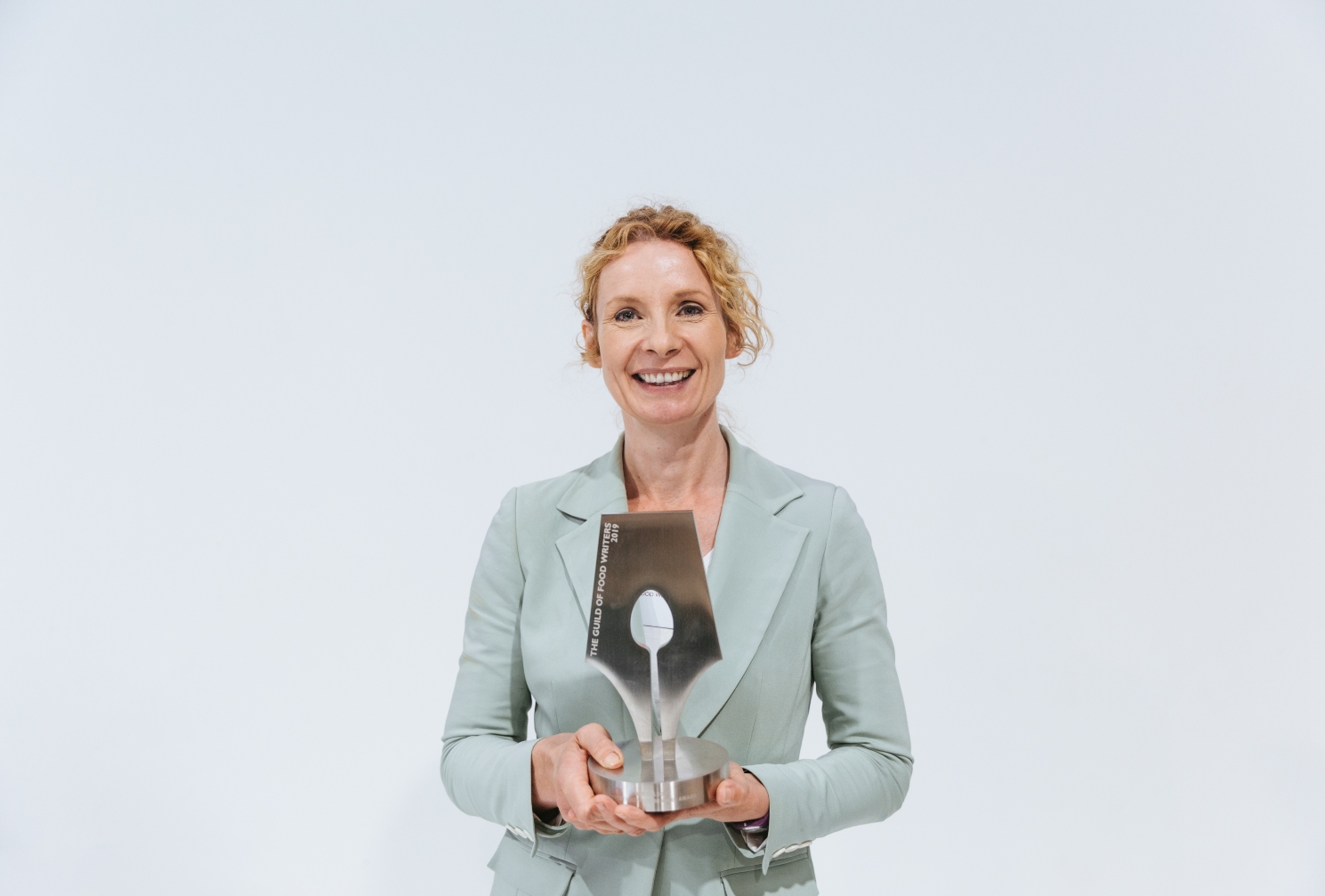 Bee Wilson
Restaurant Writing Award
Work published in FT Weekend Magazine by Tim Hayward

Tim Hayward
Food Magazine or Section Award
(Sponsored by Lakeland)
Market Life, edited by Mark Riddaway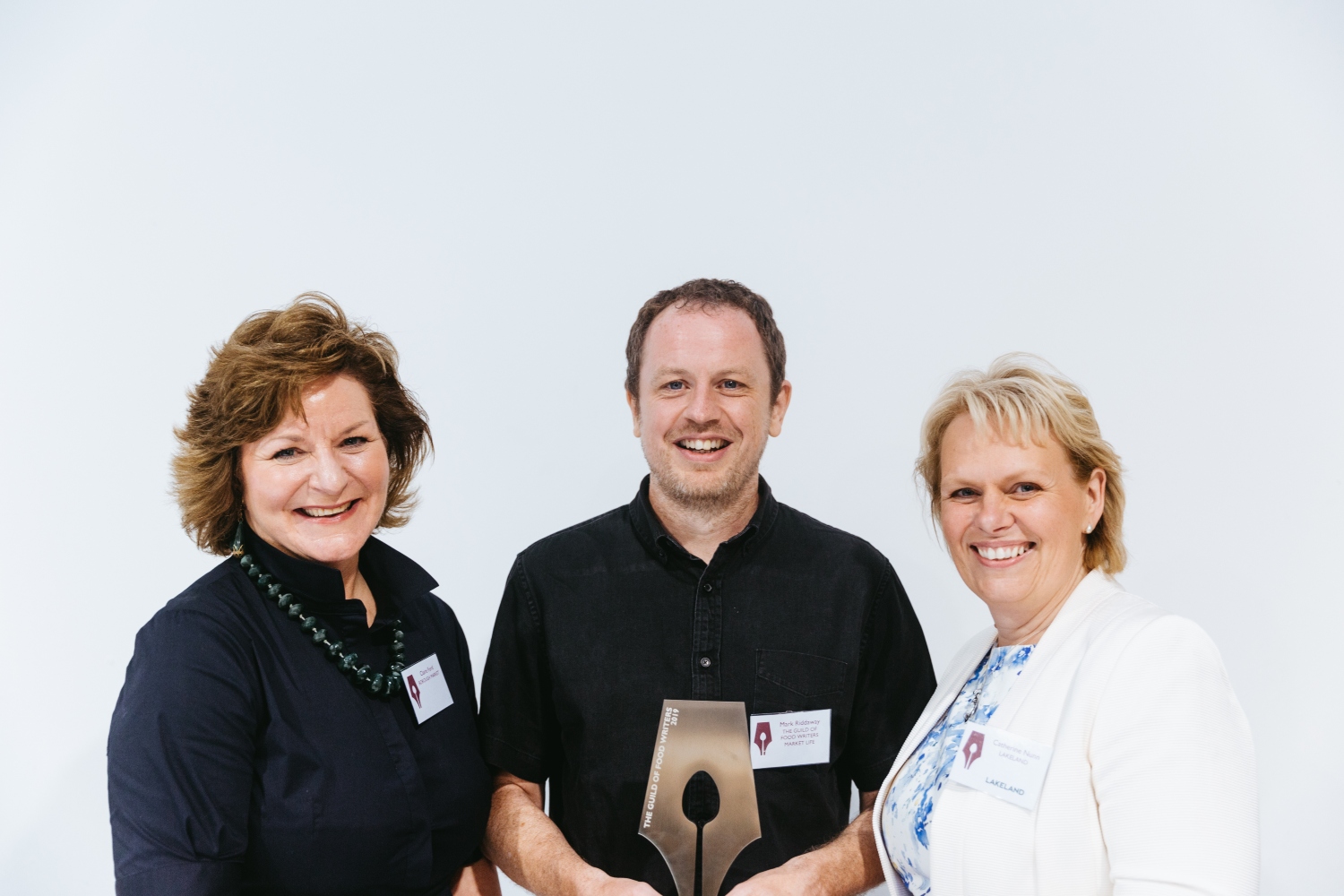 Left to right: Claire Ford from Borough Market, Mark Riddaway and
Catherine Nunn, CEO of Lakeland
Recipe Writing Award
(Sponsored by Gold Top)
Work published in Stella magazine, The Sunday Telegraph by Diana Henry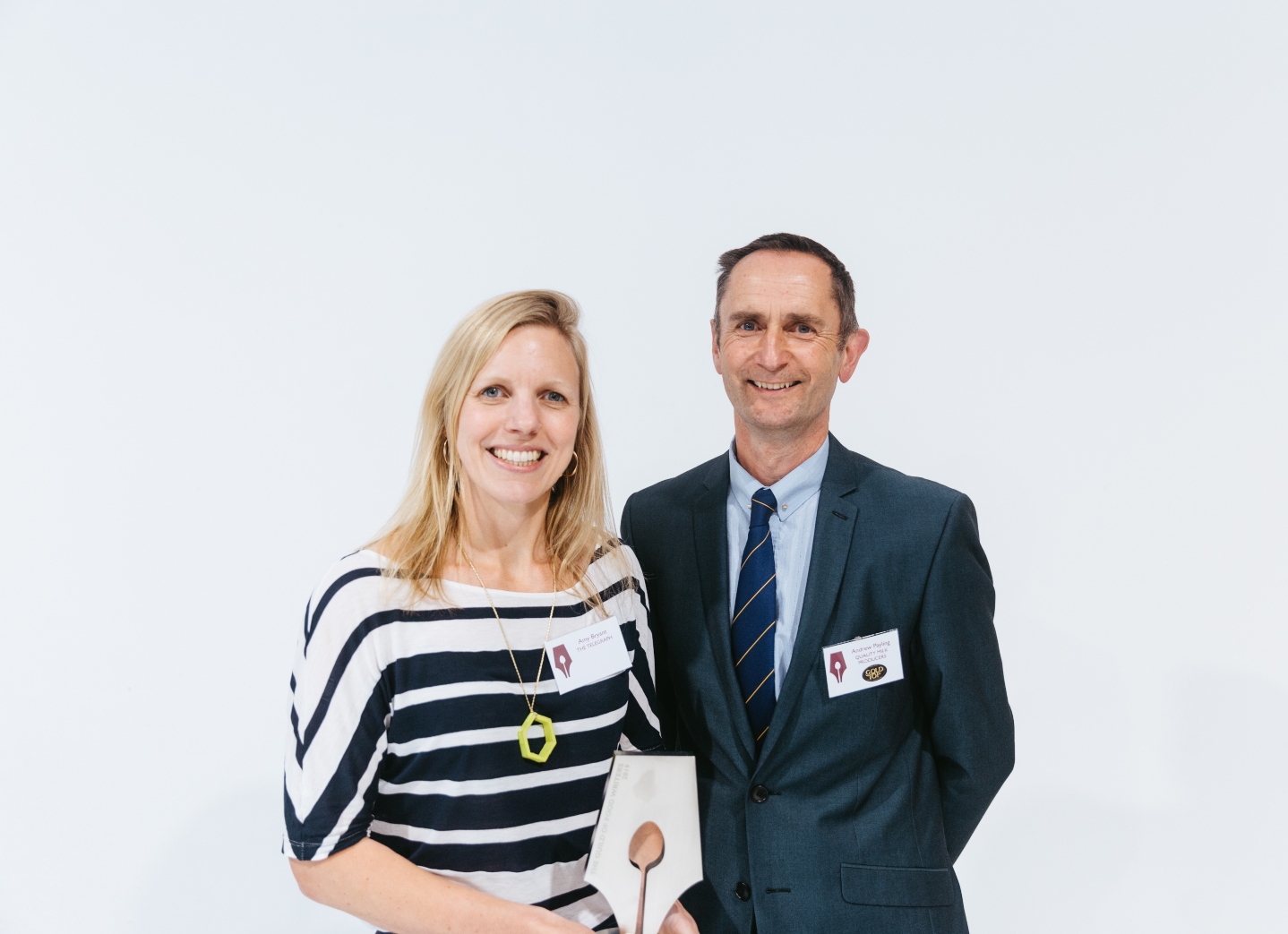 Amy Bryant from The Telegraph and Andrew Payling from Quality Milk Producers (Gold Top)
Food Writing Award
(Sponsored by Pukka Herbs)
Work published in The Guardian by Grace Dent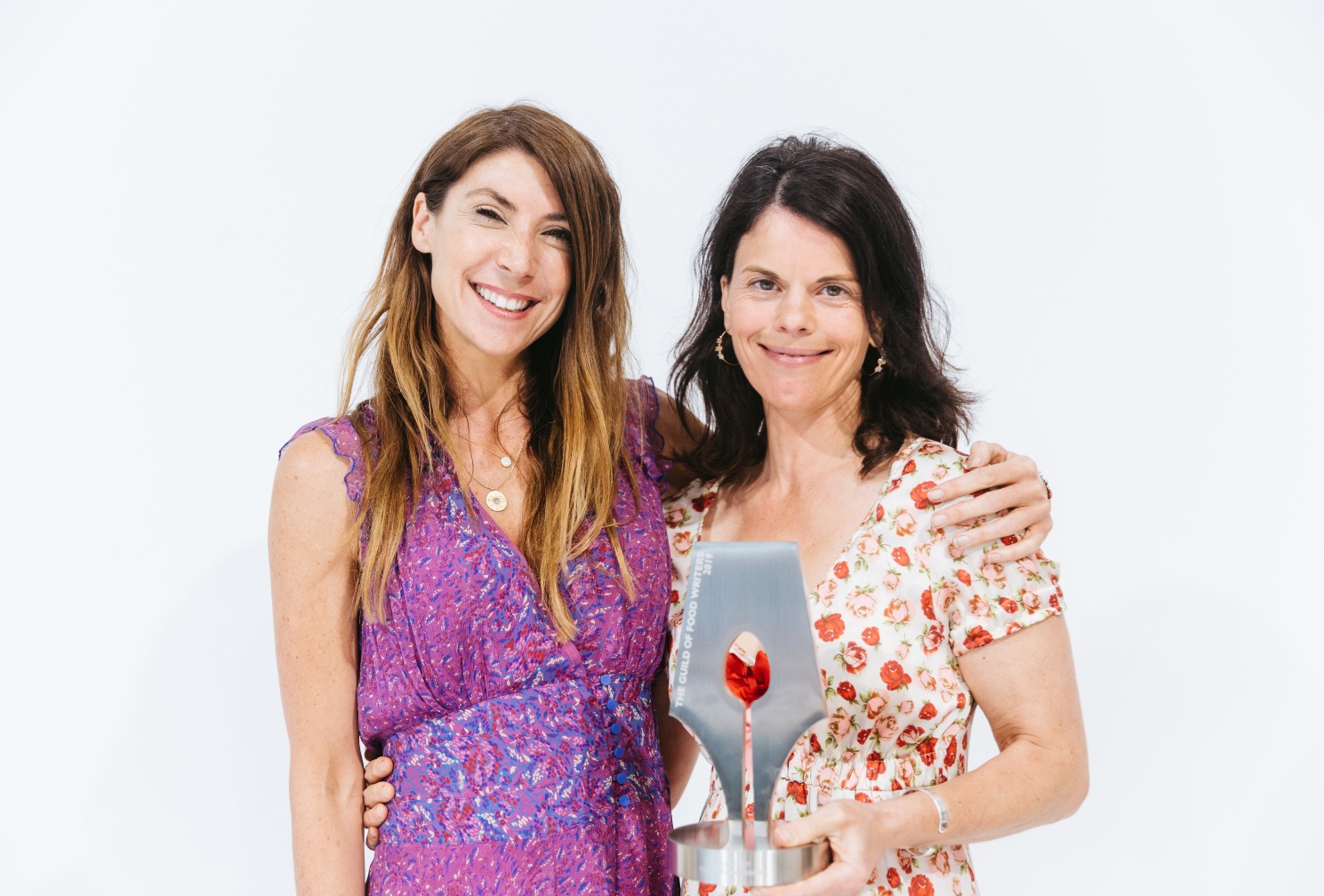 Charlotte Dormon (left) and Jo Webber from Pukka Herbs


Inspiration Award
(Sponsored by AC Goatham & Son)
Dom's Food Mission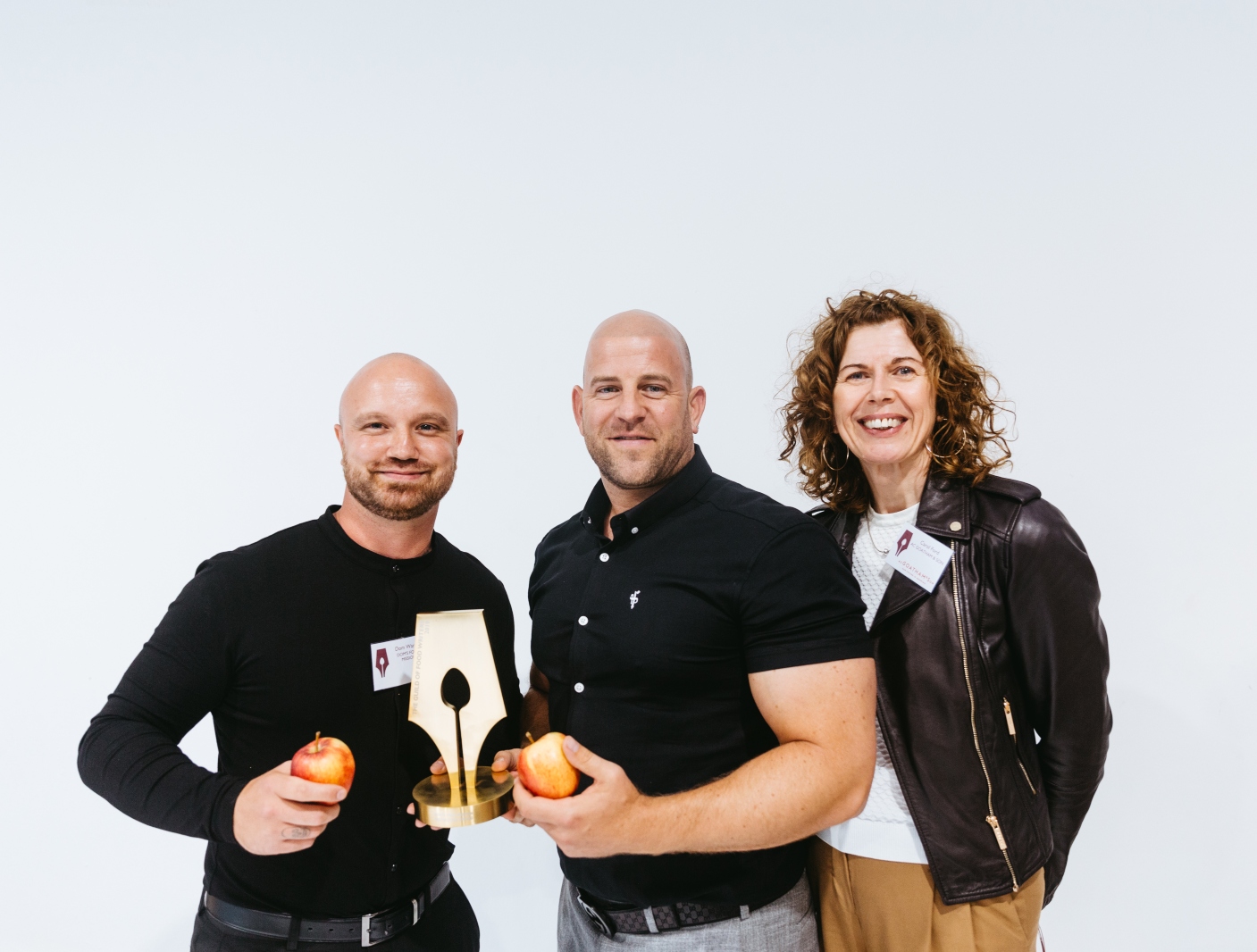 Dom Warren, Ross Southwood and Carol Ford, Commercial Director of AC Goatham & Son
First Book Award
(Sponsored by BerryWorld®)
Nightingales and Roses: Recipes from the Persian Kitchen by Maryam Sinaiee (published by Anima)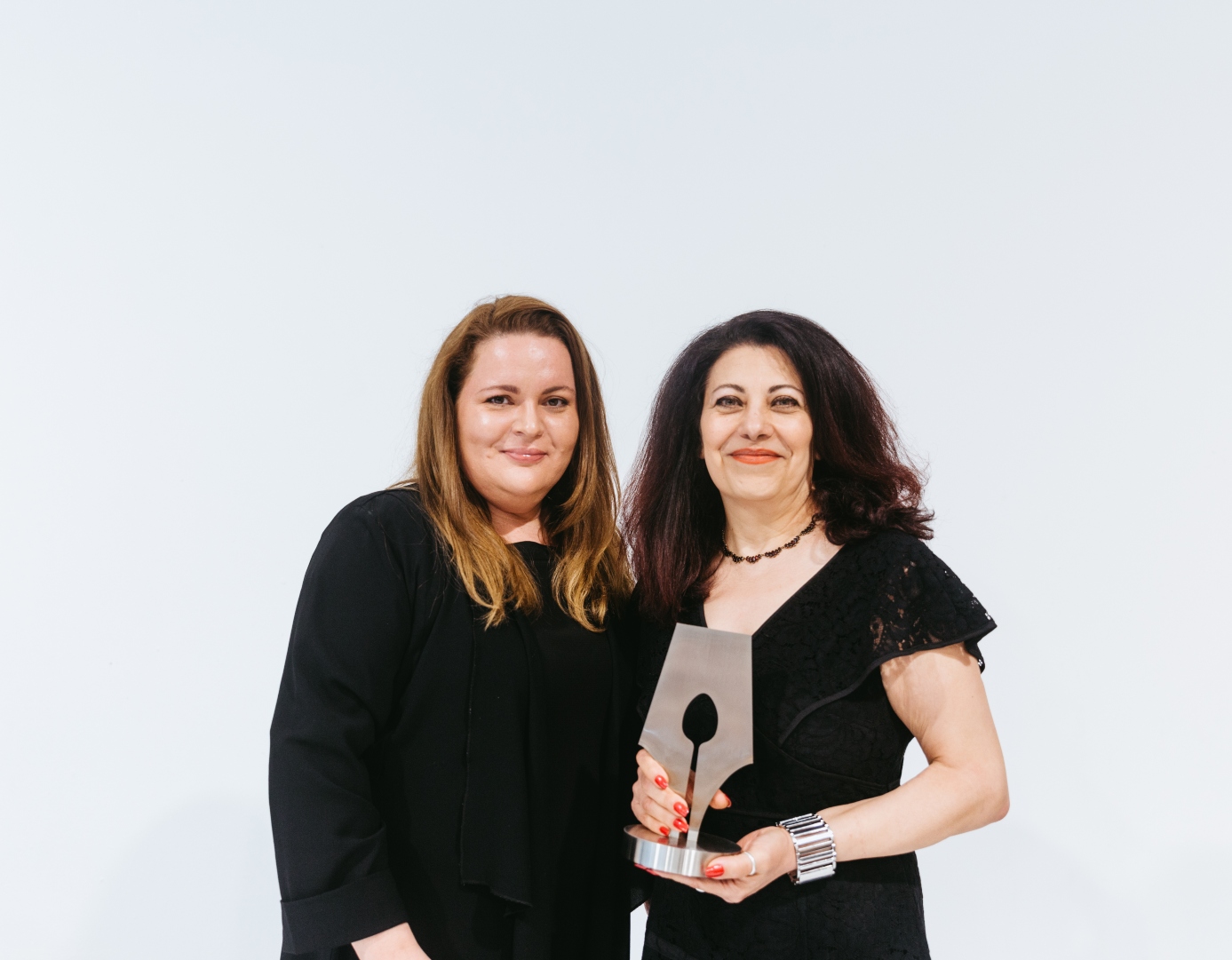 Emma Parsons (left), Corporate Brand & PR Manager for BerryWorld®, and Maryam Sinaiee
International or Regional Cookbook Award
(Sponsored by Aspall)
Copenhagen Food: Stories, traditions and recipes by Trine Hahnemann (published by Quadrille Publishing)

Henry Chevallier Guild, Brand Ambassador for Aspall, and Trine Hahnemann
Specialist or Single Subject Cookbook Award
(Sponsored by the Shellfish Association of Great Britain and Seafish)
Goat by James Whetlor (published by Quadrille Publishing)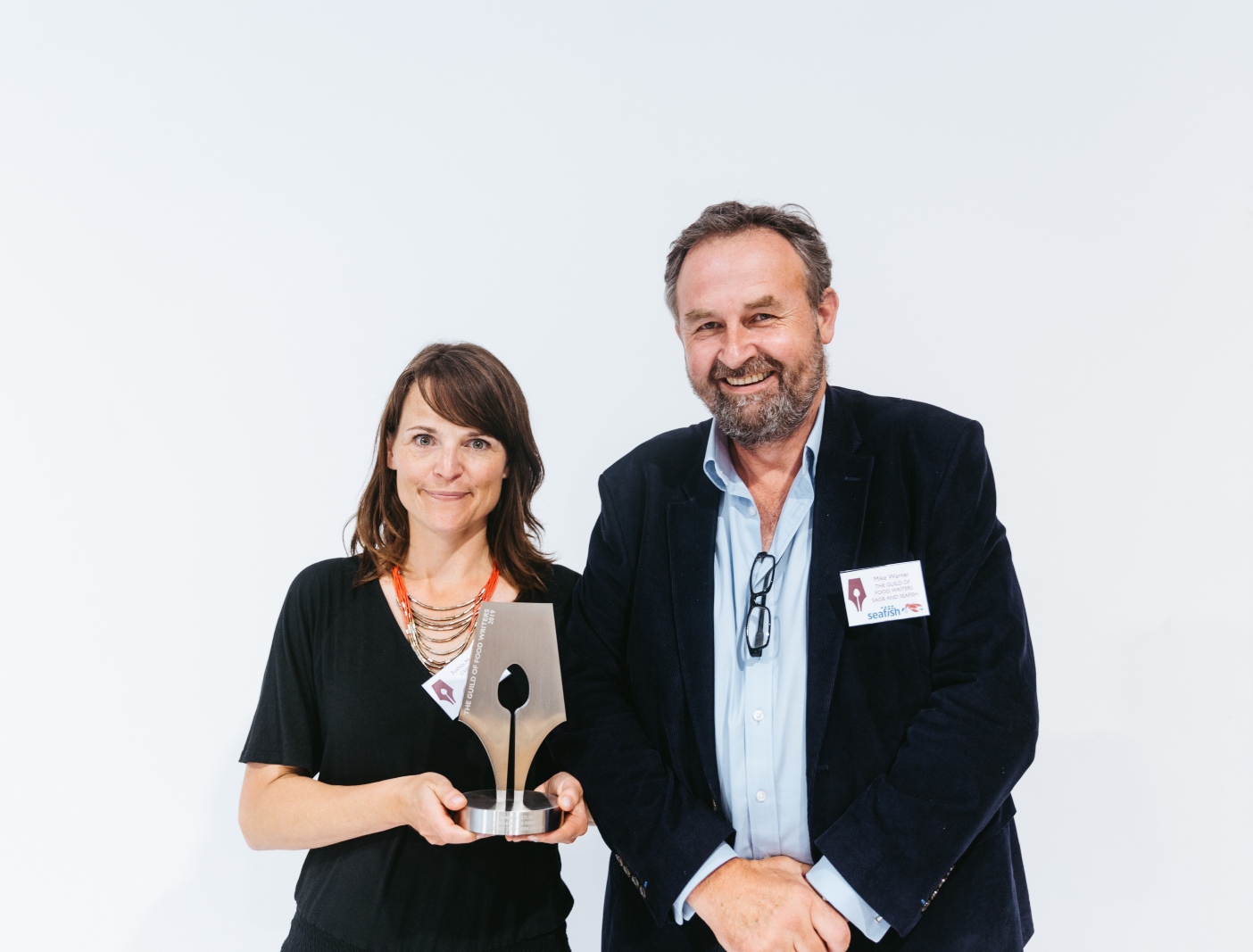 Sushila Moles (James Whetlor's partner) and Mike Warner, Business Development Manager for the Shellfish Association of Great Britain
Food Book Award
(Sponsored by Westmorland: Tebay Services, Gloucester Services & Cairn Lodge Services)
Black Sea: Dispatches and Recipes - Through Darkness and Light by Caroline Eden (published by Quadrille Publishing)

Caroline Eden
General Cookbook Award
(Sponsored by Thermapen®)
A Long and Messy Business by Rowley Leigh (published by Unbound)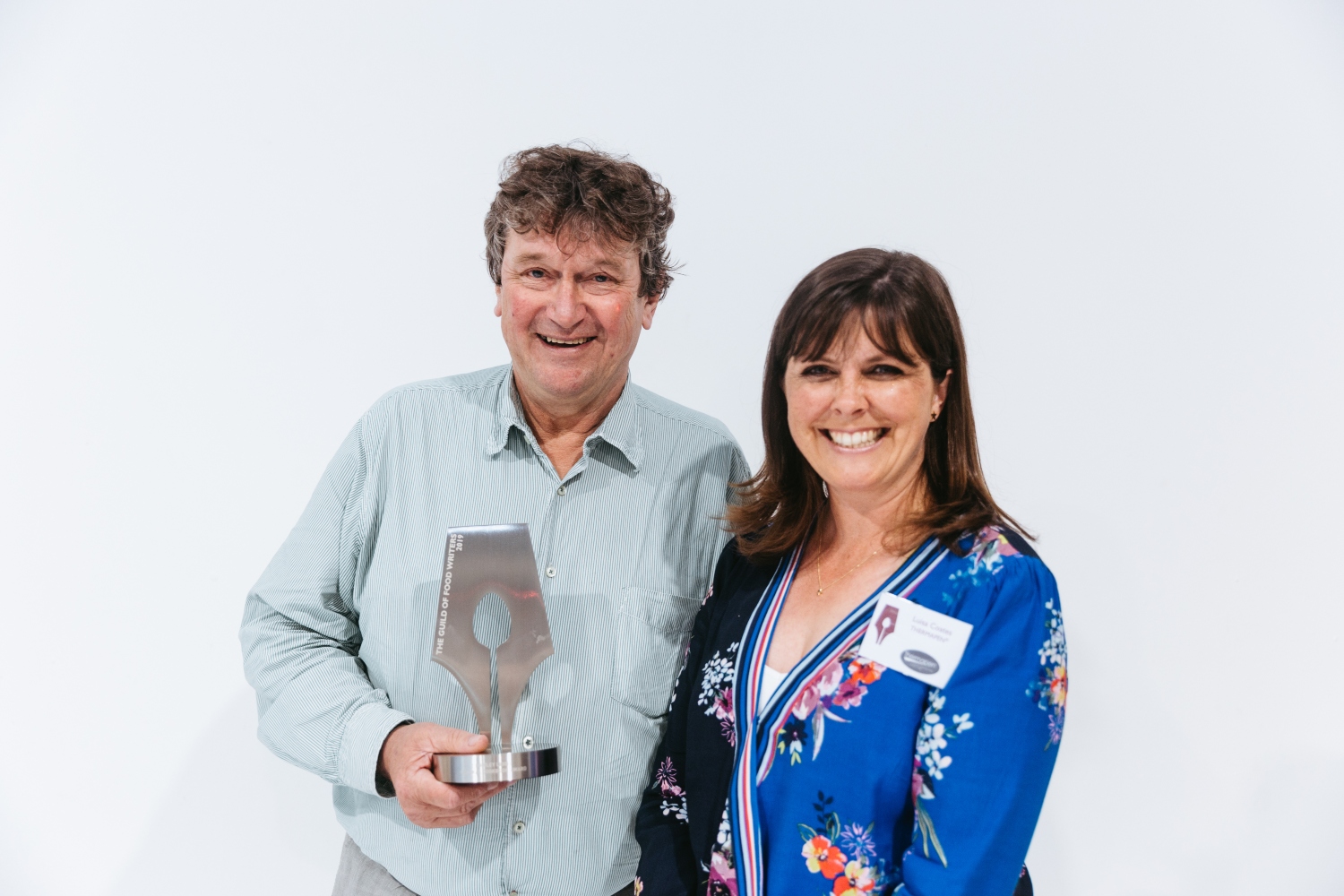 Rowley Leigh and Luisa Coates, Marketing Manager of ETI Ltd
Lifetime Achievement Award
Madhur Jaffrey CBE
Awards
The Guild of Food Writers Awards were established in 1996 and are presented in recognition of outstanding achievements in food writing and broadcasting. The awards are the only ones that are judged entirely by professional food writers, journalists and editors.
The team from main sponsors Tenderstem® and their guests with the Guild's President and Vice President, left to right: Ryan Beszant, Stuart Cox, David Samuels, Michelle Evans, Peter Durose, Andrew Jones, Andy Macdonald, Alain Sicard, Theresa Richards, Felicity Cloake (Guild Vice President), Ian Michell, Orlando Murrin (Guild President), and Kyla Flynn
Sponsors
Tenderstem®
(Main sponsor of the Awards)
"If you're looking for your next kitchen adventure, then look no further than Tenderstem®. This versatile vegetable offers endless possibilities when taking a culinary cruise through world cuisines. Whether you want to use it as an ingredient in a favourite dish or serve it as a sumptuous side to impress friends and family, you can draw inspiration from the subtle, slightly nutty flavour and delectable texture.
A cross between Chinese kale and Calabrese broccoli, Tenderstem® can be eaten whole, from top of floret to tip of the stem, there is no wastage, meaning more goodness on the plate. Bursting with essential nutrients, Tenderstem® is high in fibre, protein, folate, and both vitamins A and C, so adding it to simple pasta dishes can really boost the health benefits of a meal. It's also super simple to cook; steam it, boil it, stir fry it, BBQ it, griddle it, roast it, or even better, keep all the nutrients locked-in and enjoy Tenderstem® raw. Just 80g of Tenderstem® counts as one of your five-a-day.
Grown and harvested by hand in the UK between May and November and available all year round from farms in Europe and Kenya, Tenderstem®'s delicate flavour pairs well with meats, fish and other vegetables, making it the ideal choice as a kitchen staple for adventurous foodies. Try Tenderstem® in your next adventurous meal and share the results with us on social!
Tenderstem® is very proud to support the Guild of Food Writers as its main sponsor of their illustrious awards for the third year running."
You can find out more about Tenderstem® here tenderstem.co.uk and check out our social channels for lots more inspiration on Twitter: @tenderstem; on Facebook: facebook.com/tenderstem; on Pinterest: pinterest.com/tenderstem/; on Instagram: instagram.com/tenderstem.
AC Goatham & Son
(Sponsor of the Inspiration Award)
"AC Goatham & Son is the largest top fruit grower in the UK, growing one in every four British apples and one in every three British Conference Pears eaten in the UK each year.
The business is located on the Hoo Peninsula and has 28 farms across Kent growing 14 different varieties of apples including a brand new variety due to be launched in 2019 and 3 varieties of pears. It has just finished an extensive planting programme of nearly ¼ million new fruit trees, helping to secure the future for British top fruit for years to come.
We are one of the first British growers to offer ripe and ready British Conference and Comice Pears, helping to introduce a new audience to this tasty, delicious and healthy snack.
This family business was founded in 1947 and it has grown to be a multi award winning fruit growing business that has changed the approach to growing apples and pears in the UK, leading the industry with new technological advances including state-of-the-art packing facilities. This allows thousands of perfectly produced apples and pears to be moved each day for supermarket and retail clients."
For more information, visit acgoatham.com; on Twitter: @ACGoatham; on Facebook: facebook.com/goathams; on Instagram: goathams; on LinkedIn: AC Goatham & Son.
Aspall
(Sponsor of the International or Regional Cookbook Award)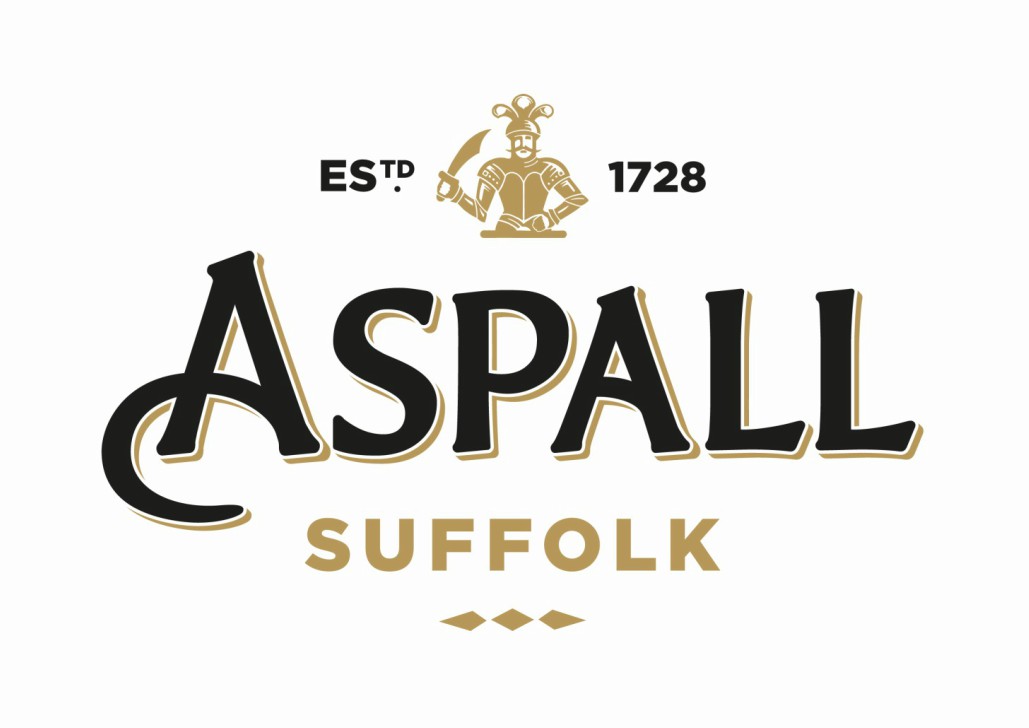 "At Aspall, we never compromise. We've been pioneers for nearly 300 years, starting in 1728 with Clement Chevallier, planting apple trees while others ploughed the land.
Today we continue to keep his pioneering spirit alive through everything we do. Our business is steeped in heritage but we're not set in our ways. We are innovative cyder and vinegar makers, embracing new ideas and technologies while upholding the same exacting standards set by Clement hundreds of years ago. Now a part of the Molson Coors global family, Barry and Henry Chevallier Guild, the eight generation of the family, are still involved with the Aspall business today.
We are passionately protective of our legacy, the provenance of our cyders and vinegars and dedicated to forging our own path.
Creativity and a deep love of food and drink are at the heart of everything we do at Aspall. Sponsoring these awards and being able to honour those writers who share our passion is a great pleasure and we'd like to congratulate all of the deserving finalists."
You can find out more about Aspall at aspall.co.uk; on Twitter: @aspall and @AspallVinegar; on Facebook: Aspall and Aspall Vinegar; on Instagram: @aspalluk and @aspallvinegar.
BerryWorld®
(Sponsor of the First Book Award)

"Berries are sensational things. For us, they literally are our world.
We have an appetite to bring food lovers worldwide the very best berries; ones that not only taste great but are sustainable for our growers too. Great berries, for future generations; truly sustainalicious.
Since 1994 we've worked with experts to breed and grow great berries. Collectively, they have developed, tried and tested over 2 million varieties to make sure our berries are always delicious.
And we don't stop there. We want every BerryWorld berry to be bursting with goodness. That means bred, grown, picked with care and packed with flavour, for an experience that satisfies taste buds and consciences across the world.
'We are passionate about providing premium, fresh berries', explains Charlotte Knowles, Head of Brand & Marketing at BerryWorld. 'We want to make consumers smile every time they eat our berries, whatever the season!'
So, whether you're craving gorgeously glossy strawberries, subtly sweet raspberries, plump perky blueberries, or dark decadent blackberries– the choice should always be BerryWorld."
You can find out more about BerryWorld® at berryworld.com; on Facebook: facebook.com/helloberryworld; on Twitter: @HelloBerryWorld; on Instagram: @HelloBerryWorld; on Pinterest: @HelloBerryWorld.
The FoodTalk Show
(Sponsor of the Food Blog and Social Media Award)
"The FoodTalk Radio Show was founded by Sue Nelson, CEO of The Breakthrough Group and author of Foodtech UK. Food and drink experts from around the country are invited as guests to discuss the latest trends in everything from distribution and delivery, to taste profiles and tech innovation.
Sue has appeared on nearly every national radio programme in the UK from the Today programme and Jeremy Vine to Radio 4's The Food Programme and Farming Today. She was formerly CEO of NW Fine Foods and has been a regular guest on television programmes as diverse as Trisha and The Culture Show. She is also author of the NW Fine Food Guide with Simon Rimmer of Channel 4's Sunday Brunch.
Her fellow presenters are Ollie Lloyd, Co-founder and CEO of Great British Chefs working with chefs such as Marcus Wareing, Michael Caines, Tom Aikens and Nathan Outlaw, and Holly Shackleton, Editor of Speciality Food Magazine, the leading trade magazine for the fine food industry.
The podcasts are available on the FoodTalk and Great British Chefs websites and on iTunes, Spotify, PodBean, Stitcher, PlayerFM, TuneIn and the Podcast app, and sent to our syndicated radio stations on Thursday each week at 4pm.
For 2018 there were 77,000 podcast downloads and 65,000 listeners per week via syndicated radio stations across the UK, in California, Michigan and Malta. There were also a combined 104,800 Twitter followers and 218,000 Facebook fans via FoodTalk, Speciality Food and Great British Chefs."
For enquiries about free syndication or featuring on the show, please contact hello@foodtalk.co.uk.
For more information, visit foodtalk.co.uk; on Twitter: @foodtalkshow.
Gold Top
(Sponsor of the Recipe Writing Award)
"Gold Top with Cream at the Top
Established in Buckinghamshire in 1954, QMP was set up in association with milk producers throughout the country to market and promote their new brand, Gold Top.
The Gold Top selection stands for premium quality and superior taste, it is this quality, alongside our high end service, which makes us stand out from our competitors.
The original Gold Top Milk is made the traditional Guernsey and Jersey way with the cream on the top, and tastes delicious, the luxurious Gold Top Smooth is a variation whereby the indulgent cream is blended evenly throughout the entire bottle. The Gold Top family includes, butter, cream, ice cream amongst others.
QMP are set to make an even greater impact through increased promotion, as well as sponsoring several dairy and food shows in the UK and internationally throughout the year, we have sponsored the first Milk Sommelier event, held at Borough Market in London, with others to follow in the UK. QMP are aiming to organise some more on farm product promotion demonstration days."
Lakeland
(Sponsor of the Food Magazine or Section Award)
"At Lakeland we're passionate about all things cooking, baking, cleaning and laundry. Our company was founded over 50 years ago in the heart of the Lake District and from humble beginnings our family-owned business is now multi-national as well as multi-channel.
Our Buyers are constantly searching the world for ground-breaking innovations and ideas to add to our carefully curated range of can't-live without products, always working closely with our customers to ensure they have everything they need to create delicious, healthy meals at home as well as inspring them with handy time savers that make life just that little bit easier.
Customers can shop with us via the Lakeland website, catalogue, by phone, or by visiting one of our 67 stores up and down the country. Customers can find over 500 free recipes online and we hold regular demonstrations across our 67 stores where you can get hands-on with many of our products.
No matter how you shop, our friendly and knowledgeable staff are always on hand to offer expert advice and ideas. Plus of course all our products are backed by Lakeland's unrivalled 3 year guarantee."
For more information, visit lakeland.co.uk; on Twitter: @LakelandUK; on Facebook: facebook.com/lakelanduk; on Instagram: @lakelanduk; on Pinterest: lakelanduk; on YouTube: LakelandTV.
Pukka Herbs
(Sponsor of the Food Writing Award)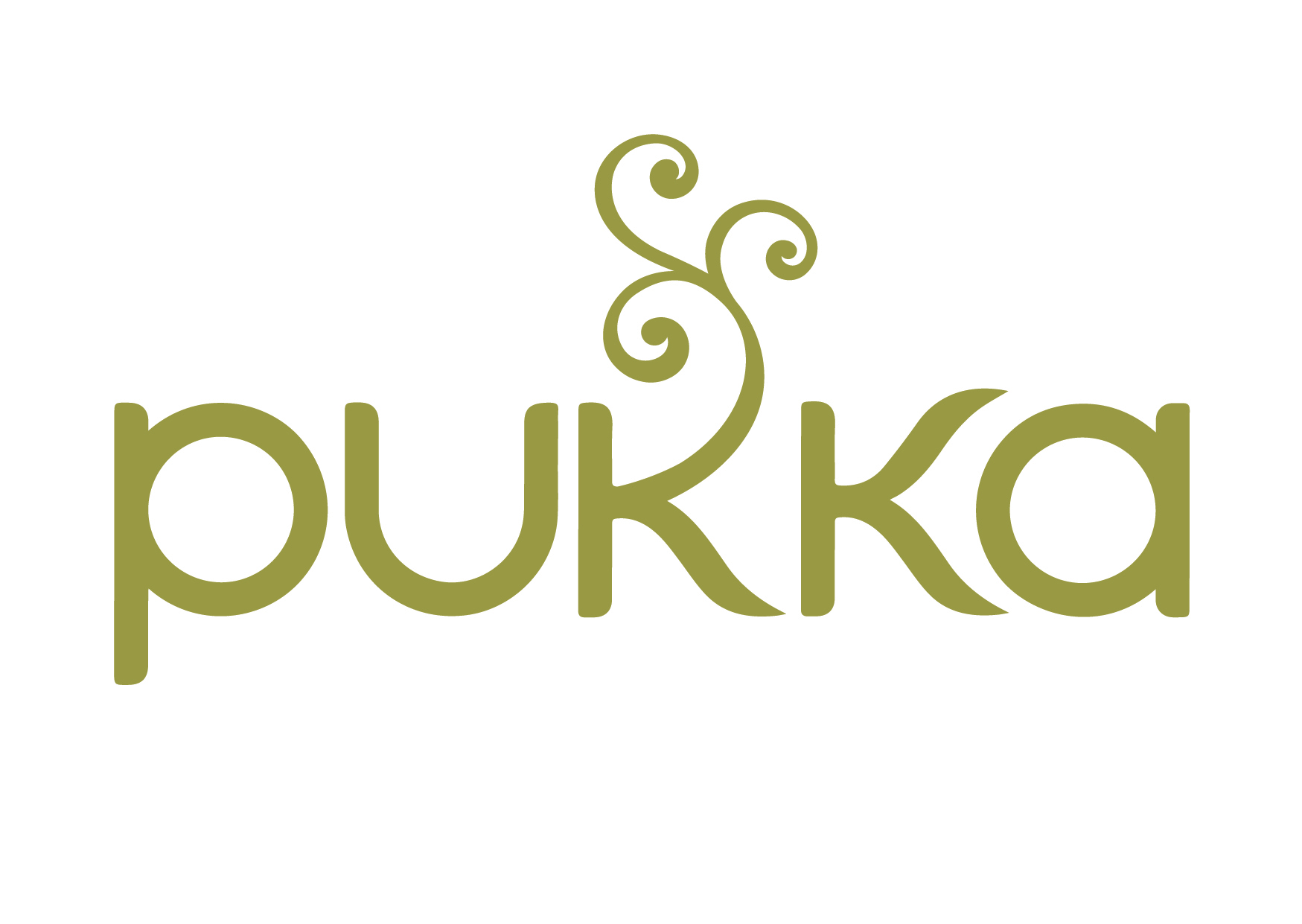 "Pukka Herbs harnesses the incredible power of nature through its award-winning, sustainably and ethically sourced organic herbal teas, each of which have been expertly blended to naturally support wellbeing.
Founded in 2001 by Tim Westwell and practicing herbalist, Sebastian Pole, Pukka's mission is to create a world where plants play a central role in human health and wellbeing.
Pukka is a beacon for sustainable and ethical business. All Pukka's teas are certified Fair for Life, one of the highest independent fair trade standards in the world and many of its teas use FairWild herbs. Pukka is a B-Corp, signifying its ongoing commitment to support conservation through commerce. And over one percent of its sales are given to environmental causes around the world every year through 1% for the Planet.
Pukka Herbs prides itself on not using any synthetic flavourings, only sustainably sourced, organically grown and fairly traded herbs and fruits which is of real importance to the man behind the blend, Sebastian Pole, Pukka's Master Herbsmith and Co-Founder."
You can find out more about Pukka Herbs at pukkaherbs.com; on Facebook: facebook.com/Pukkaherbs/; on Twitter: @Pukkaherbs; on Pinterest: pukkaherbs.
Seafish
(Joint sponsor of the Specialist or Single Subject Cookbook Award)

Seafish is a Non-Departmental Public Body set up to support the £10 billion UK seafood industry.
We know that seafood is the way forward for business, for our communities, our environment and for our health and personal well-being.
Our vision is for a thriving UK seafood industry and we offer a unique, industry-wide outlook working in partnership with all parts of the seafood industry across the UK. This includes everyone involved in the seafood journey - from when it's caught to when it's bought – fishermen, processors, wholesales, food service, retailers and consumers.
You can find out more about Seafish at seafish.org; on Twitter: @seafishuk; on YouTube: SeafishTheAuthority.
Shellfish Association of Great Britain
(Joint sponsor of the Specialist or Single Subject Cookbook Award)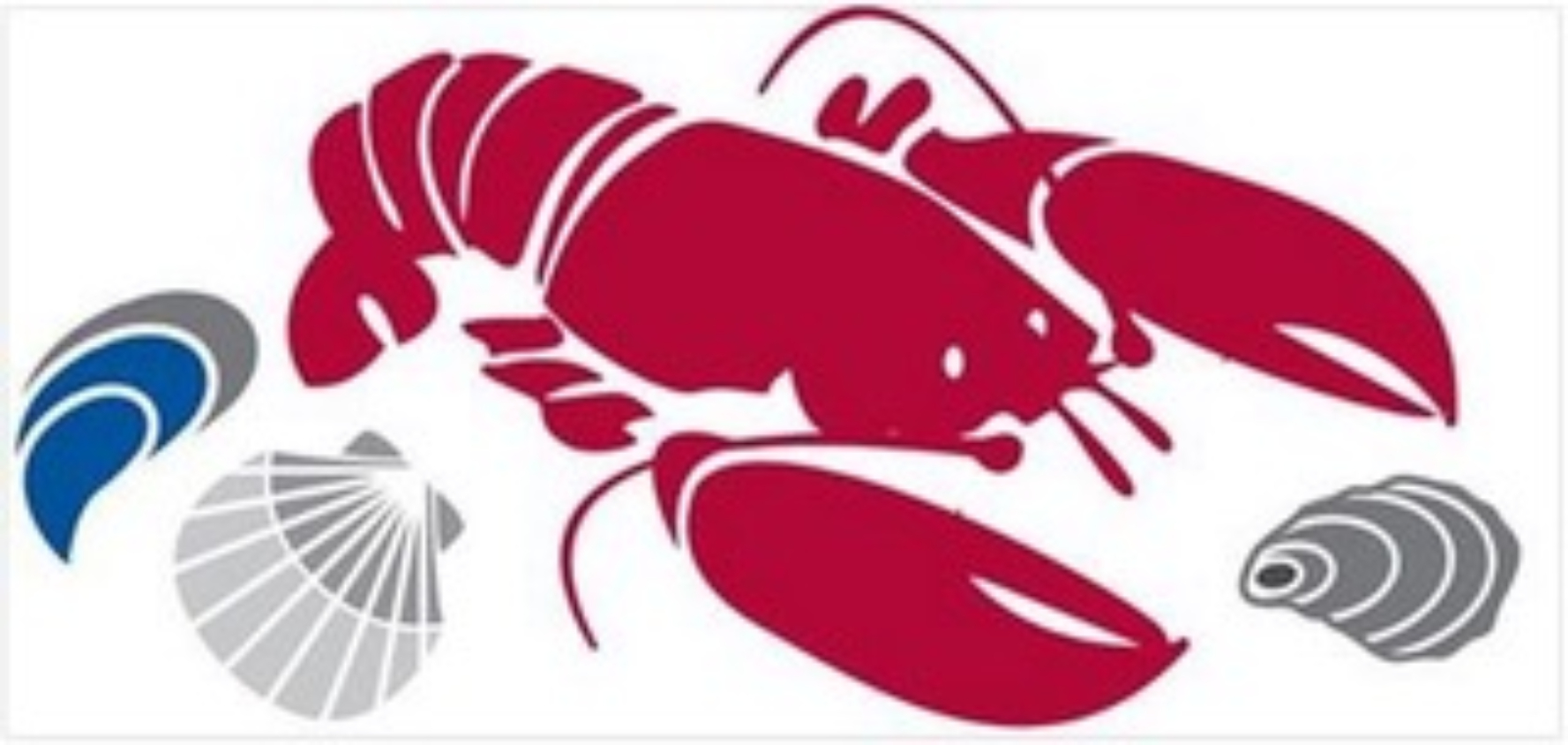 Our aim is to assist and promote the sustainable development of the Shellfish Industry in the United Kingdom.
Shellfish contribute nearly 50% of the total value of seafood landed into the UK vessels into the UK. Cultivated shellfish contribute an additional £38 million, from nearly 30,000 tonnes. Despite this, our industry is often overlooked in discussions and decisions that can have huge impacts.
The SAGB represents the views of shellfisheries, both wild-caught and cultivated, in debates with the Government, other users of the sea and environmental organisations. We are striving to ensure a more viable and sustainable future for UK shellfish operations. With the increasing legislation and financial constraints facing the industry, our role is more vital than ever.
Alongside our lobbying activities, we actively promote the health benefits of eating shellfish, bringing together buyers and sellers of shellfish and selling the story of our industry to the public.
For the past two years we have been engaged in a supply chain-focussed project connecting producer to consumer in the UK. The nutritional, health and environmental benefits of consuming shellfish are important to recognise and we are delighted to be able to support the Guild of Food Writers in their recognition of food writing and media excellence.
You can find out more about the Shellfish Association of Great Britain at shellfish.org.uk; on Facebook: facebook.com/shellfishassociationgb; on Twitter: @SAGB; on Instagram: sagbshellfish; on YouTube: ShellfishGB.
Thermapen®
(Sponsor of the General Cookbook Award)
"A favourite kitchen essential of many celebrity chefs and professional cooks, the Thermapen® thermometer is made in Britain by ETI Ltd, the UK's leader in the manufacture and design of electronic thermometers and temperature probes. In 2018 the business was awarded the Queen's Award for Enterprise for innovation, their fourth Queen's Award since winning its first in 2012.
The Thermapen gives an accurate temperature reading in just three seconds, achieving cooking perfection every time! Stylish, easy to use and available in a range of vibrant colours, the Thermapen is a must-have for every kitchen, whether you want to enjoy meat that is both succulent and cooked safely at home, producing a batch of jam, tempering chocolate or cooking up a feast on the BBQ.
The Thermapen Professional includes the addition of a patented 360° self-rotating display that can be used in any position, in either hand. The unit also incorporates an intelligent backlit display sensing light levels, automatically turning the backlight on/off in varying light conditions, perfect for outside evening events. The motion-sensing sleep mode automatically turns the unit on/off when picked up or set down. The Thermapen case is waterproof and includes 'Biomaster' additive, reducing bacterial growth."
You can find out more about Thermapen Professional at thermapen.co.uk; on Twitter: @thermapen_; on Facebook: SuperFast Thermapen Thermometer; on Instagram: Thermapen.
Westmorland
Tebay Services, Gloucester Services & Cairn Lodge Services
(Sponsor of the Food Book Award)
"If we feel different, it's because we are.
We are a family business, whose original motorway service area grew out of our farm in Cumbria when the M6 was built through our land. Everything we do reflects those beginnings. In our Kitchens we make our own food, honest and nourishing. In our Farmshops, we work tirelessly to find small, exceptional producers, always starting locally. Above all, we hope that when you pass through, you feel you have arrived somewhere not anywhere; that you catch a glimpse of the place we are so proud to be part of – our environment, our produce and all the people we are lucky enough to work with.
Connecting people with place – farming food people place."
You can find out more about us at westmorlandfamily.com.
Tebay Services at tebayservices.com; on Facebook facebook.com/TebayServices; on Instagram tebayservices; on Twitter @tebayservices.
Gloucester Services at gloucesterservices.com; on Facebook facebook.com/gloucesterservices; on Instagram gloucesterservices; on Twitter @glouc_services.
Cairn Lodge Services at cairnlodgeservices.com; on Facebook facebook.com/cairnlodgeservices; on Instagram cairnlodgeservices; on Twitter @cairn_lodge.
Ramon Bilbao
"Established in Haro in the heart of Rioja Alta in 1924, Ramón Bilbao is today one of Spain's most adventurous and innovative wine producers. The appointment of Rodolfo Bastida as Head Winemaker in 1999 marked a new era in the company's history: Rioja born-and-bred, Bastida believes that the grapes he selects should be allowed to speak for themselves in his wines, and not be hidden by over-ageing and over-oaking.
Ramón Bilbao sources Tempranillo and Garnacha grapes from 180-hectares of owned vineyards, plus a further 900-hectares via long-term grower contracts, in Rioja for its red and rosé wines. For the last five years, Rodolfo has turned to neighbouring Rueda for its white grapes as the terroir here gives Sauvignon Blanc and Verdejo with all the freshness and elegance he looks for in his wines.
Not only is Ramón Bilbao currently the best-selling brand (with appellation) in the Spanish On-Trade, it is also now the number one listed Spanish Brand in UK restaurants and bars (from 'On-Trade Premise Report' 2019, which evaluates On-Trade listings by brand)."
You can find out more about Ramón Bilbao at bodegasramonbilbao.es; on Twitter: @RamonBilbaoWine; on Facebook: facebook.com/RamonBilbaoWines/; on Instagram: ramonbilbaowine.