Awards 2016 Winners
23 June 2016
The winners of the Guild of Food Writers Awards 2016 have been announced.
The annual Awards ceremony, held on Wednesday 22 June at Opera Holland Park, celebrates the best of British food writing and broadcasting.
The prestigious event is organised by the Guild of Food Writers, the UK's professional association of food writers and broadcasters.
Guild President Xanthe Clay, who presented the Awards, said: 'The Awards are the biggest in the UK and judged entirely by Guild members. The diverse nature of our winners (from well-known food heroes such as Hugh Fearnley-Whittingstall to chef Stephen Harris, blogger Elly McCausland and café couple Sarit Packer and Itamar Srulovich) demonstrates the breadth of talent in the UK – and our members' skill at recognising it.'
This year's Lifetime Achievement award was given to Elisabeth Luard in recognition of the rich talent and unique voice she has demonstrated since the publication of her first book, European Peasant Cookery, exactly three decades ago.
Elisabeth Luard (right) receiving the Lifetime Achievement Award from former President of the Guild of Food Writers Sue Lawrence
Carmel McConnell MBE, founder of the charity Magic Breakfast, received the Guild's new Inspiration award, voted on by the full Guild membership.
Carmel McConnell MBE
The Awards were generously sponsored by Scotch Beef PGI.
Full details of the winners and sponsors are set out below.
2016 Awards Winners:
Food Writing Award
(Sponsored by SuperFast Thermapen®)
Bee Wilson for work published in The Times Literary Supplement, The Happy Reader, The Sunday Telegraph Magazine (Stella), Intelligent Life, The Observer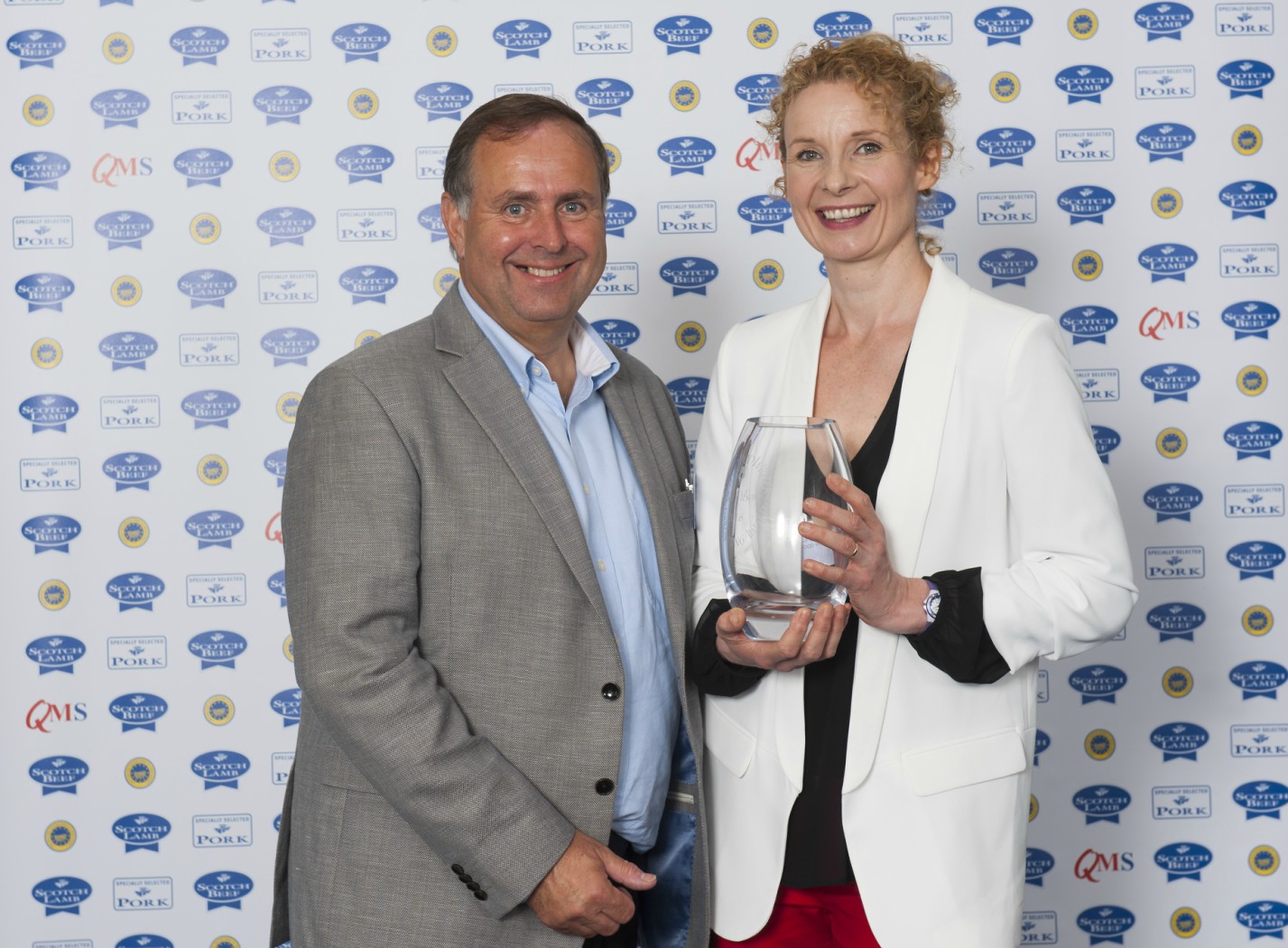 Peter Webb MBE, Managing Director of ETI Ltd and Bee Wilson
Cookery Writing Award
(Sponsored by Gold Top)
Stephen Harris for work published in The Telegraph, Weekend section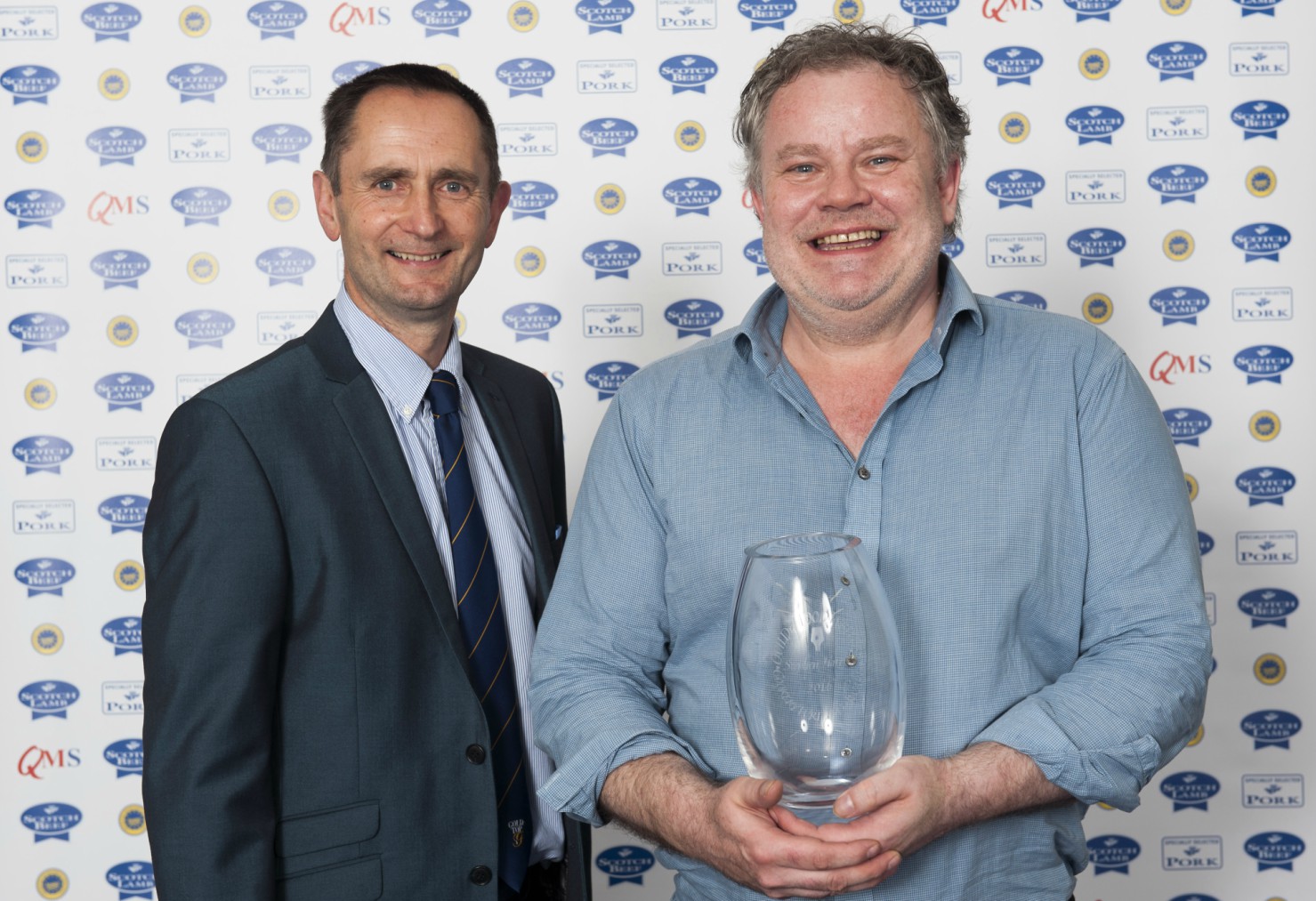 Andrew Payling, Vice Chairman of Quality Milk Producers (left) and Stephen Harris
Food Blog Award
(Sponsored by Encona)
Nutmegs, Seven (www.nutmegsseven.co.uk) by Elly McCausland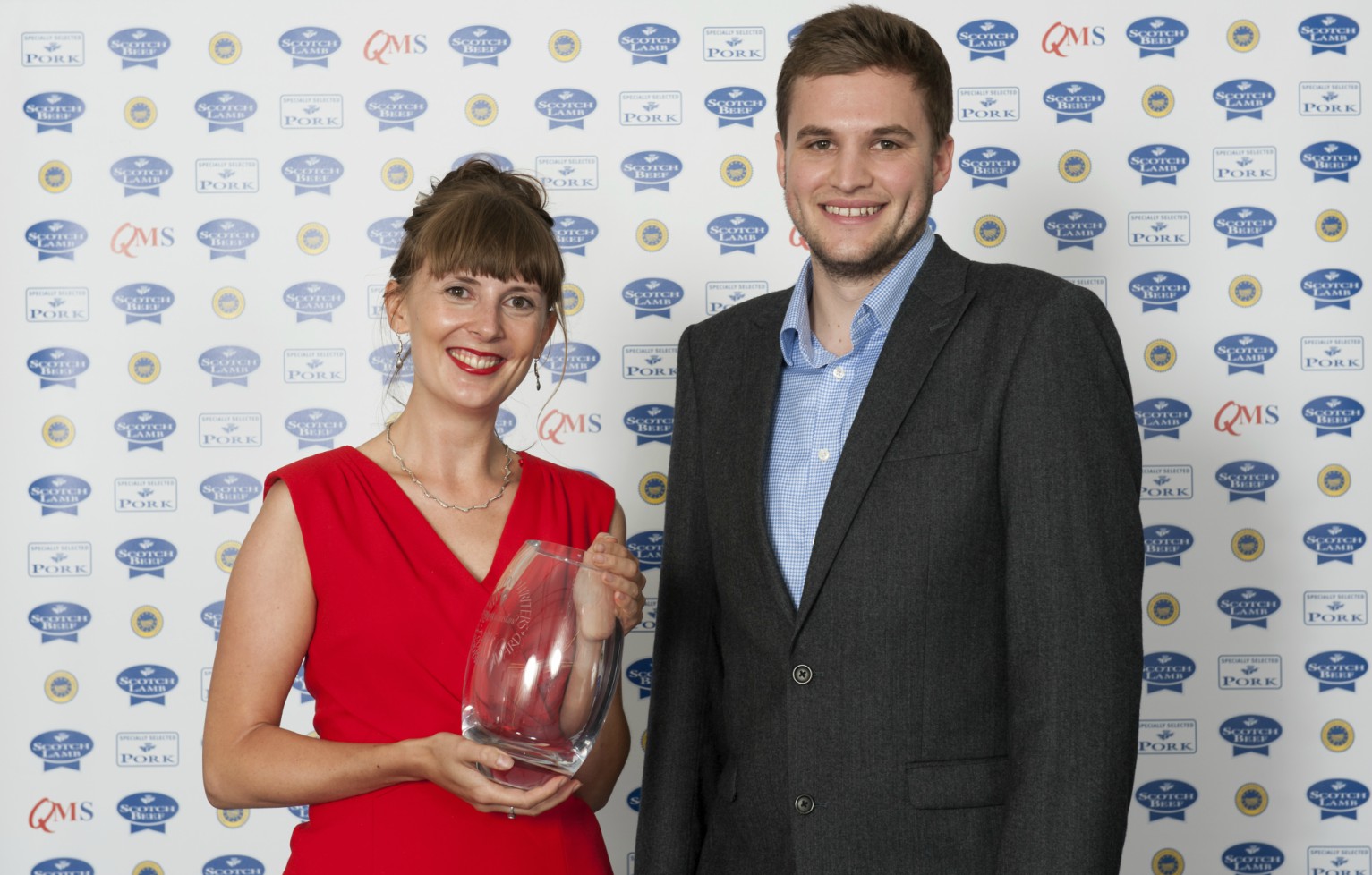 Elly McCausland and Sam Bidgood, Brand Manager at Grace Foods (UK)
Food Broadcast Award
Hugh's War on Waste presented by Hugh Fearnley-Whittingstall, executive producer Will Anderson (KEO Films for BBC ONE)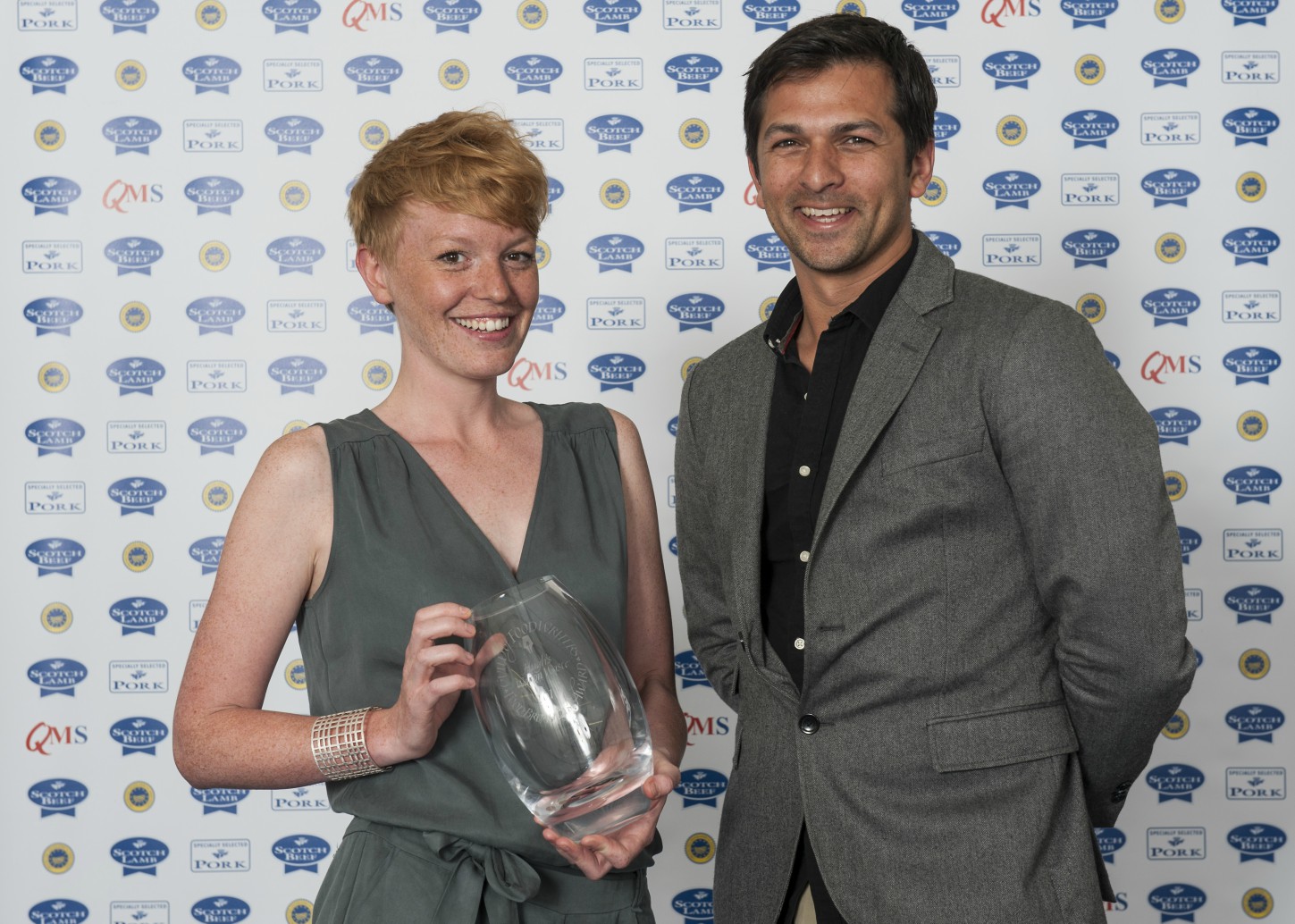 Alice Henley and Callum Webster part of the team behind Hugh's War on Waste
British Food Award
(Sponsored by Aspall)
Lindsey Bareham for work published in The Times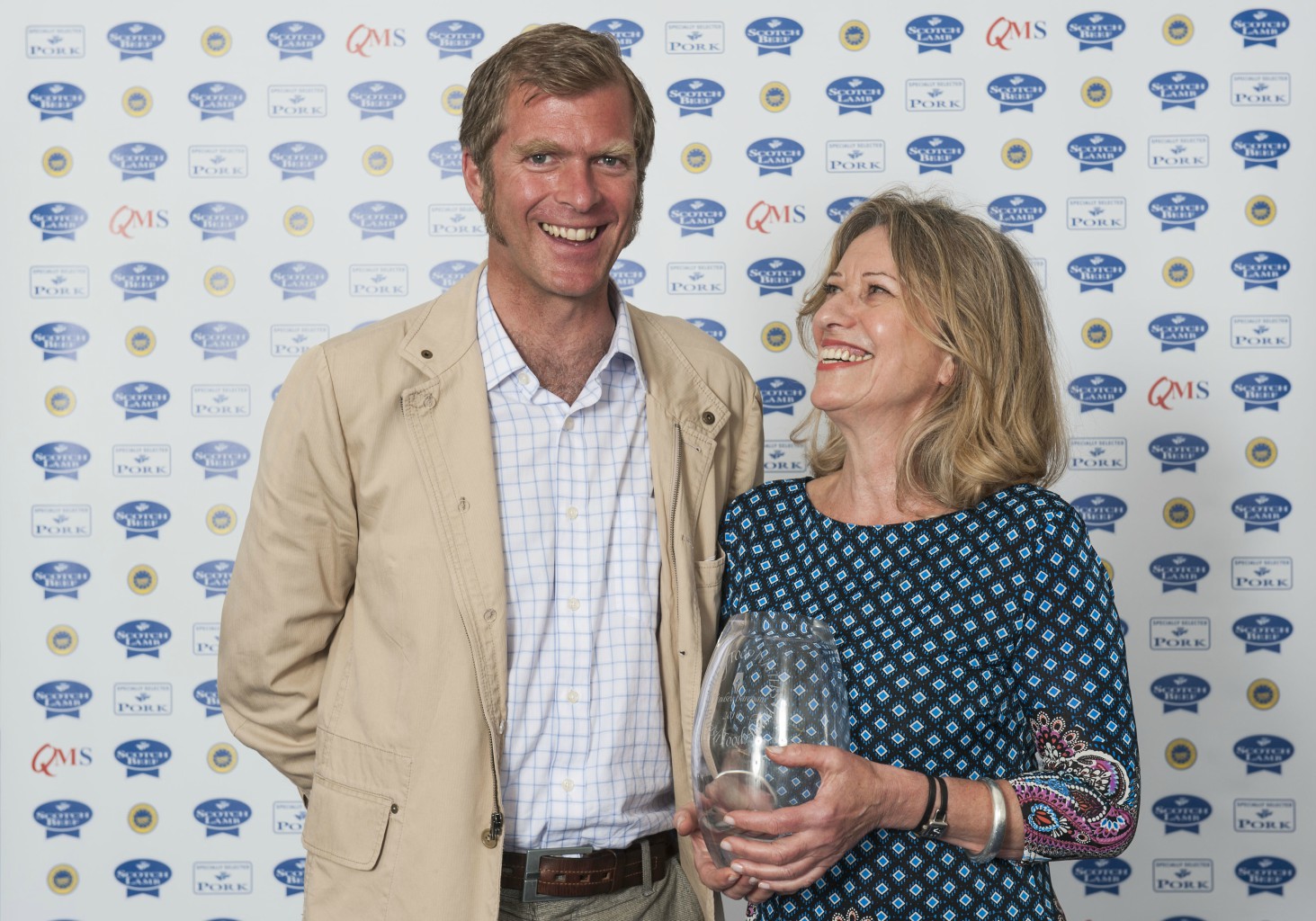 Henry Chevallier Guild from Aspall and Lindsey Bareham
Food and Travel Award
(Sponsored by Tebay Services and Gloucester Services)
Spuntino: Comfort Food (New York Style) by Russell Norman (Bloomsbury Publishing)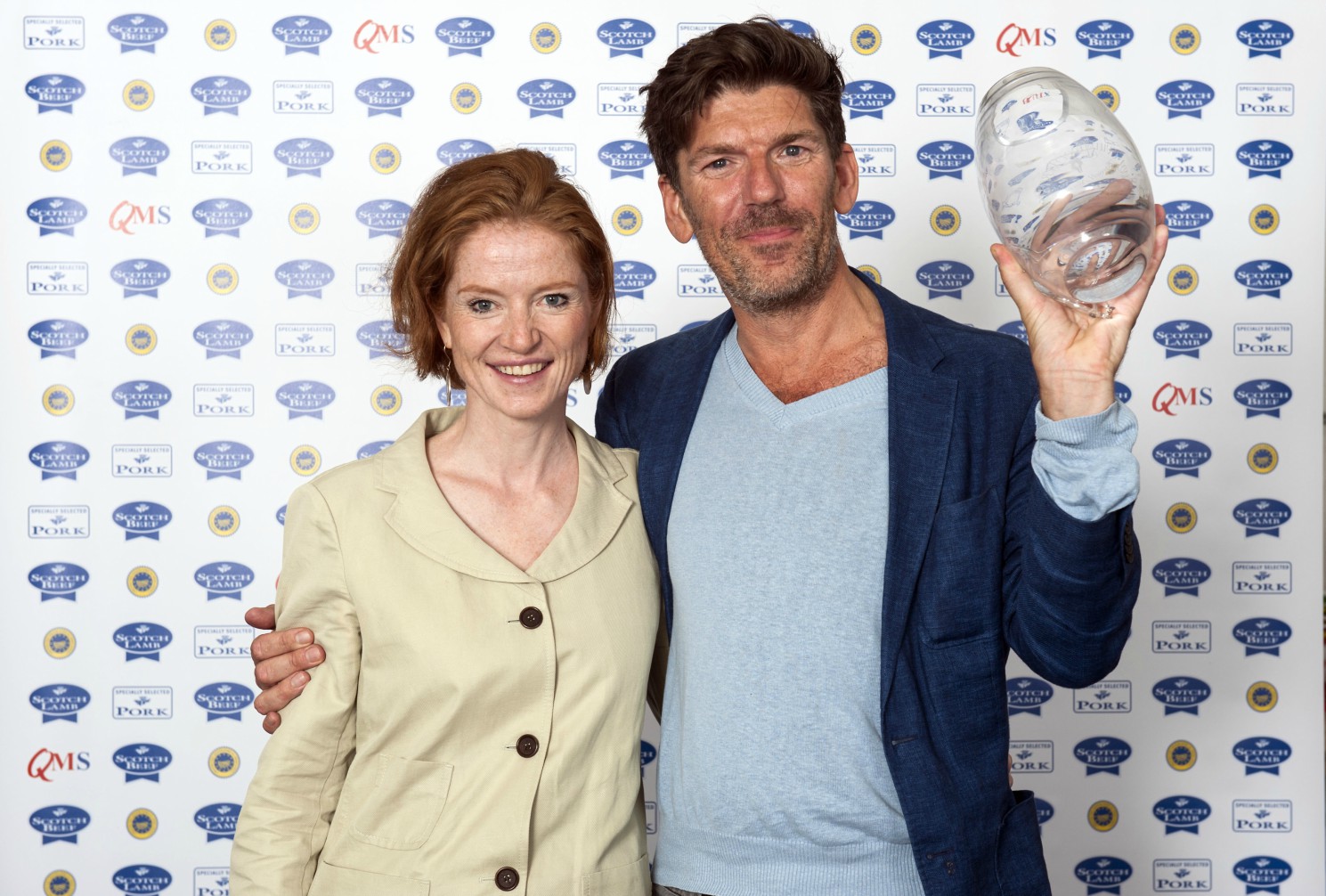 Sarah Dunning, CEO of Westmorland Family and Russell Norman
Campaigning and Investigative Food Work Award
The Diet Myth: The Real Science Behind What We Eat by Tim Spector (Weidenfeld & Nicolson)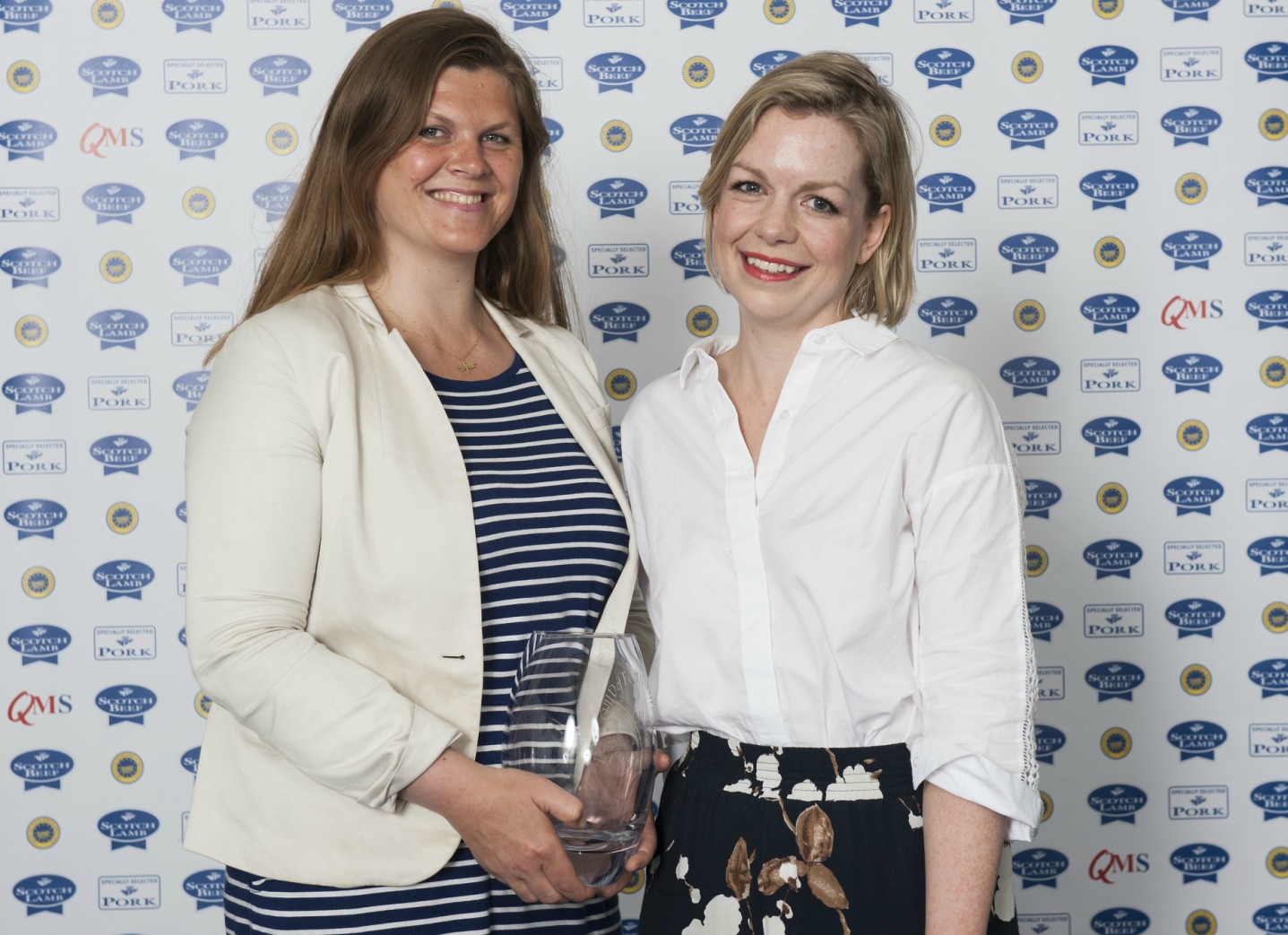 Sophie Lambert from Conville & Walsh (left) and Bea Hemming from Weidenfeld & Nicolson accepting the Campaigning and Investigative Food Work Award on behalf of Tim Spector
Food Magazine or Section Award
(Sponsored by Tenderstem®)
The Guardian: Weekend magazine food section, edited by Bob Granleese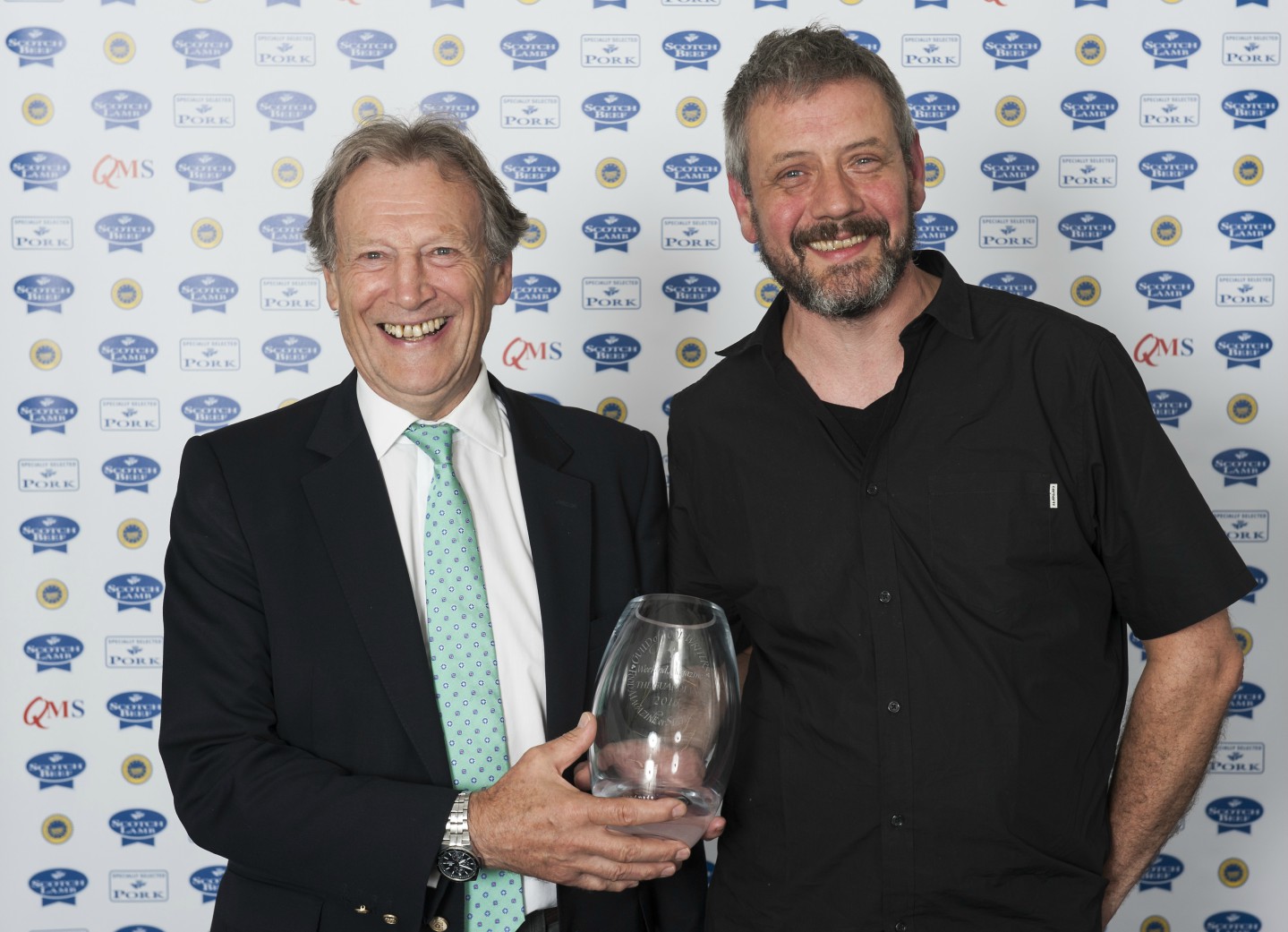 Andy McDonald, Managing Director of Coregeo (left) and Bob Granleese
First Book Award
(Sponsored by Virginia Wine)
Five Quarters: Recipes and Notes from a Kitchen in Rome by Rachel Roddy (Saltyard Books)
Food Book Award
(Sponsored by Lakeland)
The Book of Pears: The Definitive History and Guide to over 500 varieties by Joan Morgan (Ebury Press)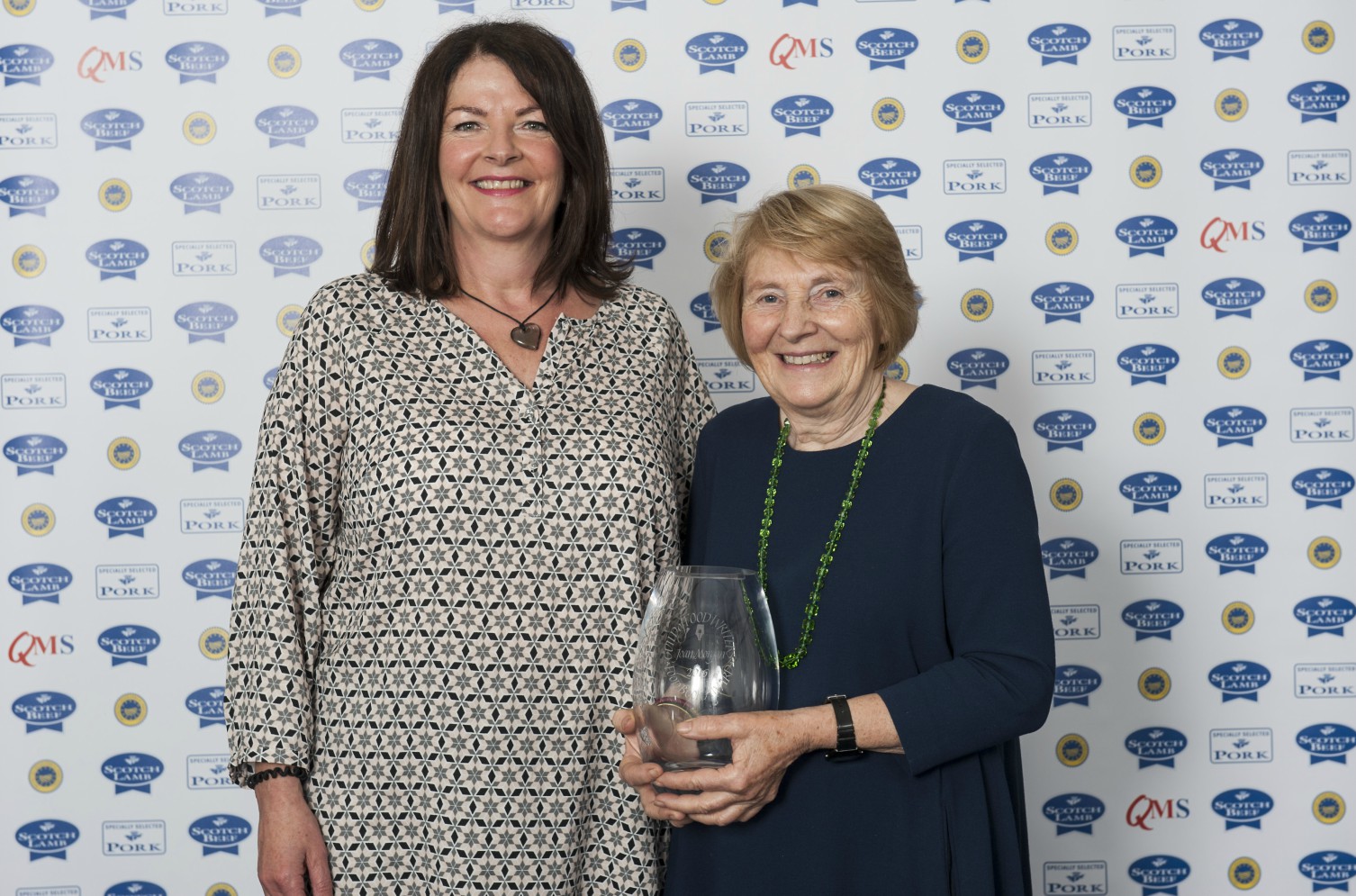 Wendy Miranda, Customer Ambassador for Lakeland (left) and Joan Morgan
Cookery Book Award
(Sponsored by hillfarm oils)
Honey & Co: The Baking Book by Sarit Packer and Itamar Srulovich (Saltyard Books)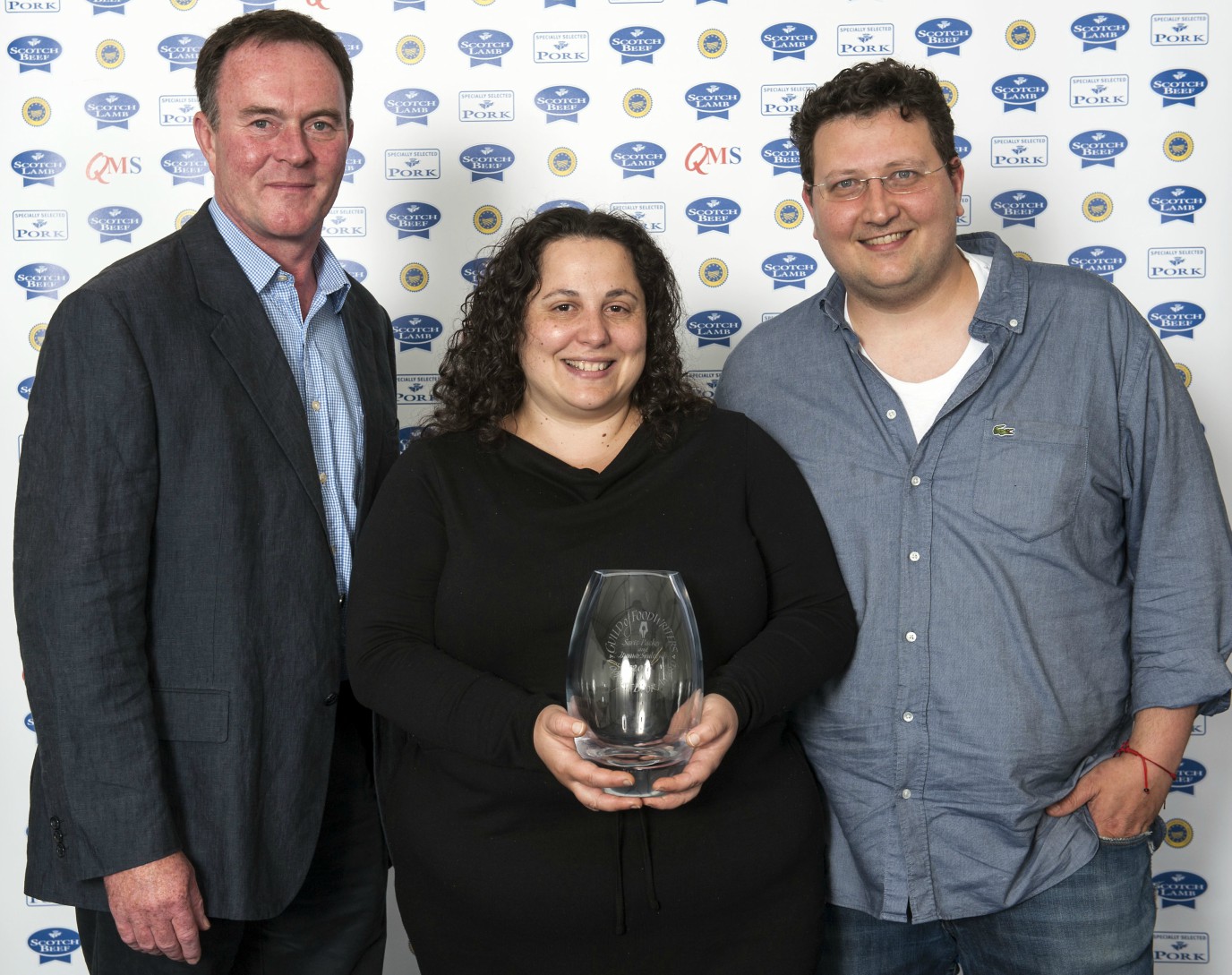 From left to right: Sam Fairs of hillfarm oils, Sarit Packer and Itamar Srulovich
Inspiration Award
Carmel McConnell MBE
Lifetime Achievement Award
Elisabeth Luard
For further details and images please contact the Guild of Food Writers on 020 8659 0422 or guild@gfw.co.uk.
Photographs © Lucy Young
Awards
Several Guild Awards are presented in memory of talented members of the Guild who are no longer with us:
The British Food Award is presented in memory of Michael Smith.

The Campaigning and Investigative Food Work Award is presented in memory of Derek Cooper.

The Cookery Writing Award is presented in memory of Evelyn Rose.

The First Book Award is presented in memory of Jeremy Round.

The Food and Travel Award is presented in memory of Kate Whiteman.
Sponsors
Scotch Beef PGI
(Main sponsor of the Awards)
"Scotch Beef PGI is delighted to be supporting the Guild of Food Writers awards event.

Scotch Beef PGI, which has earned a global reputation for taste and quality, is sourced from Scottish farms which must adopt best practice regarding animal welfare and production methods. Farms and processors are independently audited and Scotch Beef PGI is fully traceable back to farms of origin.

Family farming remains at the heart of sheep and cattle production in Scotland and sustains rural communities throughout the country. Livestock production also plays an important part in the biodiversity of upland habitats and the focus is on beef breeds farmed to produce beef, rather than milk.

Scotland's livestock production systems are based on free-ranging animals grazing at low stocking densities. Permanent grass and rough grazing account for almost 71% of Scottish agricultural area – this is largely unsuitable for vegetable or cereal production but ideal for cattle and sheep grazing.

Scotch Beef PGI and Scotch Lamb PGI were also among the first European red meat products to be granted the coveted PGI (Protected Geographical Indication) status in recognition of their quality standards and unique regional taste."

You can find out more about Scotch Beef PGI at www.scotchkitchen.com; on Twitter: @scotchkitchen and @qmscotland; on Facebook: www.facebook.com/scotchkitchen.
Aspall
(Sponsor of the British Food Award)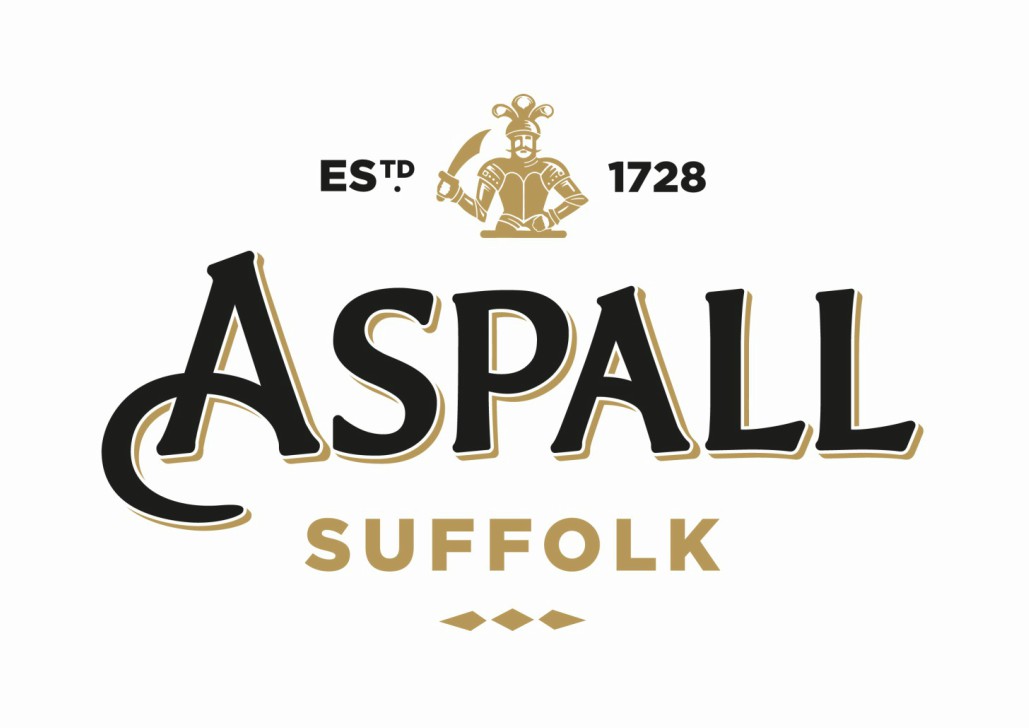 "Our family cyder-making business was established in 1728 by Clement Chevallier from Jersey. He planted the orchards at Aspall Hall in Suffolk and imported a granite wheel from the Isles de Chaussée off the Normandy coast to crush the apples.
The Chevallier family still live and work among Clement's orchards and today Aspall is run by the eighth generation of the family, Barry and Henry Chevallier Guild. Aspall is the tenth oldest family businesses in the UK.
Generations of Chevalliers used Clement's method of pressing until 1947, when the last horse pulling the wheel around the trough passed away. Although our production has moved with the times, our cyder is still pressed, fermented and blended and bottled on site in Suffolk to the same exacting standards set by Clement nearly 300 years ago.
Today our very British world-class cyders, cyder vinegars and apple juice enjoy increasingly global acclaim for quality and excellence.
We're delighted to support the Guild of Food Writers British Food Award."
You can find out more about Aspall at www.aspall.co.uk; on Twitter: @aspall; on Facebook: AspallUK; on Instagram: @aspalluk.


Encona
(Sponsor of the Food Blog Award)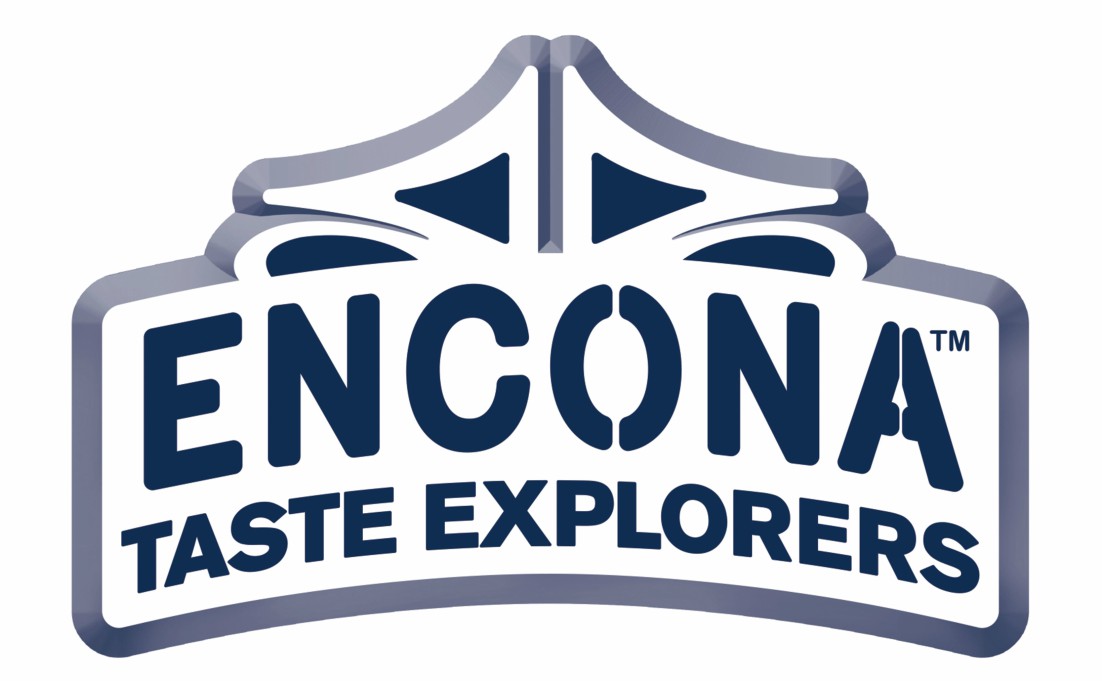 "Banish the Bland with the UK's number one hot pepper sauce brand!
Encona is proud to be sponsoring this award for the second year running. The UK's number one hot pepper sauce brand has expanded and now has over 17 delicious sauces to enjoy with family and friends. Alongside the West Indian Original Hot Pepper Sauce, you can enjoy a variety of authentic flavours from across the globe, which now includes Peruvian Amarillo Chilli and Mexican Smokey Jalapeno Sauce. Ranging from mild to extra hot, there's something for everyone.
Encona sauces are wonderfully versatile. Great as a dipping sauce, a marinade, a cooking ingredient or as a delicious, everyday table sauce for all your favourite foods! Drizzle on to stir-fries, rice dishes, dips and salad dressings. Brush onto food during grilling or barbecuing, and stir into soups and stews.
Try the flavours and Banish the Bland!"
For more info about the Encona range, visit www.enconasauces.co.uk. Twitter @EnconaOfficial. Facebook: Encona.Sauces.
Gold Top
(Sponsor of the Cookery Writing Award)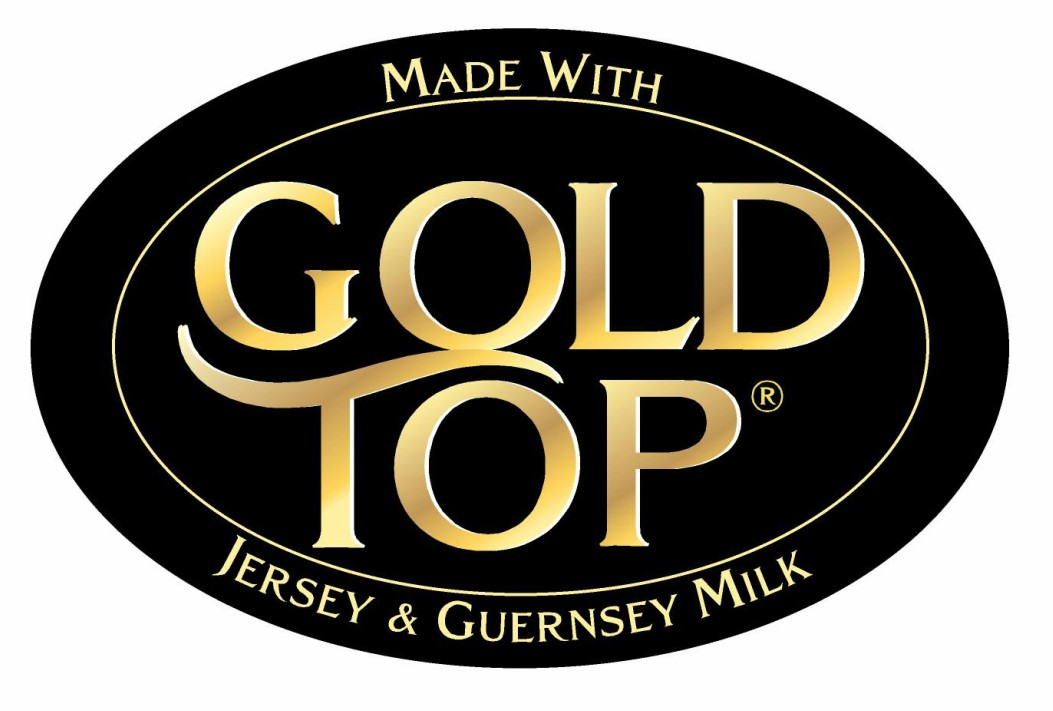 "Gold Top with Cream at the Top
Established in Buckinghamshire in 1954, QMP was set up in association with milk producers throughout the country to market and promote their new brand, Gold Top.

The Gold Top selection stands for premium quality and superior taste, it is this quality, alongside our high end service, which makes us stand out from our competitors.

The original Gold Top Milk is made the traditional Guernsey and Jersey way with the cream on the top, and tastes delicious, the luxurious Gold Top Smooth is a variation whereby the indulgent cream is blended evenly throughout the entire bottle. The Gold Top family includes, butter, cream, ice cream amongst others.

QMP are set to make an even greater impact through increased promotion. Sponsoring several shows throughout the year, such as The Dairy Event, Royal Cornwall, The Great Yorkshire Show amongst others and regionalised smaller We are looking into doing food shows over the next 18 months by undertaking joint ventures with Grahams Dairy our current licence holder. We are also sponsoring The Jersey Society World Tour in 2016, which will tour around the UK and Ireland."

www.goldtopmilk.co.uk


hillfarm oils
(Sponsor of the Cookery Book Award)
"hillfarm oils produce a delicious premium extra virgin oil made from British rapeseed grown and pressed on their farm in Suffolk.
hillfarm oil has been grown, pressed and bottled on Sam and Clare Fairs's farm since 2004. People are now hooked on its nutty flavour, versatility in the kitchen as well as its nutritional benefits. Fans include Mark Hix, who says 'I'm still a big fan of the Hillfarm Oil as its flavour has an appealing freshness and, of course, that fantastically bright yellow colour, so evocative of the fields of rape flowers that we see in the British countryside each summer.'
Farming in a sustainable and environmentally sensitive way is extremely important to hillfarm. Great care is taken to encourage the diversity of flora and fauna on the farm and to work with nature to improve the population of beneficial insects. We love our bees so take great care not to harm them in any way and have just launched a hillfarm honey produced in bee hives on the farm. Another example is the solar panels on our barn roof, which produce all the energy needed to drive the presses that produce the oil and some spare to put into the National Grid.
As well as the oil, hillfarm produce mayonnaise which won the ultimate three gold stars in the 2015 Great Taste Awards, and garlic mayonnaise. hillfarm's rehydrating hand-wash and revitalising hand-cream make the most of rapeseed oil's high Omega 3, 6 and Vitamin E content to soothe and moisturise your hands.
Sam and Clare Fairs say 'We're delighted to support the Guild of Food Writers Awards for the second time this year and excited to be part of this great celebration of food writing.'"
You can find out more about hillfarm oils at www.hillfarmoils.com; on Twitter: @hillfarmoils.
Lakeland
(Sponsor of the Food Book Award)
"Lakeland, the home of creative kitchenware was founded over 50 years ago in the heart of the Lake District. From humble beginnings this family owned business is now a multi-national, multi-channel retailer offering millions of customers over 4000 quality, 'can't live without' products for the kitchen and home. Lakeland is constantly looking for ground-breaking innovations and ideas to add to their extensive range to ensure that their customers have everything they need to create delicious, healthy meals at home and handy time savers to make life just that little bit easier.

Customers can shop using the Lakeland catalogue, by phone, online, click and collect service or by visiting one of their 69 stores up and down the country. Lakeland offer over 500 free recipes online and you'll also discover regular in-store demonstrations in many of their stores.

No matter how you shop, Lakeland's knowledgeable staff are always on hand to offer expert advice and ideas and of course all of their products are backed by Lakeland's famous satisfaction guarantee!"

For more information, visit www.lakeland.co.uk; on Twitter: @LakelandUK; on Facebook: www.facebook.com/lakelanduk; on Instagram: @lakelanduk; on Pinterest: lakelanduk; on YouTube: LakelandTV.
SuperFast Thermapen®
(Sponsor of the Food Writing Award)

"A favourite kitchen essential of many celebrity chefs and professional cooks, the SuperFast Thermapen® is made in Britain by ETI Ltd, the UK's leader in the manufacture and design of electronic thermometers and temperature probes and recipients of the Queen's Award for Enterprise for International Trade in 2012 and 2014.

The Thermapen gives an accurate temperature reading in just three seconds. Stylish andeasy to use and available in a range of stunning colours, it's a must-have for all kitchens; whether you are a professional chef, technical baker, or just want to enjoy meat that is both succulent and cooked safely at home.

The Thermapen 4 – new for 2016 – includes a patented 360° self-rotating display that can be used in any position, in either hand. The unit incorporates an intelligent backlit display sensing light levels, automatically turning the backlight on/off in varying light conditions, perfect for evening catering events, or where light is poor. The motion-sensing sleep mode automatically turns the unit on/off when set down or picked up, maximising battery life. The Thermapen case is waterproof and includes `Biomaster' additive that reduces bacterial growth. The ergonomic rubber seal meanwhile minimises the risk of the ingress of water, dust or food."

You can find out more about Thermapen 4 at www.thermapen.co.uk; on Twitter: @thermapen_; on Facebook: SuperFast Thermapen Thermometer.


Tebay Services and Gloucester Services
(Sponsor of the Food and Travel Award)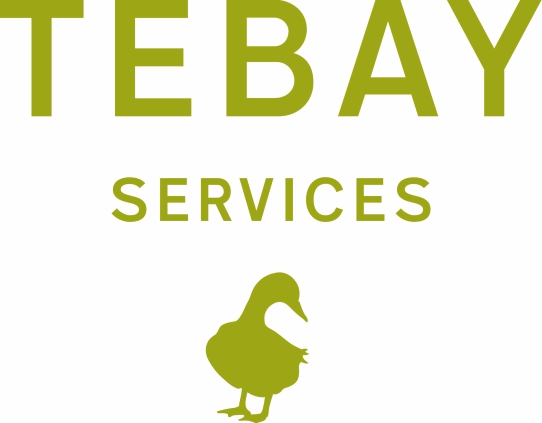 "The Westmorland story began in 1972 when the Dunnings, local farmers, set up Tebay Services after the M6 cut through their farm. It was the first family-run motorway service station on the UK road network. Forty years on the business is still family owned, still farming and still with a fierce passion for, and a pride in, the landscape, people, environment and its products. Gloucester Services is the latest addition to the family and the Northbound side was opened in 2014 followed by Southbound, which was opened last year by HRH The Prince of Wales.
In essence, Tebay Services and Gloucester Services are food businesses, with quality, locally-sourced food at the very heart. Tebay Services and Gloucester Services are a refreshingly different breed of motorway services – no chains, no franchises, no fast food on the forecourt. Instead, farmshops stocked with locally produced food, a butchery featuring local meat, kitchens (cafés) serving homemade dishes created from locally-sourced produce every day. Gloucester Services works with over 130 local producers within 30 miles of the services and 70 producers from across the South West. Tebay Services works with 70 local producers in addition to using lamb and beef from the Dunning family farm in the fells surrounding the services.
Proper food matters, so we serve it where you least expect it, on the motorway."
You can find out more about Tebay Services at tebayservices.com and Gloucester Services at gloucesterservices.com; on Twitter @tebayservices and @glouc_services.
Tenderstem®
(Sponsor of the Food Magazine or Section Award)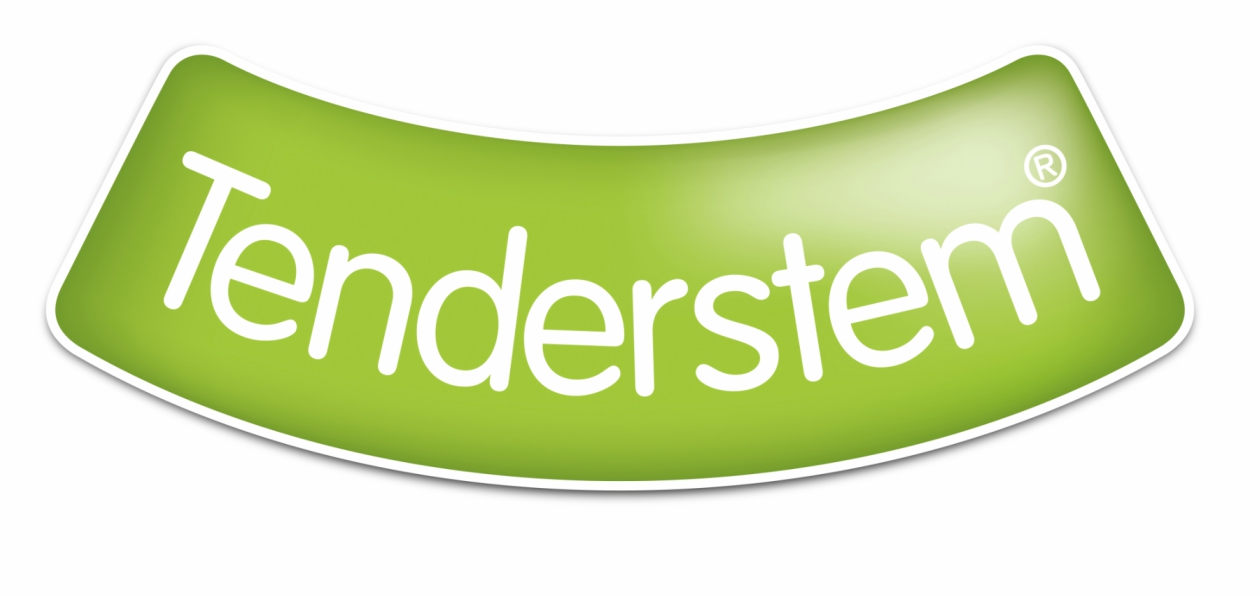 "Whether you're preparing a fiery stir-fry or looking for a delicate accompaniment to a perfect piece of fish, Tenderstem® is an inspiring ingredient that's sure to bring personality to the dish. A cross between Chinese kale and regular broccoli, Tenderstem® is quick to cook, full of flavour and incredibly versatile.
Tenderstem® happily adds colour and flavour to a huge range of dishes. It has a mild, distinctive flavour and a succulent texture more akin to asparagus than traditional broccoli. As the name suggests, Tenderstem® is tender from floret to stem so you can eat the whole vegetable, unlike ordinary broccoli, which tends to have a thicker, and sometimes woody, stem, so there's no waste.
A study by Warwick University's Horticultural Research Institute has shown Tenderstem® contains twice the amount of vitamin C as the equivalent weight of fresh oranges and has a higher concentration of vitamin C than both cauliflower and cabbage. It also contains one of the highest levels of folic acid compared to other members of the brassica family. The study also revealed Tenderstem® is 25-30% more tender than purple sprouting broccoli and the most tender variety of broccoli on the market, meaning it requires less cooking than any other form of broccoli, which means it retains a higher proportion of nutrients when cooked.
The Tenderstem® Team is very proud to support the Guild and sponsor its Food Magazine or Section Award for the fifth year."
You can find out more about Tenderstem® at www.tenderstem.co.uk; on Twitter: @tenderstem; on Facebook: www.facebook.com/tenderstem; on Pinterest: www.pinterest.com/tenderstem/; on Instagram: www.instagram.com/tenderstem.


Virginia Wine
(Sponsor of the First Book Award)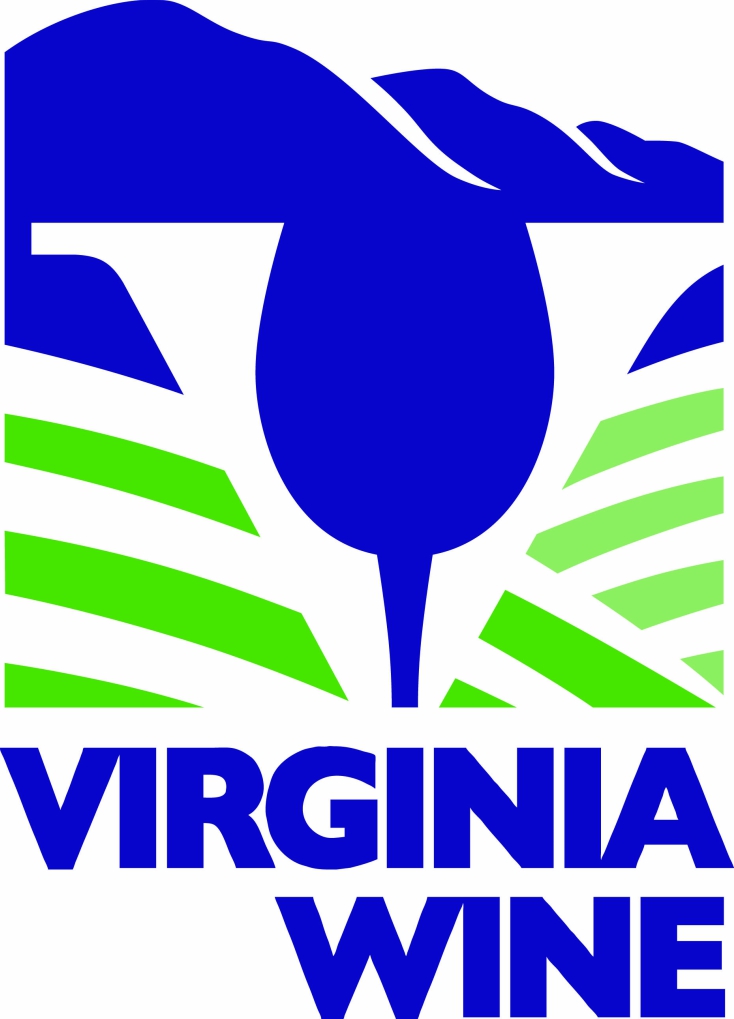 "'Recently, when I'm asked if I've discovered any new world-class vineyard regions, I'm quite likely to say yes, one of the oldest in America – Virginia' (Oz Clarke, 250 Best Wines Wine Buying Guide 2012).
Viognier, Cabernet Franc, Petit Verdot, and Bordeaux-style blends are proving to be the strengths of the Virginia wine region. Over the past 30 years the number of wineries in Virginia has grown from just a handful to more than 220. These wineries are located on the East Coast of the US in stunning locations near the majestic Blue Ridge Mountains, the verdant Shenandoah Valley, and along the edge of the sparkling Chesapeake Bay.
Through hard work, knowledge and skills of home-grown talent, augmented by winemakers from around the world, elegant, food-friendly wines are being produced that have captured the attention of UK wine lovers."
You can find out more about Virginia Wine at www.virginiawine.org.

Domaine des Tourelles