Celebrating Soil, Stone and Sourdough at Matthew Cotswold Flour
26 August 2021
At the end of July I was lucky enough to join a wonderful day put together by Matthews Cotswold Flour celebrating Soil, Stone and Sourdough. I use flours from this company daily and was excited to see and learn about where and how they are milled, plus I was excited to finally meet people in person that I had only been in touch with virtually up to this point. We were given a full tour of the mill as it worked around us. Oh the joy, for me anyway! Grains and flour abound! I loved it.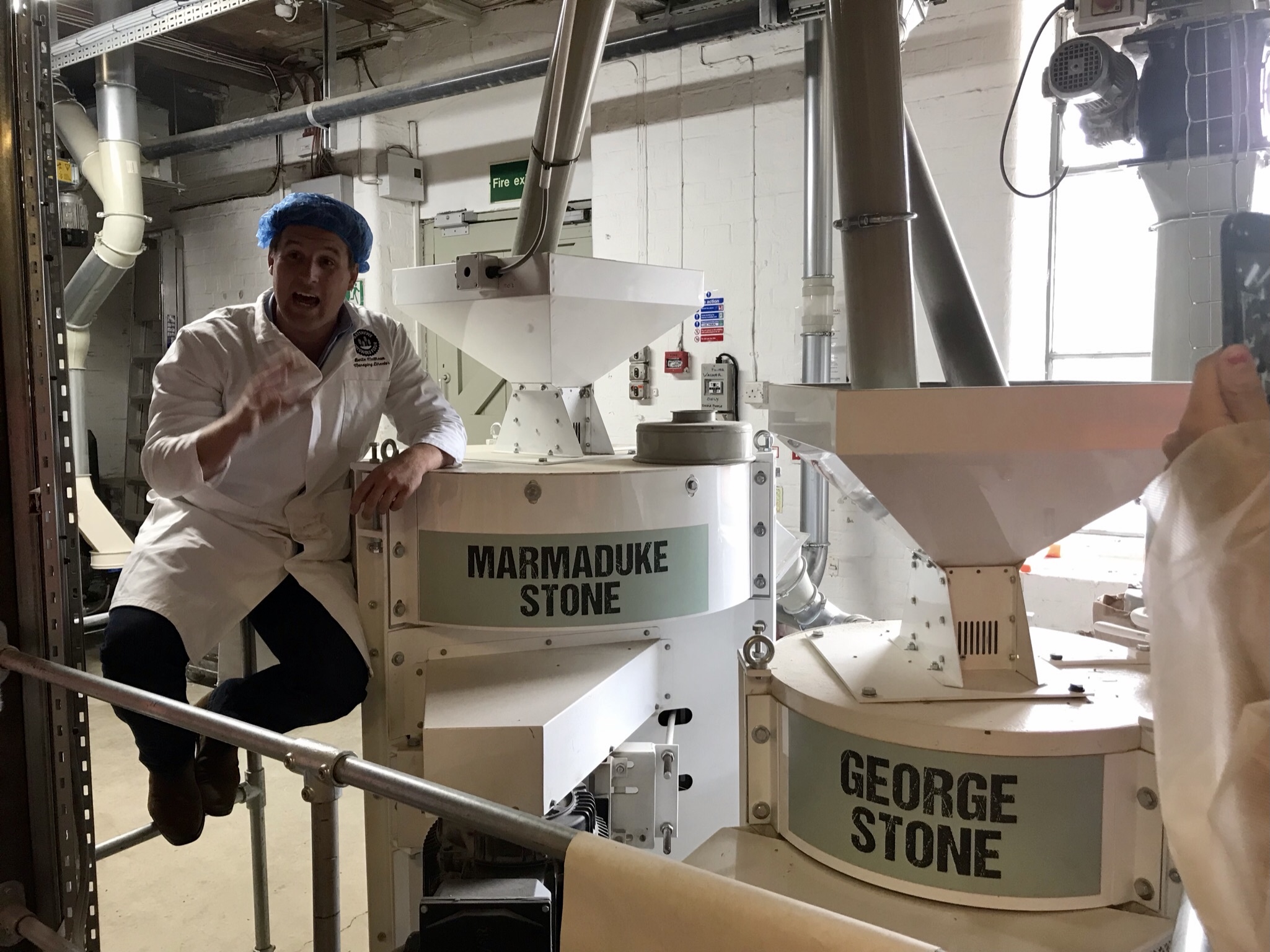 We followed the whole process from the grains arriving, to being milled, refined, sifted and bagged. The mill stills uses 2 huge stones, named Marmaduke and George after members of the Matthews family, to mill its 'stoneground' flours, as well as more modern roller mills for others. The mill is over 100 years old, built in 1912, and is one of the oldest in the country, with narrow wooden staircases, huge wooden panelled storage rooms, and a floor full of roller machines painted in the beautiful distinctive green so iconic of that era, all adding to the beauty of the process.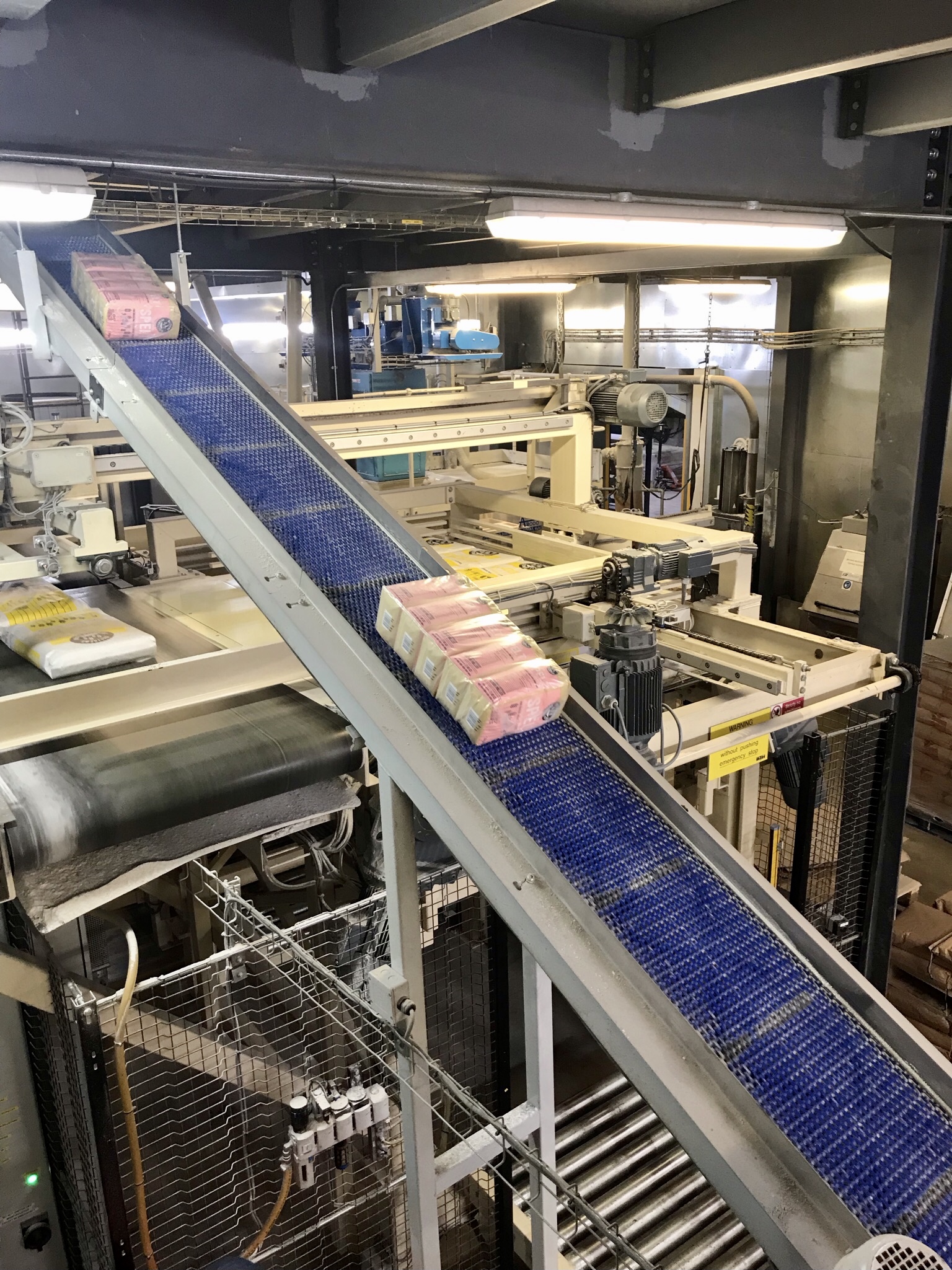 At the end of the tour we watched one of my favourite flours in the range, the white spelt flour, being bagged and packaged and rolling past us on conveyor belts - oh how easy it would have been to reach out and grab a bag or two!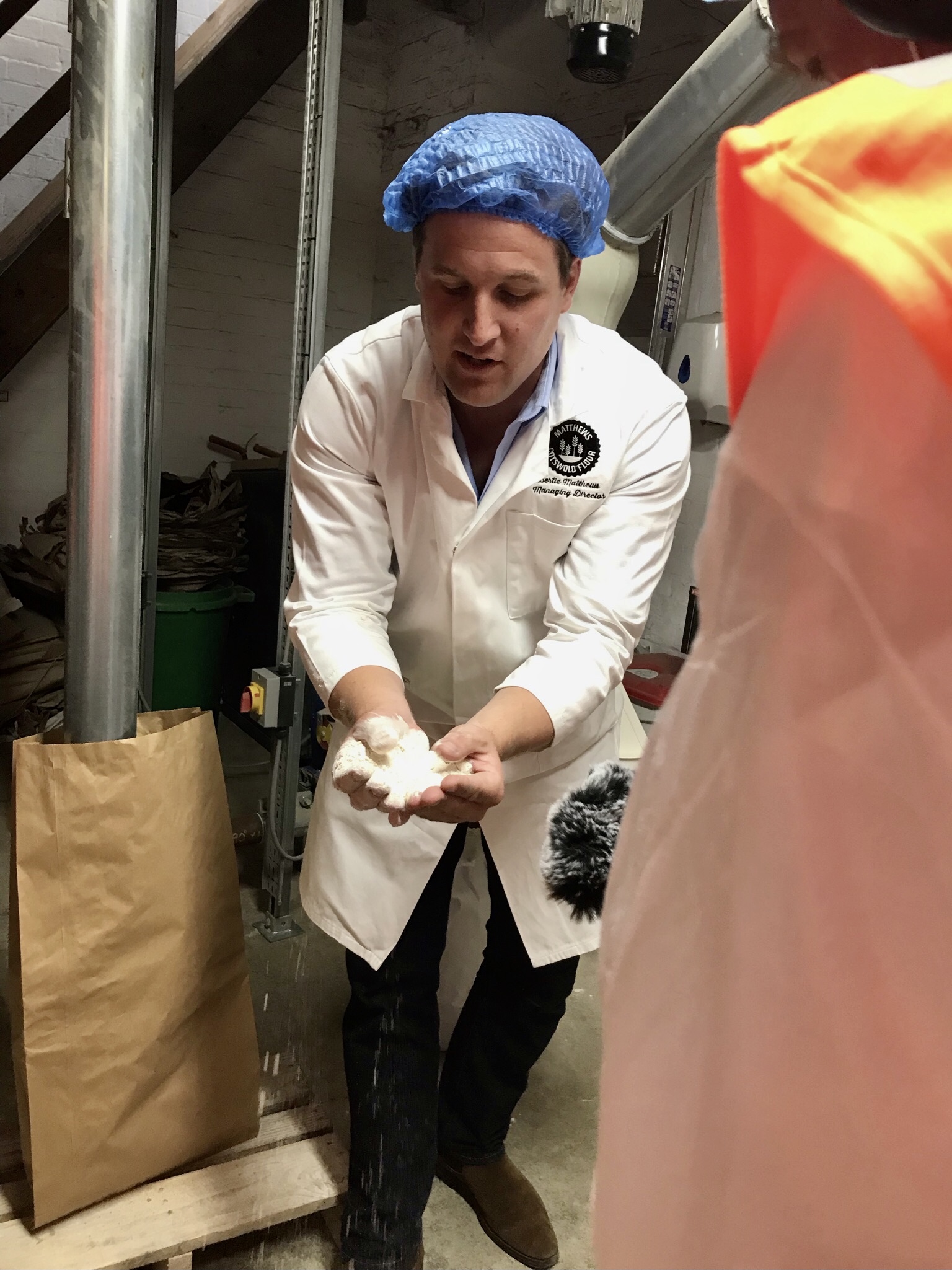 The best part of the day for me was Bertie Matthews, Managing Director of Cotswold Flour, he is 6th generation Matthews, and exudes such sheer passion for farming, grains and flour, as well as being an absolute font of knowledge, that you cannot fail to love it. He makes you want to reach in with both hands and feel the freshly milled flour run through your fingers. His desire to support farmers, to produce the best quality flours possible and continue the legacy of his forefathers is inspiring, and I cannot wait to see what the company produces next.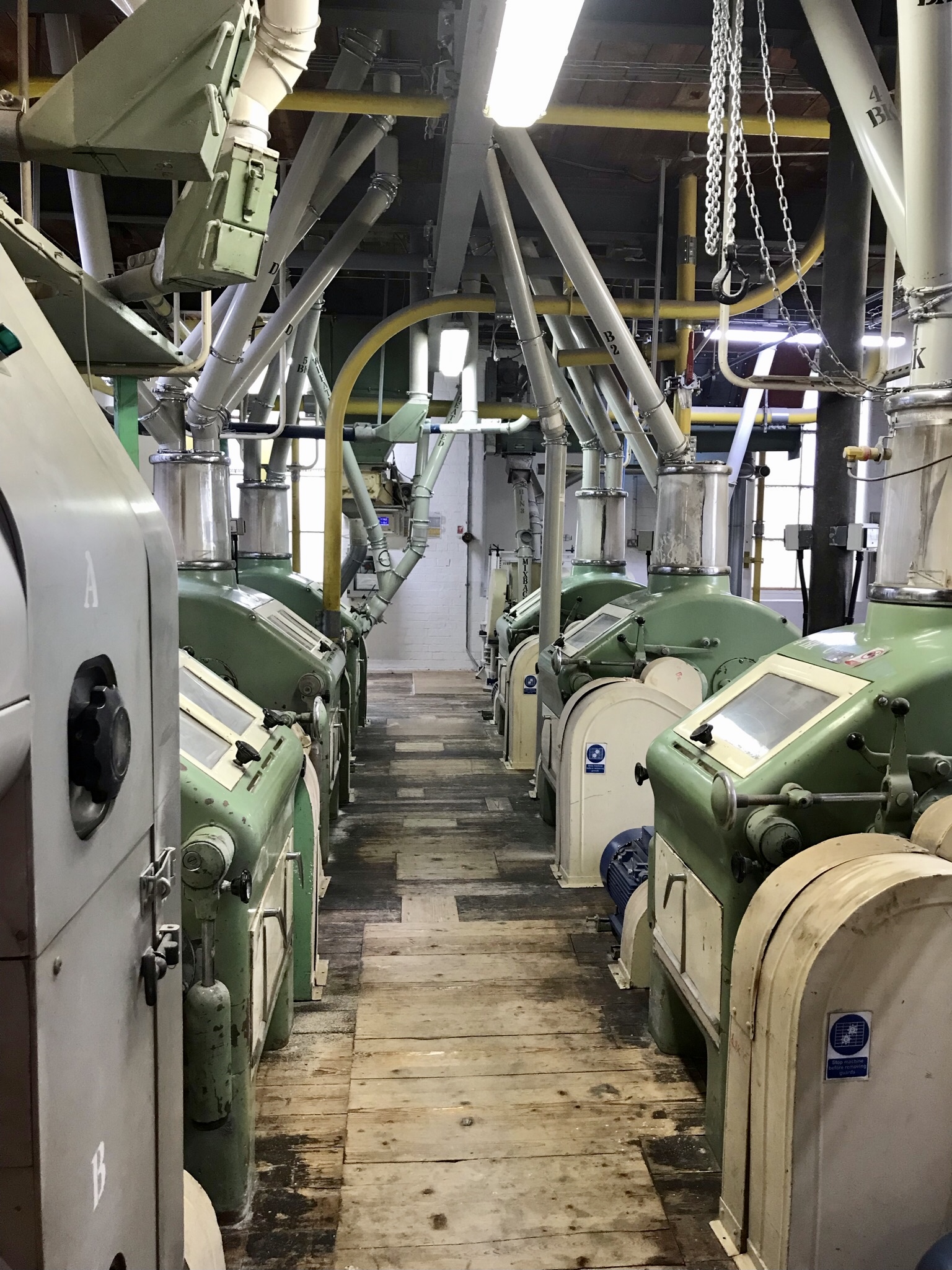 The event was hosted by Bertie, and had begun with a welcome and talks from Bertie, who then handed over to the brilliant Ian Wilkinson from FarmEd. FarmEd, 5 minutes up the road from the flour mill, is a working farm but is also a Community Interest Company (CIC), providing an education, innovative research and encouraging knowledge exchange in agriculture; it is a truly great enterprise, and wonderful set up - the purpose built buildings and on site restaurant are worth the visit if nothing else. (And available to hire for events). Ian is passionate about sustainable farming and food streams, especially regenerative agriculture and education and an inspiration to listen to. From there we went to the mill for tour then we then returned to the FarmEd facility for lunch, all freshly made on site and with Cotswold Flours and local produce, sampling fabulous breads, pizzas, pasta and pastries, all made by passionate local makers and bakers. Definitely highly recommended.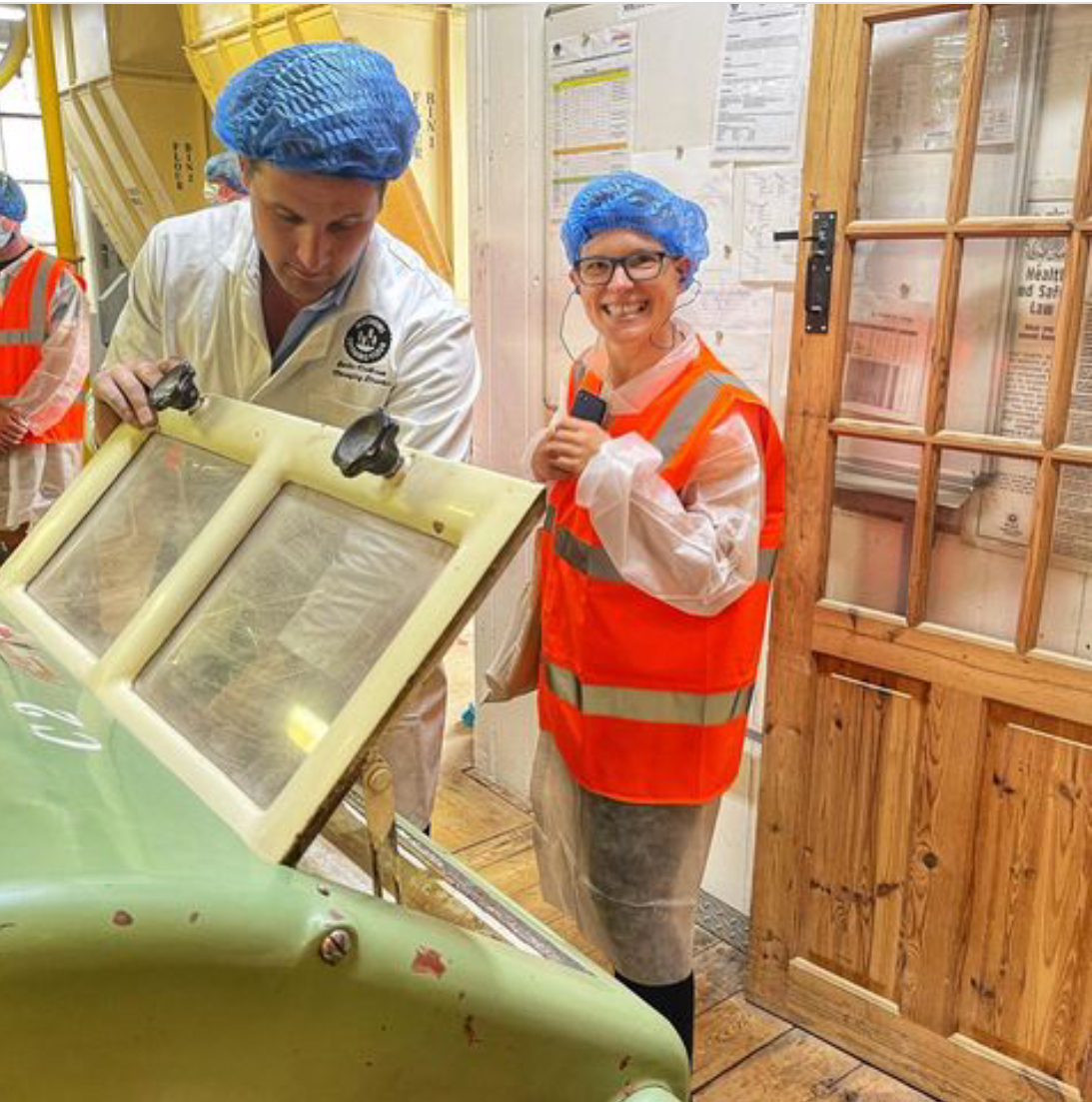 Even top to toe in such attractive PPE, you can see how much I loved the day!