The Guild of Food Writers announces 2023 Finalists
05 July 2023
The Guild of Food Writers has announced the shortlist for its prestigious annual awards in food writing and broadcasting. The awards ceremony takes place on Wednesday, 6th September at the Royal Institution's world-famous theatre.
In celebrating the achievements of 2022, the Guild recognises emerging talent as well as some of the best-known food writers and broadcasters in the country. The 16 categories range from books and podcasts through to recipe and restaurant writing and the judging panels comprise a diversity of Guild members.
The shortlists shine a spotlight on some of the UK's best-known writers and chefs. Included are Mark Hix for work published in the The Telegraph; Jimi Famurewa and Grace Dent for restaurant writing; and Jeremy Lee for his debut cookbook, Cooking: Simply and Well, for One or Many. Susannah Cohen, Susannah Moody and Claire Ruston are all shortlisted in the Guild's first Newcomer award.
The Guild of Food Writers is very grateful to this year's Awards sponsors:
Caulishoots® Restaurant Writing; Cornish Sea Salt Newcomers; Gold Top Recipe Writing; J Pao International and Regional; Lakeland Food Magazine or Section Award; Cipriani Drinks Writing; Trewithen Dairy Food Podcast or Broadcast Award; Tebay/Gloucester Westmorland Family Food Book Award; Sea Sisters First Book Award; and Sacla' Online Food Writing.
The finalists in each category are:
First Book
A Dark History of Sugar by Neil Buttery

Chocolate Cake for Imaginary Lives by Genevieve Jenner

Cooking: Simply and Well, for One or Many by Jeremy Lee
Food Book
Red Sauce Brown Sauce: a Breakfast Odyssey by Felicity Cloake

Regenesis: Feeding the World without Devouring the Planet 

by George Monbiot

English Food: A People's History by Diane Purkiss
Food Podcast or Broadcast
The Full English by Lewis Bassett/Forest DLG

Blasstal by Lucy Dearlove and Katie Callin

The Food Programme,  Beans Part 1: Are Legumes the Answer. Presented by Sheila Dillon produced by Natalie Donovan
Food Magazine or Section
Cheese, the Magazine of Culture:  Editors, Anna Sulan Masing, Apoorva Sripathi, Holly Catford

Pit Magazine:  Editor, Helen Graves

Feast I The Guardian:  Editor, Tim Lusher
Food Writing
Shahnaz Ahsan for work published in Waitrose Magazine, Observer Food Monthly & theguardian.com

Sue Quinn for work published in The Sunday Times, Pit Magazine & Slightly Foxed

Bee Wilson for work published in The Guardian & The London Review of Books
General Cookbook
Borough Market: The Knowledge by Angela Clutton

A Good Day to Bake by Benjamina Ebuehi

Cooking: Simply and Well, for One or Many by Jeremy Lee
International or Regional Cookbook
Cinnamon and Salt by Emiko Davies

The Nutmeg Trail by Eleanor Ford

Taste Tibet by Julie Kleeman and Yeshi Jampa
Investigative Food Work
The Great Plant-Based Con by Jayne Buxton

Big Meat, Fat Subsidies, Thin Taxes by Margot Gibbs, Lionel Faull, Henk Willem Smits, Arthur Beesley, Tom Levitt, Ludo Hekman, Ties Jooste for Lighthousereports.com

Bee Wilson for work published in The Guardian, The London Review of Books
Online Food Writer
More than Curry by Mallika Basu

1Dish4TheRoad by Aaron Vallance

Bald Flavours by Sam Wilson
Recipe Writing
Mark Hix for work published in the Telegraph Magazine

Olivia Potts for work published in Spectator Magazine

Felicity Cloake for work published in Feast I The Guardian
Restaurant Writing
Grace Dent

Jimi Famurewa

Anna Sulan Masing 
Specialist or Single Subject Cookbook
Live Fire by Helen Graves

Outside by Gill Meller

Tomato by Clare Thomson
Drinks Writing
Mark Dredge for articles published on goodbeerhunting.com and in Ferment

Laura Hadland for work published in Pellicle and Beer 

Gabriel Stone for work published in The Field and The Drinks Business
Drinks Book
Cider Planet by Claude Jolicoeur

Holy Waters by Tom Morton

The Oxford Companion to Spirits and Cocktails: Editors David Wondrich and Noah Rothbaum
Self Publishing
Fifty Years - Kinloch Lodge  by Alisha Fernandez Miranda, Jordan Webb and Claire Macdonald

Great British Chefs: Kitchen Twists

For the Love of the Land II: A Cook Book to Celebrate the British Farming Community and their Food by Jenny Jefferies
Newcomer
Susannah Cohen

Susannah Moody

Claire Ruston
The Guild of Food Writers' Awards will be presented on Wednesday 6th September at the Royal Institution, 21 Albemarle Street, London W1S 4BS. 
You can find out more about the awards here. 
For more information, please contact Amber Wheatley at Roche Communications on 020 7436 1111 or amber@rochecom.com
The Guild of Food Writers is the UK's association for professional food writers and broadcasters. Established in 1984, it acts as a network and showcase for nearly 600 authors, broadcasters, columnists and journalists, including many household names.
Committee
Patron: Delia Smith CH CBE.
President: Orlando Murrin | Vice-president: Felicity Cloake |
Chair: Samuel Goldsmith | Vice-chair: Julie Friend | Secretary: Ruth Watson.

The full list of committee roles and contacts can be found here.
Sponsors
Caulishoots®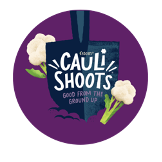 CauliShoots® are a new variety of cauliflower with sweet nutty curds on succulent stems. They're totally edible from tip to toe so there's no prep and no waste, just 100% deliciousness! Whether it's just a grind of sea salt and black pepper, a drizzle of sesame oil or roasted with a spicy rub, these succulent little CauliShoots® are a blank canvas for your cooking. Simply steamed, oven roasted until charred or stir fried, just hit them with your favourite flavours. CauliShoots® are grown by Barfoots. Farming vegetables since 1976, we look after the land as if we were to farm forever. Our founder, Peter Barfoot, has even been awarded a CBE for services to sustainable farming. The journey to CauliShoots® started with our seed growing partner, Syngenta. In the last few years we carried out countless growing and tasting trials until we perfected the ultimate cauli…long succulent stems, sweet nutty curds, edible from tip to toe and high in fibre and immune boosting vitamin C. Barfoots grow CauliShoots® on our farm on the South Coast of England June - October. Outside of the UK season, Barfoots Espana grow CauliShoots® at the foot of the mountains in the Lorca Valley, always transported by sea to minimise carbon.
Cornish Sea Salt
Cornish Sea Salt is harvested fresh from the sea, just eight metres from its eco-friendly Salt House on the Lizard Peninsula, Cornwall. Founded in 2004 from humble beginnings on the south Cornish coast, their signature blue pots sit just as happily in Michelin-starred establishments as they do on the tables of home cooks, who have an appreciation, not only for taste and quality of artisan sea salt, but the exciting versatility and creativity it can bring to cooking.
Drawn from the unique properties of Cornwall's clear ocean waters, that provides Cornish Sea Salt with its elevated and unique taste profile, the diverse range of sea salts are hand-harvested to deliver maximum flavour with over 60 naturally occurring minerals and being naturally lower in sodium than table salt. These Grade A waters possess a distinct mineral profile, thanks to the area's unusual rock geology.
From its core range of sea salt crunchy crystals and soft finishing flakes to the ever-evolving, blended seasonings and the umami tastes of its seaweed salts, Cornish Sea Salt can suit the everyday amateur as well as the seasoned chef. Available in the UK at Sainsbury's, Waitrose, Tesco, Asda, Morrison's and COOP, as well as internationally in over 35 countries.
https://www.cornishseasalt.co.uk
Gold Top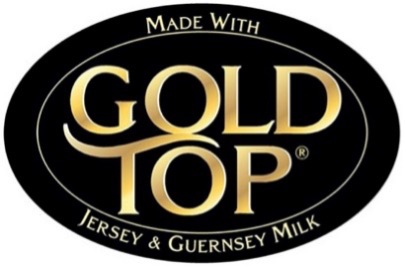 Established in 1954, QMP was set up in association with milk producers throughout the country to market and promote their new brand, Gold Top.
The Gold Top selection stands for premium quality and superior taste, it is this quality, alongside our high end service, which makes us stand out from our competitors.
The original Gold Top Milk is made the traditional Guernsey and Jersey way with the cream on the top, and tastes delicious, the luxurious Gold Top Smooth is a variation whereby the indulgent cream is blended evenly throughout the entire bottle. The Gold Top family includes, butter, cream, ice cream amongst others.
Gold Top as a brand through its company Quality Milk Producers Ltd is a co-operative of farmers to help the Guernsey and Jersey herd dairy farmer and their products.
This can be milk supply to their own niche products check out the web site.
J Pao

J Pao and Co. Ltd. is the market leader in growing fresh Beansprouts in the UK. It was founded in 1963 by Joseph Pao who emigrated from Shanghai in the 1950's. Working as an engineer he dabbled in growing Beansprouts in his spare time, and bit the bullet in 1963 to start commercial production, working from a mews garage in Paddington to supply Chinese restaurants. Within a few years he was supplying restaurants and supermarkets.
60 years on, Joseph's son Andrew continues to develop the business, growing 300 tonnes of Beansprouts a week, operating 365 days a year from two state of the art factories in Park Royal, London, and Holmes Chapel in Cheshire.
J Pao and Co. Ltd. pride themselves on a consistent high quality product. Ethically sourced mung beans are used and the Beansprouts are grown hydroponically using recycled water with no added pesticides or nutrients. They are constantly monitored by a high tech growing system to ensure an ideal growing environment.
Excellent relationships with people involved from start to finish in the process ensure the process runs as smoothly as possible. Producing just one product it's important to get every stage of the process just right. From the mung bean growers, machinery suppliers and engineers, factory staff and customers, whether it's a few bags or a few tonnes a week, good relationships and a consistent product are key.
Lakeland

Lakeland, the experts in cooking, baking, cleaning and laundry was founded over 50 years ago in the heart of the Lake District and from humble beginnings, this family-owned business is now multi-national as well as multi-channel.
Lakeland's buyers are constantly searching the world for ground-breaking innovations and ideas to add to their carefully curated range of can't-live without products, always working closely with their customers to ensure they have everything they need to create delicious, healthy meals at home as well as inspiring them with handy time-saving ideas that make life just that little bit easier.
No matter how you shop, Lakeland's friendly and knowledgeable staff are always on hand to offer expert advice and ideas and of course all of their products are backed by Lakeland's unrivalled 3 year guarantee!
Trewithen Dairy

Family-run Trewithen Dairy produce milk, clotted cream, yoghurt and butter from the Cornish Glynn Valley.
Ever since the Clarke family started dairy farming back in 1976, and crafting delicious dairy products in 1994, they believed in best-practice dairy farming. Driven by creating the highest quality Cornish milk, Trewithen believe that 'not all milk is the same.' They create a premium product by having a close relationship with farmers, paying a fair price for milk and crucially, always buying every drop of milk that is produced. All Trewithen Dairy farms are based in close proximity to the dairy and have committed to sharing a common set of values to ensure highest levels of animal health, welfare and husbandry above and beyond Red Tractor standards. They call this code their 'trewFarming Standards' and it ensures best practice across the business.
Trewithen Dairy believe in prioritising the environment and protecting its rural surrounds for generations to come. It takes good soil and healthy pastures to produce the very best milk. Their 'Earth Milk Project' is their journey to produce carbon neutral milk through regenerative farming techniques while protecting wildlife on the pastures.
https://www.trewithendairy.co.uk/
Tebay/Gloucester Westmorland Family

We are a family business which grew out of our hill farm in Cumbria in 1972.  Today we run motorway services, but everything we do reflects our beginnings on the farm. ​
We value good food & craft and the people, landscapes and skills that produce it.  ​
In our Farmshops, we work with craft producers, both locally and further afield to bring you unique products made with skill and care.  In our Kitchens, there are no fast-food franchises, instead we make seasonal and simple homemade food from scratch. ​
Proper food matters.​ So, we cook it and serve it where you'd least expect it—at a motorway services.​
Tebay Services | Gloucester Services | Cairn Lodge Services
https://westmorlandfamily.com/
Sea Sisters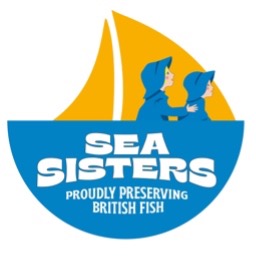 Sea Sisters is England's only fish cannery, located on the Jurassic Coast of West Dorset. We are an award winning family run business founded by partners, Charlotte & Angus. We preserve ethically sourced British fish by the method of canning and when we launched our first range in December 21', we were the first to do so since the 1940's. Using Angus' expert palette, we create unique and delicious recipes with native fish that are harvested in season, when they are mature and using low impact fishing methods.
The Spanish term for high quality tinned fish is 'Conservas' and we have adopted this to describe our products. Each can of Conservas is crafted using time honoured canning traditions and hand packed in our craft cannery. We have learned that the slow and hard way is often the best way and we have proved this by achieving a trio of gold awards this year. Our products can be enjoyed simply with crackers, crisps and a glass of your favourite beverage or used as an ingredient in a quick meal. Our range includes products such as line caught Salt Pollock in Garlic and Bay Olive Oil.
Our mission is to elevate the quality of tinned fish in the UK through recipe innovation, quality ingredients and supply chain traceability. Every batch we produce is fully traceable from catch to can and by using small fisheries who practise low impact fish methods, we are working to help regenerate and sustain native fish stocks whilst supporting the best of the British fishing industry.
Whilst our product sits in the premium food category our message for the UK public is to eat more British fish and support the British fishing industry, try something different and enjoy the simplicity of a good can of fish.
Sacla' 

Truly Madly Deeply Italian
Sacla' started life in 1939 when Secondo and Piera Ercole set up a small family business preparing and preserving the bounty of fruit and vegetables grown around Asti in Italy's north-west region of Piedmont. Three generations later, and still family run, we have evolved into one of the most passionate and progressive pioneers of Italian food. In 1990, we introduced Pesto to the British shopper and a love affair with all things Italian began…
Travelling the length and breadth of Italy, we have discovered many artisan food and drink producers who share our passion for quality and tradition and now join us on our website, sacla.co.uk. It is our shop window into a world of the best Italian food and drink, alongside our own little jars of Pesto, antipasti and sauces. Whether it's pasta, olive oil, biscotti, charcuterie, the finest wines and digestivi, we celebrate and support the small, traditional producers making everything with care, flair, and love, just as we've always done.
Cipriani Drinks
The Cipriani family are world renowned for their legendary hospitality, exquisite pasta and their famous original Bellini Cocktail, invented in 1948 in Harry's Bar, Venice, by mixing Prosecco with fresh white peach purée. At that time, Giuseppe Cipriani wanted to celebrate peace and freedom and so he made a special cocktail that embodied the energetic joy of the moment, naming his creation after the famous Italian Renaissance painter, Giovanni Bellini. Since then, the Bellini has become a part of Venetian legend, a real classic, and an eternal symbol of freedom, art and refined revelry.
It's a delicate peach colour with a fresh and fruity perfume reminiscent of late summer days. With a touch of sparkle, it's a joyous cocktail for every celebration. And now Cipriani have created a Virgin Bellini too, so you can enjoy a refreshing drink without a hint of alcohol.
https://www.ciprianidrinks.com/en/